At the official opening of the Holcim Lanka Railway operation (from left): Member of Parliament M.A.M. Maharoof, Minister of Transport and Civil Aviation Nimal Siripala de Silva, Minister of Road Development and Irrigation (Provincial Council) Ariyawathi Galapaththi, General Manager Railway (GMR) Eng. B.A.P Ariyaratne and Holcim Lanka Director Procurement and Logistics Charith Wijendra
The cement industry, an essential building block of the nation's construction industry, received a timely boost recently. Revolutionising sustainable transportation solutions for the local cement industry, Holcim Lanka, a member of the Lafarge Holcim Group, ceremoniously inaugurated its pioneering ship-to-rail road hybrid model for the transportation of its raw materials.

The inauguration took place at the China Bay station in Trincomalee with the participation of Minister of Transport and Civil Aviation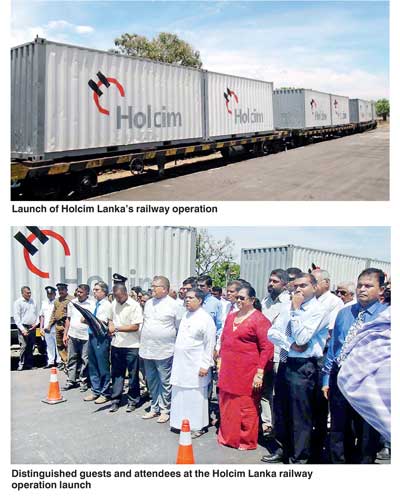 Nimal Siripala de Silva, who flagged open the new transport link. Holcim Lanka senior management and Transport Ministry officials also graced the occasion.

The event marked another very successful phase of the public-private partnership between Holcim Lanka and the Sri Lankan Government.

The state railway will transport Holcim cement related raw materials by rail from the Eastern port of Trincomalee to the Mahawa railway station where the company's dedicated trucks will then transport the materials to the Puttalam Cement Works Plant.

The rail-road hybrid model is a continuation of Holcim's effective ship-to-ship operations where larger bulk carriers and smaller vessels employed ensure access to a continuous supply of higher quality of cement and demand for clinker imports are met.

Overall benefits of the ship to rail-road alternative multimodal logistics solution demonstrate the care and value Holcim places on the environment it operates in.

"It is critical we promote and invest in projects that will allow for the efficient, more environmentally sustainable movement of our raw materials and goods throughout the country. The successful launch of this phase would not have been possible without the support received from the Ministry of Transport," said Holcim Lanka Director Procurement and Logistics Charith Wijendra. This new transportation model contributes greatly towards the well-being of the environment, promotes safety and saves costs.

By using supramax vessels, instead of smaller vessels the carbon footprint has been reduced by over 10%. Moving from open trucks to containerised cargo has reduced spillages to zero. Through railway transportation the number of kilometres has been reduced to 0.8 million kilometres from a high of 3 million kilometres, an impressive 27%. Holcim has also reduced the number of trucks from 200 spot trucks used to only 15 dedicated trucks. This massive reduction in land transport has reduced carbon footprint by 17%. Additionally, the company has made substantial strides in causing less road traffic and safety risk exposures.

"By implementing these logistics solutions we contribute towards the reduction of road traffic and the subsequent carbon emissions generated but also improve safety levels. Overall we have created considerable value for all our clients and the nation," Wijendra added.

Holcim Lanka takes great measures to be innovative across the value chain ensuring the safety of its people, minimising the environment footprint, marking innovative milestones in the logistics sector, building firm foundations for the country.