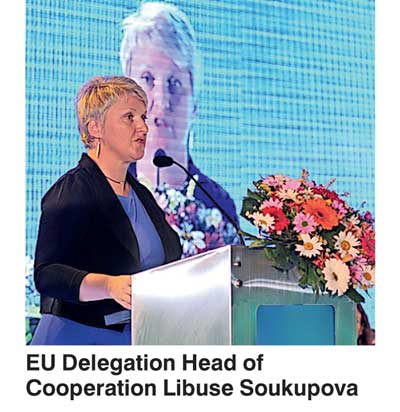 Local and international policymakers, experts and practitioners gathered on Tuesday in Colombo at the launch of an international roundtable on the role of Sustainable Consumption and Production (SCP) in climate change mitigation and adaptation in Asia. The event was organised by the European Union's SWITCH-Asia Programme in cooperation with the Ministry of Mahaweli Development and Environment as part of 'Sri Lanka Next – Blue Green Era' and in conjunction with the '5th Asia Pacific Climate Change Adaptation Forum'.

The EU-funded international event showcased various Asian examples of successful approaches and solutions to climate change mitigation and adaptation that can be applied in Sri Lanka, too. Energy and resource-efficiency coupled with cleaner production are the main approaches adopted by Asian small and medium-size enterprises (SMEs) in tackling climate change in the framework of SWITCH-Asia initiatives. The 'Sri Lankan Renewable Energy' project for instance has contributed to reduce almost 3,000 tonnes of greenhouse gas emissionsannually since 2014 via the dissemination of biogas systems. Their measures to cut costs on LPG gas purchase and waste disposal have concurrently enabled hotels, farmers and households to save EUR 37,500 (Rs. 6.2 million) per year.

Speaking at the event, Libuse Soukupova, the Head of Cooperation of the European Union's Delegation to Sri Lanka stated, "The EU is a driving force in international climate change negotiations and provides substantial funding to help developing countries tackle climate change. As a long standing friend of Sri Lanka, we are delighted to contribute to the sustainable development of your rapidly growing economy and growth strategies."

"The experience of our projects across Asia proves that developing the capacities of local SMEs to improve the resource efficiency of their operations is key to raise their resilience to climate change," said Dr. Uwe Weber, Team Leader of the SWITCH-Asia Network Facility. SWITCH-Asia is the largest program funded by the European Union (EU) to promote SCP among Asian consumers and SMEs: Since 2007 it has supported more than 90 demonstration projects and policy support actions across 18 Asian countries, with an overall funding of more than EUR 300 million (Rs. 49.3 billion) for 2007-2020.

To date Sri Lanka has been part of two regional SWITCH-Asia projects and has been awarded five national SWITCH-Asia projects, with a total EU funding of more than EUR 7 million (more than Rs. 1 billion). These projects have been supporting the sustainable development inparticular of the tourism, food and beverage, export industries and renewable energy. The SWITCH-Asia Policy Support Component was launched in 2015 and assists the Sri Lankan Government in developing a national SCP policy and improving the country's resilience to climate change.