DHL Express, the world's leading international express provider, has awarded Standard Chartered Bank Sri Lanka with a carbon credit certificate for the use of the company's climate neutral shipment option DHL GoGreen. Receiving the GoGreen Certificate for the second time, this recognises the bank's continued use of DHL's environmentally-friendly shipment options.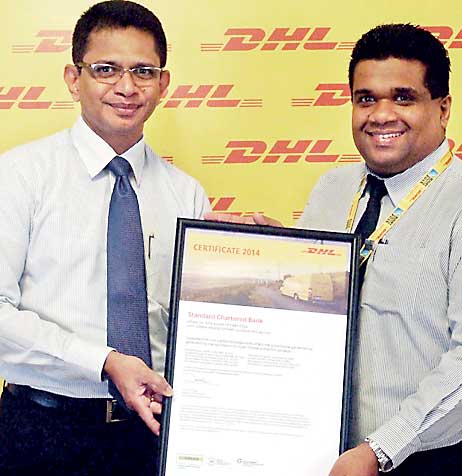 This year's award recognises Standard Chartered Sri Lanka for offsetting a total of 7,990 kg of CO2 in 2014 with DHL GoGreen products and services. In 2013, Standard Chartered became the first company to receive the DHL GoGreen certificate in Sri Lanka where it was recognised for offsetting 5,000 kg of CO2 in 2012.

"As the world's leading logistics company, DHL has a responsibility to focus on environmental challenges. Services such as DHL GoGreen Climate Neutral provide solutions to reduce our carbon footprint," said DHL Express Sri Lanka Country Manager Dimithri Perera. "A DHL shipment using the GoGreen Climate Neutral service is transported the same way as any other shipment, but its carbon dioxide emissions are neutralised to provide sustainable solutions for our customers."

DHL and Standard Chartered Bank have been working together to create a positive impact for the environment since solidifying their corporate relationship and continues to maintain a strong 'Green' culture and relationship.

Inam Cassim, Head Legal & Compliance Sri Lanka, and Marimuthu Sivanandan, Country Head of Audit, both Country Management Group sponsors of Standard Chartered's environment platform said: "We are delighted to once again be the recipients of this award. Working to reduce our carbon footprint is something we are passionate about and this award is recognition of our continued efforts."

Standard Chartered Bank is the first bank of its kind to adopt the DHL GoGreen Climate Neutral service globally, signing a worldwide contract to make 95% of the bank's international courier services carbon neutral. The GoGreen Climate Neutral service provides additional carbon reporting services, allowing customers to analyse their own environmental footprint and manage carbon emissions. The calculation and offset of those carbon emissions is annually verified by Societe Generale de Surveillance (SGS), the world's leading inspection, verification, testing and certification company.

Deutsche Post DHL Group was the first globally operating logistics company to set itself a concrete CO2 efficiency target. The company aims to improve CO2 efficiency by 30% by the year 2020, compared to its 2007 baseline.

As part of its comprehensive strategy in fulfilling its corporate responsibility, Deutsche Post DHL Group focuses on topics such as protecting the environment (GoGreen), delivering help (GoHelp) and championing education (GoTeach).