AOD answers the business world's demand for more qualified designers by presenting school-leavers with direct entryways into stable design careers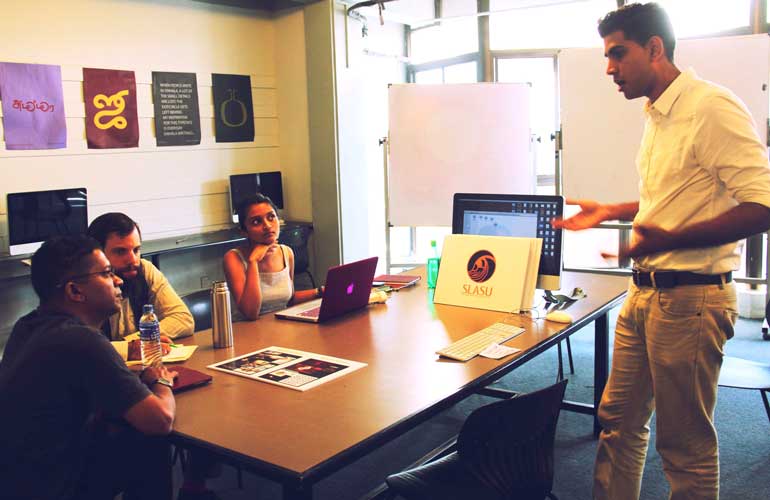 Direct exposure to industry preps students for future design careers while still at campus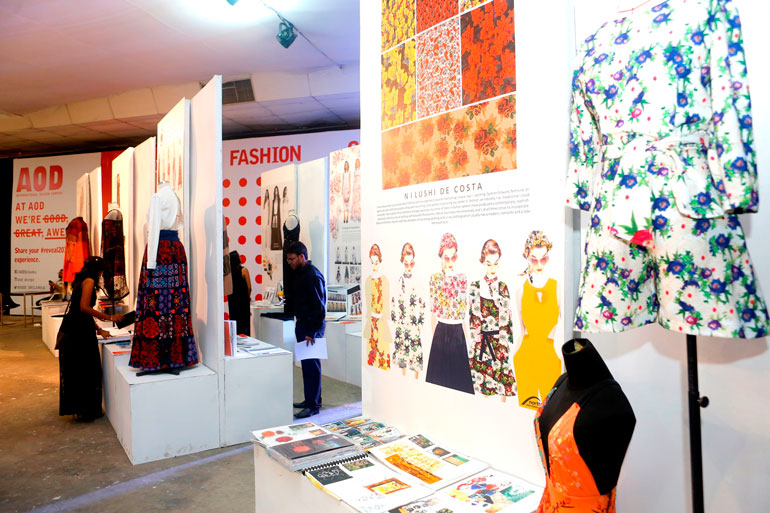 AOD has also initiated numerous platforms and events such as Sri Lanka Design Festival and Reveal Graduate Exhibition to showcase young designers to influential industry networks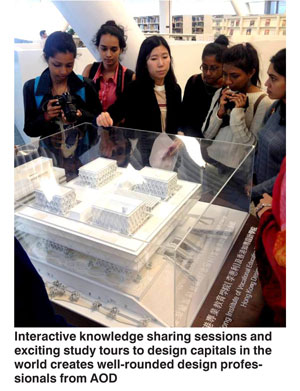 Despite the popular notion that design is a hobby or a 'side job', it is one of the most lucrative and stable careers available today. As the business world recognises design as an essential for its success in the 21st century, all major industries are looking to employ more and more designers; due to this, the availability of design jobs is currently at an all-time high.

Aiming to cater to this increasing demand for qualified designers, AOD encourages creative school leavers to pursue careers in fashion, animation, graphic design and interior design. Having established itself as the preferred design partner for industry and the Government, AOD has a reputation for creating highly qualified, industry-ready design professionals.

To allow students and parents to understand the massive scope of careers available for qualified designers and to give direct entryways to these jobs, AOD has announced Spot Admissions between 1 and 12 August with free design career counselling and creativity reviews.

With design gaining growing industry recognition in Sri Lanka, designers are now offered stable, high-paid careers by businesses and brands. However, the demand that Sri Lankan businesses have for designers, is still far from being fulfilled. To answer to this need, AOD has set up a series of internationally recognised British design degrees to provide specialised professionals for the country. Offered in partnership with the prestigious Northumbria University UK, these degrees have been especially structured to feed qualified graduates directly into the biggest local industries that are in need of designers.


Graphic design

Among the key design career qualifications presented by AOD is graphic design. AOD challenges the popular misconception that graphic design is based on software knowledge. Real graphic design is a career that demands a much higher creative and strategic thinking input. It is the creative and tactical backbone of the advertising industry that works with all other businesses to create brand images, visual identities, packaging, user-interphase design, web, etc.

The Northumbria UK BA (Hons) Graphic Design degree at AOD is a globally recognised programme designed to meet all these 21st century visual needs of the business world. A new industry that grows parallel to graphic design in Sri Lanka is animation design. AOD's BA (Hons) Motion Graphics and Animation programme by Northumbria UK focuses on creating designers for film, television, computer games, advertising, software and new media. These are two main career streams that AOD encourages young creative minds to explore.


Fashion design

Similarly, AOD also challenges the common perception on fashion that involves drawing dresses and coming up with new styles off a catalogue. The reality of the fashion industry is much deeper than that and it is connected to the social and economic movements around the world while fashion designers themselves are the creative minds who respond to these changes through new looks and solutions in garments; for example, with humans becoming more and more integrated with smart technology, fashion designers today are integrating tech with what we wear.

AOD's BA (Hons) Fashion degree is structured to help students join this powerful industry by making their mark in the fashion world with own fashion brand or by joining Sri Lanka's multi-billion dollar apparel industry. The newly launched Northumbria's Fashion Marketing & Design degree at AOD is set-up to engage students in all aspects of fashion marketing studies, from forecasting, market research fashion graphics, illustration, styling to promotional techniques and fashion media.


Interior design

Interior design is a fast-growing sector that presents some of the most rewarding careers available today. However, the majority perception on interior design is that it involves recolouring or decorating rooms; however, the interior design industry is a much more complex one that provides spatial and experiential solutions for hospitality, tourism, retail and other significant industries by allowing people to experience space in a new way.

The Northumbria UK interior design degree at AOD is structured to cater to this need and to create professionals who are creative and independent thinkers with a great understanding of space and its elements such as lighting, surface texture and movement etc.

AOD Principal Karen MacLeod stated that the five Northumbria UK degrees presented in Sri Lanka at AOD were selected to complement the job demand from the major industries in Sri Lanka. "Education should deliver to the type of careers needed by the country. The degrees presented by AOD were all selected based on what Sri Lankan businesses need from 'design' and the creative roles they need fulfilled. This is one reason why AOD graduates are 100% employed; they are all very much needed by the business world."

She further described AOD's partnership with Northumbria University to be a unique one; "Our partnership allows AOD students to graduate with the identical, 100% internal, complete design degrees as those conducted in the Northumbria campus in Britain; it's a rare chance to get a UK degree close to home and qualify as a professional recognised anywhere in the world."


Spot Admissions

To allow an opportunity for school leavers and parents to discuss design careers, their potential, lucrativeness and stability with professionals who understand the industry, and to also allow students fast-entryways to these careers, AOD has scheduled Spot Admissions during the month of August.

AOD Spot Admissions are being be held from 1 to 12 August and offer a great opportunity for design enthusiasts to be entitled for exemption waivers on entry exams along with free design career guidance, portfolio reviews and one-on-one discussions with the principal.

To find out more walk in to AOD at 29, Lauries Road, Colombo 4 between 9am to 5pm, call 0775 980 141 / 0115 867 772 or email info@aod.lk. Discover more about AOD on www.aod.lk or www.facebook.com/aodsrilanka.