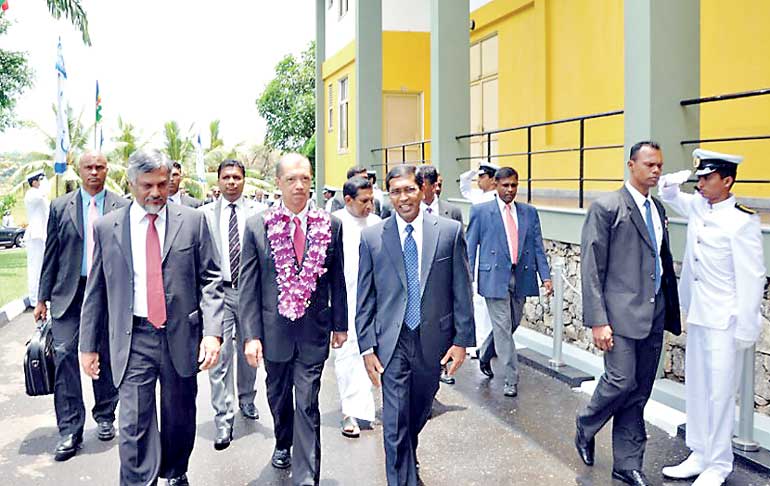 Republic of Seychelles President James Alix Michel (front-centre) official visit to CINEC in 2012

Republic of Seychelles Minister for Education Macsuzy Mondon (centre) official visit to CINEC
CINEC (Colombo International Nautical and Engineering College) assisted Seychelles to be placed in the International Maritime Organisation's (IMO) White List of countries, going beyond from being a premier training facility to charting the maritime legacy of a nation.

The Seychelles Maritime Safety Administration (SMSA) received official confirmation on 13 July, after the 95th session of IMO's maritime safety committee meeting held at IMO London headquarters. This accreditation was recently welcomed by the Minister for Foreign Affairs and Transport of Seychelles Joel Morgan who also commended CINEC for delivering on its commitment.

The initiative for the need of 'White List' certification for Seychelles was taken up by President James Michel during his visit to Sri Lanka in 2013 where later that year SMSA signed a Memorandum of Understanding (MoU) with CINEC to initiate the process.

"We are very delighted to have helped Seychelles succeed and achieve the IMO White List accreditation despite its rigorous and aggressive process where others in the past have failed. This monumental achievement also exhibits how CINEC is taking Sri Lanka's maritime talent-pool and relationships to a global stage," stated CINEC President Capt. Ajith Peiris, who consistently supported and guided everyone with his in-depth understanding of the industry to circumvent all obstacles and was indeed the mainstay in ensuring its success.

This is a turning point for Seychelles' maritime history as the certification by the IMO will positively impact the domestic maritime trade industry through gainful employment of Seychelles seafarers on foreign vessels, which will help position Seychelles on the global shipping industry.

The Directors who served at MTC (Maritime Training Centre, Seychelles) which is managed by CINEC were Capt. Ranjith Perera, Capt. Dasarath Dolapihilla, Capt. Swarup Bangar and Capt. Anura Herath, all of whom worked closely with SMSA and contributed positively to make this a reality. Further, CINEC Vice President Prof. (Capt.) Nalaka Jayakody kept a close tab on the progress which was instrumental to ensuring that the timelines were met.

A special note of acknowledgement and appreciation goes to Senior IMO Consultant Leslie Hemachandra, who was invited by CINEC to assist in this project, for his proactive involvement to guide the process from its inception until the IMO circular proclaiming the ascent of Seychelles into the white list of countries was released. CINEC established in 1989 is Sri Lanka's largest maritime education and training facility. Over 19,000 students have followed CINEC courses to date and new recruits annually follow over 185 educational and training programs. The Maritime Campus is accredited by many international quality management systems and continues to uplift standards by investing heavily in competitive infrastructure, facilities, equipment and human resources to deliver and cater to the increasing number of both local and foreign students.