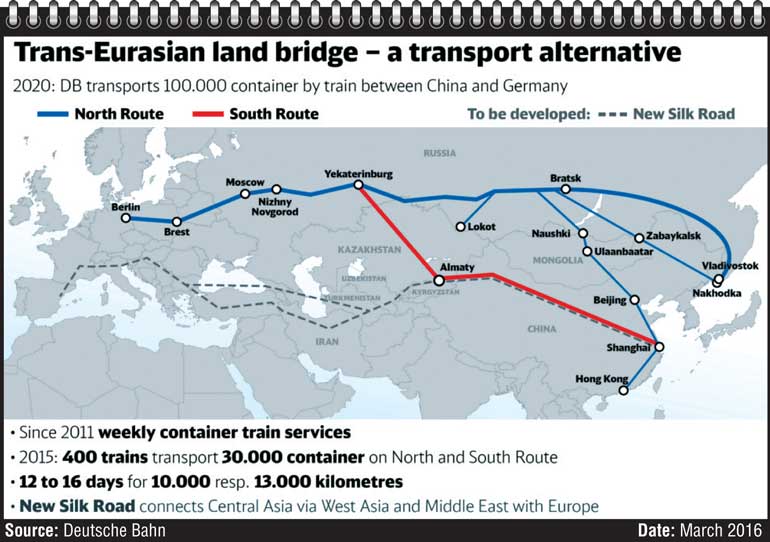 Reuters: China is pioneering a trans-continental rail service carrying cargo between the Far East and Western Europe with the aim of capturing some of the freight which currently moves by sea and air.

China has the financial resources and the economic incentive to build a major transcontinental railroad service within the next five to 10 years, and the project has strong political backing from top leaders for economic and strategic reasons.

From very small beginnings with just a few experimental journeys five years ago, the number of trains running and the volume of freight carried is growing rapidly.

Freight trains originating in China have arrived in cities as far afield as Madrid and Tehran as China seeks to demonstrate the viability of a trans-continental service ('From China to Spain by rail,' Railway Gazette, 2014).

China Railway, the state-owned railroad operator, now runs a regular weekly container train between Wuhan and Hamburg in Germany with other cities in both countries also developing scheduled services.

China Railway sent its 200th block train from Wuhan to Hamburg last month loaded with clothing, general merchandise, electronic products and other goods.

Until now, trains have catered for shippers moving goods in bulk, but China Rail is experimenting with less-than-container-load (LCL) shipments that consolidate freight and move it to European destinations.

China Rail has partnered with Germany's Deutsche Bahn to build up overland freight service between the two countries ("Deutsche Bahn intensifies its involvement in China", DB, 2016).

Some 400 trains travelled between the two countries in 2015, hauling 30,000 shipping containers, according to Deutsche Bahn, and there are plans to increase that to 100,000 containers a year by 2020.

All current freight services use sections of the Trans-Siberian Railway running from Vladivostok to Moscow (http://tmsnrt.rs/1RG9RH1).

The northern route sees freight cross directly from China into Russia in the Russian Far East, or indirectly via the Trans-Mongolian line through Ulaanbaatar.

But there is also a southern route taking freight from China into Kazakhstan that then joins up with Trans-Siberian railroad at Yekaterinburg in Russia.

China has plans for an even more southerly route to Western Europe via Central Asia, Iran and Turkey and the Balkans.

The recent arrival of the first train from China at Tehran railway station marked an important symbolic milestone in developing the route ("First train from China to Iran stimulates Silk Road revival", Xinhua, 2016).


Quicker travel

The present northern route through Russia is around 13,000 kilometres (8,077 miles) long and takes around 16 days while the southern route through Russia and Kazakhstan is 10,000 km and takes 12 days.

Sailing time from China's east coast ports to Hamburg is around 30 days, so rail freight offers time savings of 14 to 18 days.

The main logistics challenge at present is the need to transload or bogie-exchange the containers to cross the territories of the former Soviet Union ("World Factbook: Railways", Central Intelligence Agency, 2016).

China, as well as Iran and Turkey, use the same standard rail gauge as most countries in Europe (1.435 metres) but Russia, Kazakhstan and other former Soviet territories plus Mongolia use a broader gauge (1.520 metres).

Rail freight therefore requires special handling at China's borders with Russia, Kazakhstan and Mongolia, and again between the borders of Russia/Central Asia and Iran/Europe ("List of track gauges", Wikipedia, Apr 2016).

Either the shipping containers have to be transloaded from one train to another or the bogies have to be exchanged.

Both operations cost time and money. But even with this time and cost penalty, rail freight is much faster than maritime transport between the Far East and Europe.


Air cargo challenge

Most freight between China and Europe currently moves by sea, with smaller volumes sent by air, with the choice depending on the characteristics of the cargo and how urgently it is required.

Bulky, heavy, low-value and non-urgent cargo is sent by ship while light, compact, high-value and time-critical cargo is flown in the hold of passenger aircraft or in dedicated cargo planes.

Rail freight offers a compromise which could attract some shippers away from the other modes of transport since it can handle heavier items than normal air freight but is faster than sea-borne cargo.

Deutsche Bahn has said the overland route is appealing to electronics and automotive manufacturers because the value lost on goods such as computer components and engines during the longer sea journey is high ("China-Europe containerized rail shipments gain momentum," Journal of Commerce, 2015).

Some rail services such as the stops in Tehran and Madrid clearly serve a symbolic purpose, as well as testing equipment and operations for further network expansion.

But the number of regular scheduled train services between city pairs in China and Europe such as Chengdu, Chongqing, Wuhan, Duisburg, Hamburg and Lodz is growing rapidly.

Between many city pairs, trains are running several times per week, and the frequency is reaching close to daily on the most important routes at the busiest times of the year.

In the medium term, rail may only capture a tiny share of the cargo carried by ship but it could make more significant inroads into air freight.


New Silk Road strategy

The development of a transcontinental rail service linking China, Russia, Central Asia, the Middle East and Europe aligns with the strategic vision outlined by China's President Xi Jinping.

"The Silk Road Economic Belt and 21st Century Maritime Silk Road," one of Xi's most prominent ideas and directly associated with the president, can easily be dismissed as an empty political slogan.

But the rapid development of rail links across the Eurasian continent fits closely with the landward component known as the Silk Road Economic Belt.

For diplomatic reasons, China is anxious to cement ties with its immediate neighbours on the Eurasian landmass. Transport and economic integration through rail links are a good way of advancing this agenda.

China's diplomatic strategy is most obviously embodied in the Shanghai Cooperation Organization (SCO) linking China with Russia and four of the five Central Asian states.

Mongolia, India, Iran, Pakistan and Afghanistan have signed up as SCO observers while Belarus and Turkey are dialogue partners.

The development of transcontinental freight corridors would give economic substance to these diplomatic relationships.

Transcontinental railroads could also boost China's economic integration with Europe, Central Asia and the Middle East, offering a faster option than sea freight but a cheaper one than air cargo.

Finally, the rail network also diversifies and strengthens China's transportation options, usefully by-passing chokepoints such as the Malacca Strait.

Commentators have often observed that China is a land-based and continental power while the United States is a maritime and global one.

China's policymakers are responding to that asymmetry in a number of ways, including the development of a much more powerful ocean-going navy.

But since China is a land power on the Eurasian landmass, it makes sense to develop rail links and other land-based freight corridors away from sea lanes patrolled and controlled by the United States.