Holds key conference on 10 March to all stakeholders
A key conference on the Western Region Megapolis Development Plan organised by the Ceylon Institute of Builders (CIOB) will be held on 10 March at 4:30 p.m. at the Galadari Hotel in Colombo.

The keynote address will be delivered by Ministry of Megapolis Western Development Western Region Megapolis Planning Project Director/Team Leader Lakshman Jayasekera.

Jayasekera served as the Director-General of the National Physical Planning Department/Urban Development Authority (UDA) and President of the Institute of Town Planners (ITPSL) at one time.

The core objective of this seminar is to impart wider knowledge and give greater exposure to players in Sri Lanka's building industry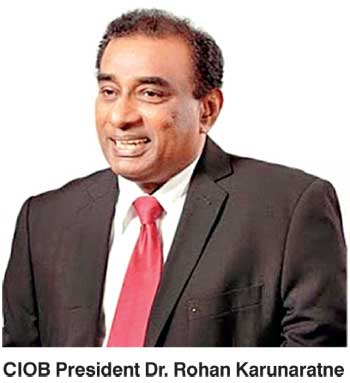 on modern and alluring creative concepts within a global economic context. The focus will be primarily on creating awareness on 'development of physical and institutional infrastructure, industrial and economic structure keeping in line with knowledge based and innovative global economic setting with small cities."

Speaking on the Western Region Megapolis Development Plan, Ceylon Institute of Builders President Dr. Rohan Karunaratne said that those actively involved in the building industry have placed immense trust and faith on this initiative.

The Western Region Megapolis Development Plan is a long-term, 15-year duration project. Under this ambitious plan, it is envisaged that the government segment will undertake construction work to the value of Rs. 1 billion in 2016, while the private sector is expected to handle to complete work to the value of Rs. 2 billion during the same period.

Ceylon Institute of Builders (CIOB) was established in 1961 by a most illustrious group of engineers and builders of Sri Lanka. It was a very active organisation which contributed cohesive systems to the construction industry. They have revived CIOB with the same objectives and adding a few more to address the problems faced by the building industry today.

Develop and disseminate the science and technology of modern building practices to assist all builders by means of seminars and workshops with inputs from specialist national and international resource persons.

Promote competencies and standards of practice for the builders to reach professional status.

Act to improve conditions affecting the industry, with a view to expanding the industry, which will include seeking opportunities for contracts overseas.

Through its international affiliations CIOB will seek to use its influence to attract investments to the construction industry.
JLanka Technologies Partners Megapolis Development Insight Session
Set against the backdrop of the proposed Western Province Megapolis project, the upcoming seminar on the development of physical and institutional infrastructure organised by the Ceylon Institute of Builders (CIOB) will explore and discuss concepts related to infrastructural development, industrial and economic structural development and global innovations related to smart cities. The session is expected to shed light and derive insights that are timely and relevant to industry professionals engaged directly or indirectly with the Megapolis project and its outcomes.

Conducted by Project Director/Team Leader of the Western Region Megapolis Planning Project Lakshman Jayasekera( affiliated with the Ministry of Megapolis and Western Development), the session is partnered by JLanka Technologies, the premier solar solutions provider of the country. JLanka Technologies is also credited with the manufacture of the first ever smart meter in Sri Lanka and has an active interest in smart construction technologies and IoT related concepts.

JLanka Technologies aligns its partnership with the event in line with the Government's vision to position Colombo and the Western Province as a marvel of urban Asia. The vision is inevitably tied in with sustainable construction and exploration of alternative energy sources.

Registrations for the event are now open on the JLanka website and are priced at Rs. 4,000 for members of the CIOB and Rs. 4,500 for non-members.

JLanka is currently the owners of the highest number of solar installations around the country as the leading next generation solar service provider, and since its inception, JLanka's total installed solar electricity capacity has exceeded over 6MW.

JLanka's vision towards a greener Sri Lanka has reduced over 3,233 tons of CO2 (Carbon Dioxide) emissions which is equivalent to saving 10,800 trees on the planet or over 2.406 million liters of Hydrocarbon Fuels burned or 2,754 tons worth of Coal used for power generation. JLanka Technologies is the number one solar energy supplier to the National Grid in Sri Lanka with 24,000 kWh per day power generation and these systems are empowered with over 24,000 Trina Solar modules and 24,000 SolarEdge power optimisers and about 1,500 SolarEdge inverters saving 8,850 kg of greenhouse gas emission per day.