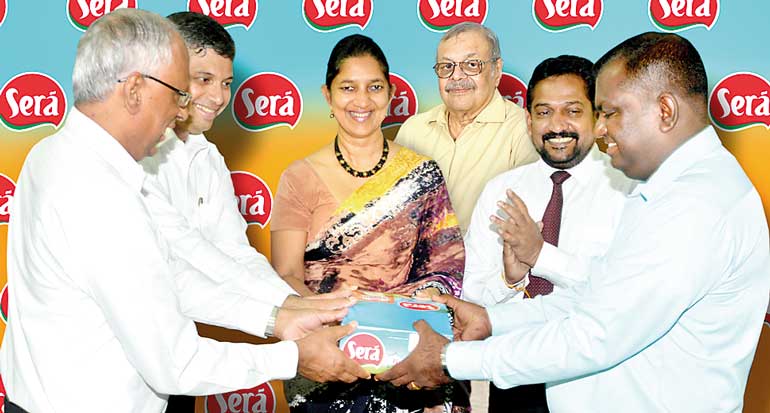 CBL Group Managing Director Sheamalee Wickramasingha handing over the first consignment of Sera coconut milk to Sampath Perera, Proprietor of Sampath Distributors, CBL's Distributor in Thalawathugoda together with CBL group of companies Chairman R.S. Wickramasingha, Group Director/Head of Marketing and Sales Nandana Wickramage, Group Director Susantha Gunawardane and CBL Global Foods CEO Nishantha Gooneratne
Ceylon Biscuits Ltd., (CBL) has added a new brand and product line to its portfolio, with the launch of Sera, a premium liquid coconut milk conveniently available in 180 ml UHT packs.

The company has invested over Rs. 2 billion to set up the state of the art factory that extracts, sterilises and hygienically packages coconut milk, using high quality machinery and technology from Europe.

Retailing at Rs. 60per pack, Sera is expected to be a popular choice among housewives, cooking enthusiasts and professional chefs as it is 100 percent real coconut milk with no artificial flavors, colours, additives or preservatives, with a shelf life of one year. Its thicker consistency is another unique feature that will allow home or professional cooks to use the milk in a variety of sweet and savoury dishes and can be easily diluted to the required consistency.

Sri Lanka is the world's fifth largest coconut producer, and coconut has long been a significant part of the country's agriculture industry. However, the country has not tapped into the true potential of coconut as a marketable end use product in the local and international sphere. Currently, there is a heightened awareness in the popularity of coconut products on a global scale. It is being touted by many as a super food and is considered to be a healthy alternative to dairy when cooking.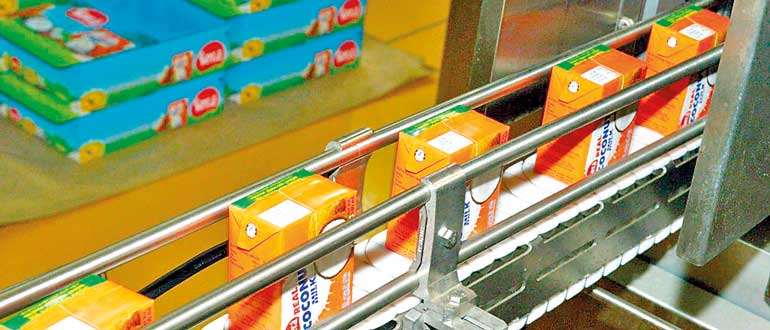 "We believe that our investment in the coconut milk product business is timely and full of potential for the company as well as the country," said Shea Wickramasingha, Group MD, CBL."As a country we need to move quickly to develop our natural agricultural resources and aim to improve the export potential of our agricultural base. CBL has consistently opened up new opportunities for Sri Lankan products to reach international markets and our current diversification strategy hinges on developing products that bring out the best in our local produce. We believe this will have a positive knock-on effect down the supply chain and help uplift rural communities and the nation as a whole."

The factory is situated in Alawwa, within the coconut growing area to ensure an uninterrupted supply of coconuts throughout the year. Furthermore, the factory also has set up production lines for sterile packaging of coconut water for local and export markets.

The investment in this new business is part of the company's diversification strategy which has seen a successful foray into organic fruit products, cereal, extruded snacks, in addition to its original biscuit business.

CBL has led innovation in the Sri Lankan food industry, holding a number of firsts to its credit. In more recent years, the company introduced Kothalahimbutu biscuits and Kome rice crackers to the Sri Lankan market for the first time. CBL is the largest exporter of biscuits, chocolates, cereal products and dehydrated fruit products in Sri Lanka.