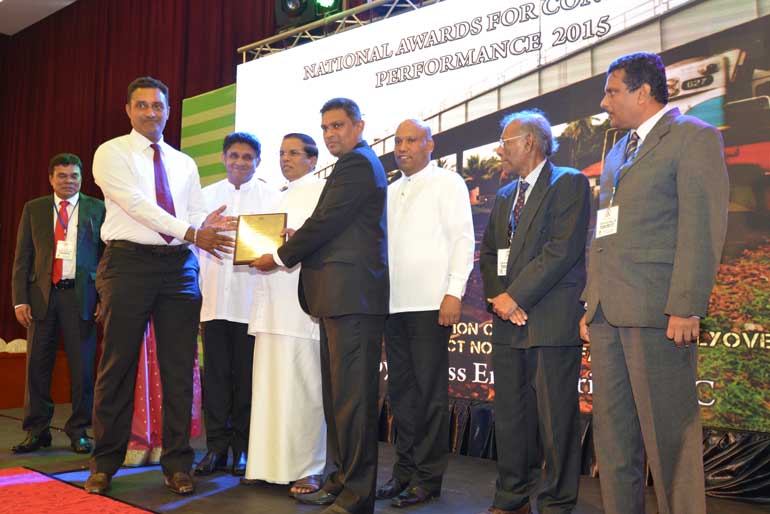 Access Engineering PLC; one of the foremost engineering companies in Sri Lanka was recognised with an Excellence Award for Construction Performance at the most coveted National Awards for Construction Excellence – 2015, held at BMICH on 23 December.

Since 1990, the National Awards for Construction Excellence organised by Construction Industry Development Authority (CIDA) under the Ministry of Housing and Construction accords recognition to construction projects that have demonstrated highest standard of construction excellence, construction management, higher degree of professionalism in technical expertise and quality, participation in the promotion and training of craftsmen/tradesmen and introduction of innovative technology.

Access Engineering PLC was bestowed with the Construction Excellence Award for the Design, Supply and Construction of Veyangoda Flyover, utilising the state-of-art technology with compliance to the most stringent quality and safety standards. The design and construction of the project was executed by Access Engineering PLC and Centunion S.A of Spain with the funds from the Government of Spain.

The 345 metre long flyover was designed to eliminate the elongated road traffic delays in Nittambuwa-Katunayaka road; caused by around 100 of train movements at the Veyangoda Railway Crossing. The location of the project, which is on the main access route to Bandaranayaka International Airport and the strict time window of three hours per day, set by the Railway Authorities for the construction work, made the project extremely challenging. Yet the project was completed ahead of the schedule demonstrating its commitment to be a key stakeholder in the National Infrastructure Development Initiatives.