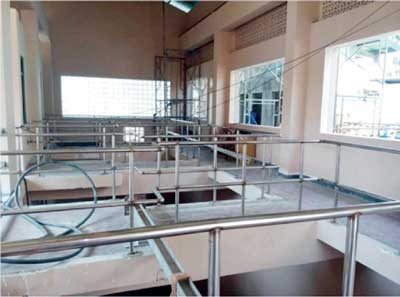 Access Engineering PLC is making significant headway in the rehabilitation work of the wastewater pump stations in Dehiwala, Mt. Lavinia and Kolonnawa under the Greater Colombo Wastewater Management Project.

The sewerage systems in Dehiwala, Mt. Lavinia Municipal Council and Kolonnawa Urban Council areas had been built during 1983-1987 based on a sewerage Master Plan prepared by Howard Humphrey in 1972. While these time worn sewerage systems accounts significantly to the overall waste disposal of the suburbs, no rehabilitation work has been carried out for the last 25 years, causing the systems to make severe failures in function.

Recognising the criticality of the requirement, the Greater Colombo Wastewater Management project was initiated by National Water Supply and Drainage Board and funded by Asian Development Bank intending to improve the urban environment and public health for the urban and suburban residents of Colombo. The contract to rehabilitate six existing wastewater pump stations was subcontracted to Access Engineering PLC by CCB Envico Ltd.; an Australia based company that holds the main contract to the project. The Kolonnawa sewerage system consists of 25km sewer network and four wastewater pump stations (Kolonnawa, Wellampitiya, Meetotamulla, Dematagoda) including associated force mains. The entire flow of Kollonnawa Sewerage system is discharged to a manhole in the gravity sewer line which carries the flow to Maligawatta pump station. Dehiwala and Mt. Lavinia Sewerage System which consists of 25 km sewerage network and two wastewater pump stations (Dehiwala, Mt. Lavinia) and associated force mains, pump the entire flow into Wellawatte sea outfall.

The scope of this project is to rehabilitate the above pump stations with fitted SCADA systems which will automate the operation process by allowing operators and facility personnel to monitor and control the equipment either locally or remotely. Under the contract, each pump station will also be built with sanitary and office facilities required for the respective operational staff. Access Engineering is making a swift progress in the rehabilitation of the said pump stations with the consultation support of EML Consultants, SMEC, Ceywater, EML, EEC, Ocyana Consultants, to meet the scheduled completion in August 2016.