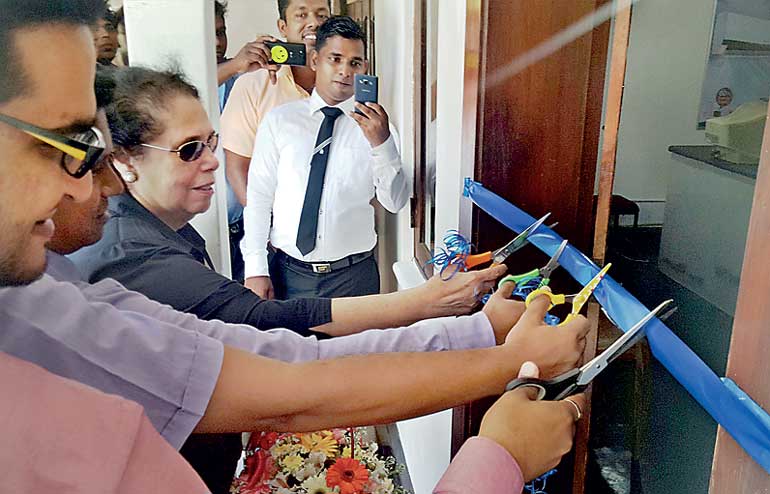 In an attempt steered towards easing the convenience of consumers further Abans Service Centre has recently marked its presence in yet another district in the country. This newly-opened Service Centre in Matara is located in the very heart of the town establishing accessibility and proximity at its best with easy access to both public transport and private parking facilities.

After much anticipation the Service Centre was officially declared open by Aban Pestonjee, Chairperson of Abans Group, Nanshad Aspi Daruwalla, Deputy General Manager – CSC of Abans Electricals PLC – Service Department and Channa De Silva, Senior Regional Manager.

Followed by months of thorough planning and implementation this new Service Centre has been established to serve its customers' needs by ensuring the utmost level of satisfaction is delivered. Like all Service Centres home to the Abans Group this too is well equipped with advanced technology, customer friendly staff, technicians and engineers that are carefully selected after undergoing a comprehensive training period to ensure no compromises are made in the quality delivered.

With this new addition the Abans Group operates a total of 16 Service Centres and 59 dedicated franchise agents in its network throughout the country. All Service Centres island wide cover a broad field of after sales services ranging from repairs and installations to the service and overall maintenance of valuable electronic products. Over the years Abans Service Centres have nurtured numerous well renowned brands such as LG, Hoover, Haier, Mitsubishi and Philips to name a few. The company has consistently placed customers on their top list of priorities and worked towards enhancing their range of facilities to ensure strong relationships are not just built but also maintained. In keeping with this attitude Abans Service Centres have implemented a variety of options such as a Hotline with 24 hour assistance to make sure customers are never left stranded, an Online Chat Support to facilitate an immediate response system and a fully functional multi-lingual Call Centre to provide further assistance.

An interactive website dedicated primarily to the service arm of Abans PLC is also available through which individuals can track the status of their respective services which keeps them informed at every step of the way and simultaneously assures them that their products are in safe hands.

Additionally, online payment options are available to stimulate further convenience for consumers and to prevent any form of time wastage from taking place.

The Quick Services option allows one to bring appliances to the service centre and enjoy a hot cup of coffee or tea while minor repairs are carried out on the spot. Similarly, the Mobile Service facility is available to those who require assistance delivered at their doorstep.

Feedback forms are also available on the website and are regularly under review for quality performance assurance. Facilities offered at Abans Service Centres are tailored to suit an array of needs and are closely monitored to make sure consumers are given an overall hassle-free experience and they stay true to their motto "Always there to serve you better".