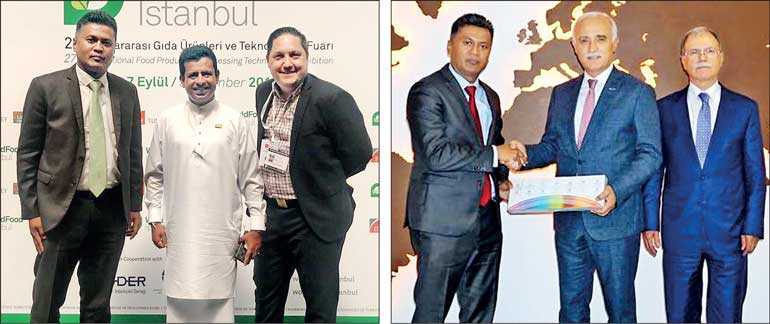 The State Minister of Industry and Commerce, Resettlement of Protracted Displaced persons, Co- Operative Development and Vocational Training and Skills Development Buddhika Pathirana attended the World Food Istanbul 2019 Fair which commenced on 4 September at TUYAP Fair and Congress Centre, during his brief stay in Turkey.

The Minister visited the Sri Lanka stand organised by the Embassy of Sri Lanka and the Sri Lanka Tea Board, meeting with the representatives of Sri Lankan companies which participated at the Fair, namely M/S Stassen Ltd., M/S Green Horizon Ltd., M/S Anverally & Sons Ltd. and MJF Group.

Earlier in the day, Ambassador of Sri Lanka in Turkey M. Rizvi Hassen along with the Director (Promotion) for Middle East and North African Region of Sri Lanka Tea Board in Dubai Premala Srikantha and Counsellor (Commercial) Yoshitha Jayasuriya inaugurated the Sri Lanka pavilion.

The World Food Istanbul Fair is regarded as the most effective and efficient meeting point for retail chains, wholesale businesses, food production companies. This year 500 exhibitors from 45 countries participated in the Fair.

During his visit to Istanbul, Ambassador Hassen paid a courtesy call to Foreign Economic Relations Board of Turkey (DEİK) President Nail Olpak along with Counsellor Jayasuriya and DEIK/Turkey-Sri Lanka Business Council Chairman Besir Ugur at the DEIK Head Office.

The Ambassador also met with the representatives of the senior officials of Istanbul Chamber of Commerce, Istanbul Chamber of Industry and Association of Turkish Travel Agency (TURSAB). Chairman Besir Ugur mentioned that he would attend the business conclave organised by Ceylon Chamber of Commerce in Colombo.

The Foreign Economic Relations Board of Turkey (DEİK) was established in 1965 to organise and manage the foreign economic relations of the Turkish private sector, in particular with respect to foreign trade, international investments, services, contracting and logistics, to analyse investment opportunities at home and abroad. All bilateral business councils established in Turkey have been registered with the DEIK and is considered the focal point of the business networking in Turkey.