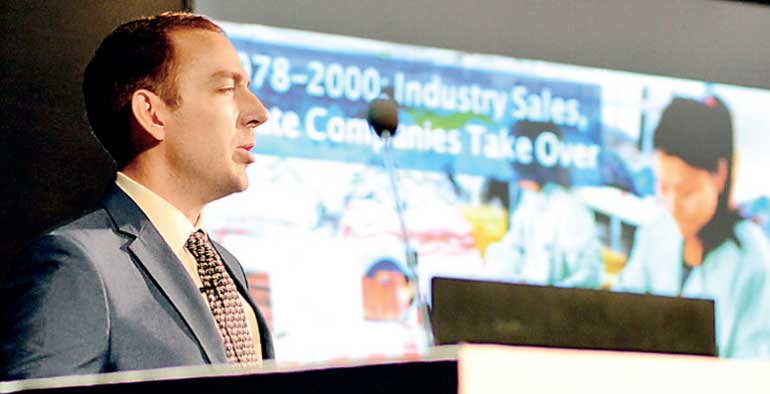 China's emergence as an economic super-force has been a topic for over a decade now. Powered by the world's largest populace, China's rise has astonished, inspired and threatened other economies around the world. And just as the world prepared to adjust itself around Sinoconomy, China metamorphosed again revealing an entirely new facet of the country. This was its explosive potential as a consumer market – particularly for high-end fashion and accessories. To Sri Lanka Apparel, this presents a giant opportunity even further simplified through cultural relations and proximity. But the prospect of breaking into a market like China is daunting – where would one start?

The China Market Research Group – an entity dedicated to analysing, understanding and forming accurate insights on Sinoconomy – will deliver a specialised session at the upcoming South Asian Apparel Leadership Forum, on understanding China as a market and making the best use of it for exponential returns. Delivered by China Market Research Group Director – Ben Cavendar, the session will go from understanding the key forces that evolved China into a massive high-end market, the values, tastes and trends dominating the fashion consumers, the kind of product that interests them, accessing the market directly and indirectly, and how Sri Lanka Apparel can grow to possess a unique position as a fashion supplier for it.

This game-changing session that directs the apparel industry towards the world's second largest market will be held as part of the South Asian Apparel Leadership Forum on 28th October, parallel to the inaugural Mercedes-Benz Fashion Week Sri Lanka, at Mercedes-Benz centre (Dimo 800) in Colombo.

Considered the epitome of what threatens the very idea of high-end, where 'cheap' trumps quality and quantity is the name of the game, China is the classic example of a maker, but not a consumer. However, there are 220 million Chinese consumers buying fashion online every day; This shopper is young, sophisticated, highly educated and well-travelled. Even during the 2015 collapse of the stock market and economic slowdown, the Chinese consumer continued to buy high-end goods, which included purchasing abroad in markets such as Tokyo and Paris, and taking advantage of increasingly abundant foreign e-commerce platforms that are gaining momentum.

For Sri Lanka, this means something new. The Sri Lankan apparel industry is known for quality and ability to produce unique, high-end pieces. Therefore both possibilities of pursuing business with fashion labels already doing well in China, and directly approaching the Chinese consumer online with Sri Lankan designed and made high-end fashion brands, are promising. Brands that do well in the Chinese market are looking for fast, quality and fashion-forward with the promise of big volumes: Their target is the younger, tech-savvy, increasingly sophisticated, and somewhat more price-conscious fashion buyer in China. Zara and Uniqlo are two examples of brands that are gaining momentum here.

Meanwhile, there has been a fascinating change in scenery for the Chinese shopper. The groups that have coveted popular high-end mega-brands like Prada and Dior, have started finding new value in unique, foreign designer brands that cannot be found anywhere else; which means their logo-lust is no more, but rarity and exclusivity are beginning to dominate purchase patterns. For those considering tapping directly into this growing Chinese market with Sri Lankan designer fashion, the South Asian Apparel Leadership Forum will highlight the important boxes to tick; establishing fast and reliable cross-border payment systems, social media and digital campaigns that really connect with the consumer mindset using locally popular channels such as the search engine Baidu, video channels (like Youku) and growing mobile platforms (such as Little Red Book) that remain underutilised by foreign fashion companies.

Another important aspect discussed will be maximising sales to the Chinese traveller through brick and mortar operations, by defining who the target consumer is within the vast travel retail landscape, what-where-and-why they purchase fashion.

This all-important conversation on using China as a powerful new market with great promise, falls well in line with the Sri Lankan apparel industry's search to diversify and broaden their markets beyond Europe and US. The upcoming free trade agreement with China is also expected to be a gamechanger for Sri Lanka Apparel, for our own brands and brands that we work with which can draw duty concessions for product made here. In this age where success in fashion means diversifying into new markets and taking advantage of the online game to make the best of both worlds— relevant discussions, in-depth research and real insights can go a long way to strategise the next decade. This is where South Asian Apparel Leadership Forum's relevance weighs in, allowing the Lankan apparel industry access the most up-to-date knowledge and groundbreaking insights to new possibilities in the fashion business.

Whether you are an apparel industry professional in management, production, sourcing, design, tech or merchandising, an independent fashion designer, fashion entrepreneur or investor, the China Market Research Group's session at the South Asian Apparel Leadership Forum will present a completely new paradigm on fashion consumer markets.

South Asian Apparel Leadership Forum is held as part of Mercedes Benz Fashion Week on 28 October at Mercedes Benz Center – DIMO 800. Mercedes Benz Fashion Week is conceptualised by – AOD along with the DIMO Mercedes-Benz as Fashion Runways Partner , Endorsement Partners – EDB & JAAF, Industry Patrons - MAS Holdings, Brandix and Hirdramani, Thread & Zip Partner – COATS , Fashion Retail Partner – Fashionmarket.lk, Hair & Makeup – Salon KESS, Official Host – Mount Lavinia Hotel, Official, Airline Partner – Etihad Airways, Technology Partner – GT Nexus, Cultural Partners – German Embassy of Sri Lanka and Brazilian Embassy – Sri Lanka, Print Media Partners – Wijeya, Online Media Partner – Life Online, Beverage Partner – Freelanka, Official Telecommunications Partner – Dialog Print Partner – Softwave and Paper Partner – Papyrus. For partnerships, participation and more information on South Asian Apparel Leadership Forum contact: 0115867772/3, 0763427772/www.saalf.com/[email protected] AOD: 29, Lauries Road, Colombo 4.