Dayan Fernando kept the audience grooving as he spoke on how to Seal the Deal at the TMC Members Speak held on 17 August at the Galadari Hotel in Colombo.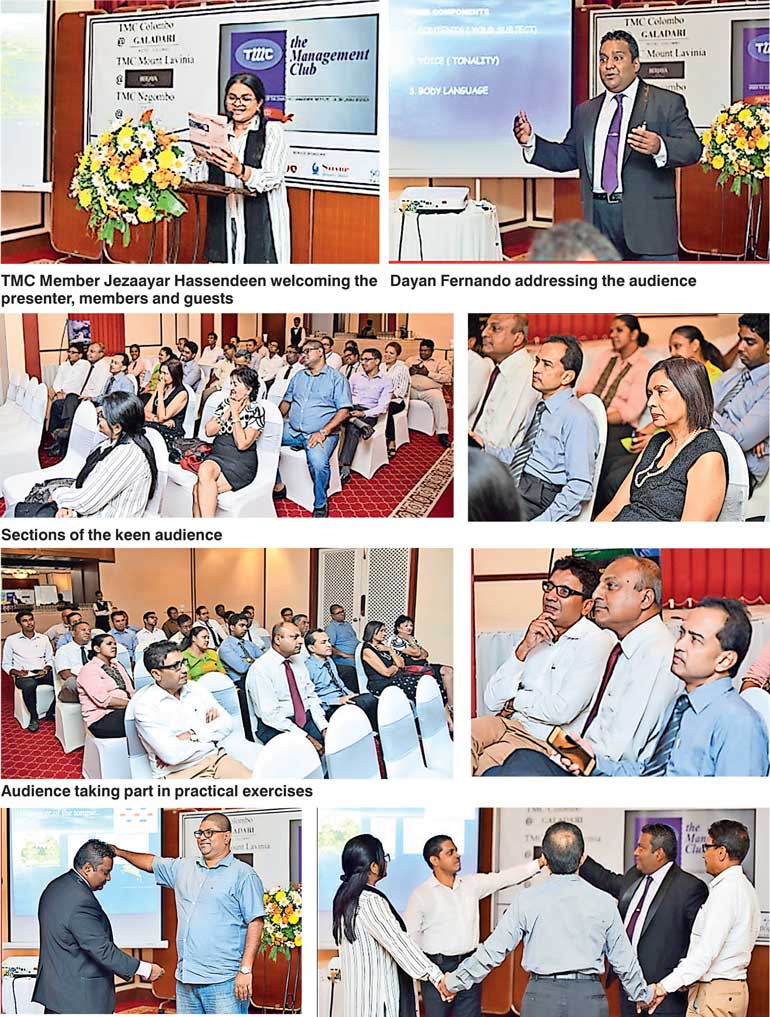 The audience was greeted to a pleasant evening as Dayan spoke on a vast topic of How to Seal the Deal in any situation/life circumstance or even a Business Deal. Dayan went onto talk about three important aspects a person should aspire to inculcate in life to be successful. Dayan stated that there are no real recipes for success other than the attitude, commitment and communication. It was brought to life through practical examples as to how anything in life could be achieved through positive thinking.

Dayan Fernando, the present warden at Lyceum International School, Nugegoda has mastered the art of people skills, increasing corporate revenues, team building and driving profitability throughout his career spanning over 20 years with experience he gained while being at the top realm in the corporate sector here and in Australia. He has won many awards and accolades during his involvement with the Toastmasters International where he went on to become the champion Impromptu speaker of District 82 comprising Sri Lanka and India in 2010 and has won all aspects of public speaking in Division level.

His involvement in leadership positions started off at his alma mater, S. Thomas' College, Mt. Lavinia where he was appointed the Head Prefect and was also awarded the Victoria Gold medal, the top-notch award in the school.

Dayan wedged his way into the hearts and minds of the audience with his humor and conveyed the important message that each one of us has what it takes to be successful and it is up to us to make out what we want in life. He showed how we can think in a positive manner and work with a positive mind and great commitment to achieve unbelievable goals. Dayan was able to practically show how negative thoughts of people towards us and the negativity of others could affect us and gave some good tips to stay positive under any circumstance. He said, "It's not what happens to you, but, it's what you do about it" that will decide your future state of mind and happiness.

When he spoke of communication he said that "The Art of Communication Is the Language of Leadership!" He gave us some good tips on improving our voice. Dayan very proudly stated that he has never gone for any speech classes but his success has been due to the fact that he has been singing in a church choir from a small age.

Finally, Dayan gave a twist to the topic and asked the audience if they have thought about the day their own coffin would be sealed. He said while you are engaged in sealing the deals of life, just to give it a thought about the day your own coffin would be sealed. He gave the audience food for thought when he said that as managers there is a time to learn, then a time to earn and then a time to give back to the society. He left the audience with six points/values to ponder as to where each person should focus at any given time, and that being family, career prosperity, personal growth and development, health and fitness, relationships and spirituality.