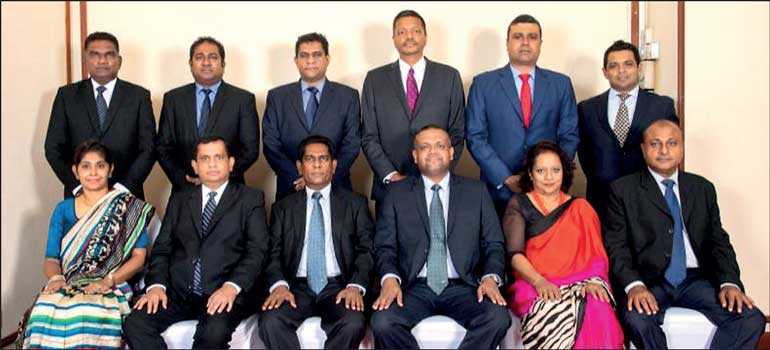 TMC Mt. Lavinia Executive Committee 2020-2021
Seated from left: Vasitha Seneviratne, Manish Rodrigo (Secretary), Ashoke Baddage (Vice Chairman), Roger Talayaratne (Chairman), Shyama Sugathapala (Treasurer), Jayantha Gunasekera (Immidiate Past Chair)
Standing from left: Chandana de Soysa, Mario Alphael, Kanishka Ranaweera, Shanka Mahendra, Shalutha Samaratunge, Jehan Fernando, Dr. Rohan Karunaratne (not in photo)
---
The Management Club (TMC) Mt. Lavinia conducted its 14th Annual General Meeting at the Galadari Colombo with the participation of a large number of members and founder members of TMC.

The Management Club (TMC) was formed in 2001 under the auspices of the Chartered Management Institute – UK Sri Lanka. TMC was established to uplift management practices in Sri Lanka on par with the best international standards, and strives to achieve this by providing constant opportunities for member interaction and participation, at appropriate business and personal enhancement programs in the varied disciplines that make up the field of management.

The meeting commenced with the outgoing Chairman Jayantha Gunesekera addressing the membership. He then invited President Emeritus Fayaz Saleem to take the head table, and to introduce the New Chairman of TMC Mt. Lavinia, Roger Talayaratne – Managing Director of Ebenezer Double Edged Solutions Ltd. He holds a Masters Degree in Business Administration (MBA) and is a Qualified Marketer and a Certified Management Accountant with 27 years' experience in the Pharmaceutical, Diagnostics and Fast Moving Consumer Goods (FMCG) industry.

He was the former Director of Sales and Marketing at Morison PLC, and prior to that the Head of Sales and Marketing, in GlaxoSmithKline Pharmaceuticals and was a part of the Country Executive Board of the company. Roger obtained his basic marketing qualifications from the Chartered Institute of Marketing, UK and a Master's Degree in Business Management from the Manipal University, India. He is also a Certified Management Accountant from the Institute of Certified Management Accountants, Australia. He is currently, reading for a part time PhD in Leadership Behaviour through the University of Colombo.

He has a track record for consistently driving performance, with proven skills in delivering market beating growth by building strong teams and has an excellent commercial track record including strategic planning, driving execution and launch excellence.

With the appointment of its new Chairman, TMC elected its new Executive Committee comprising of:

Ashoke Baddage (Vice Chairman) – Chief Marketing Officer of Paraqum Technologies Ltd.

Manish Rodrigo (Secretary) – AGM Sales at LOLC Securities.

Shyama Sugathaplala (Treasurer) – Director – Kent Trophies and Awards Ltd.

Jehan Fernando – Chairman of MD SPJ Holdings Ltd., and MD Impact Solutions Ltd.

Shanka Mahendra – Director of Sivishko Holdings Ltd., and Director and Head of Finance at GlaxoSmithKline Pharmaceuticals Ltd.

Vasita Seneviratne – Proprietor of Evensta.

Mario Alphael – Country Manager Sanofi Lanka Ltd. – SL and Maldives.

Chandana de Zoysa – Operations Manager at Maritime Property Management and Maintenance Ltd.

Dr. Rohan Karunaratne – President of Ceylon Institute of Builders and South Asian Lean Construction Association.

Chairmen of AKK Engineers Ltd., Master Builders International Ltd., Hybrid Airport Ltd., Arpico Finance, Association Motor Finance, Pinthaliya Resorts & Spa, Wana Niwahana Holiday Resort, Overseas Training Academy, Human Resource Development Ltd., and Director – Hatton National Bank and Helanco Hotels & Spa , amongst many other appointments.

Kanishka Ranaweera – Head Human Resources of Airtel Lanka Ltd.

Shalutha Samaratunge – Director/GM of Commercial Realty Ltd. and Director of Commercial Residencies Ltd.