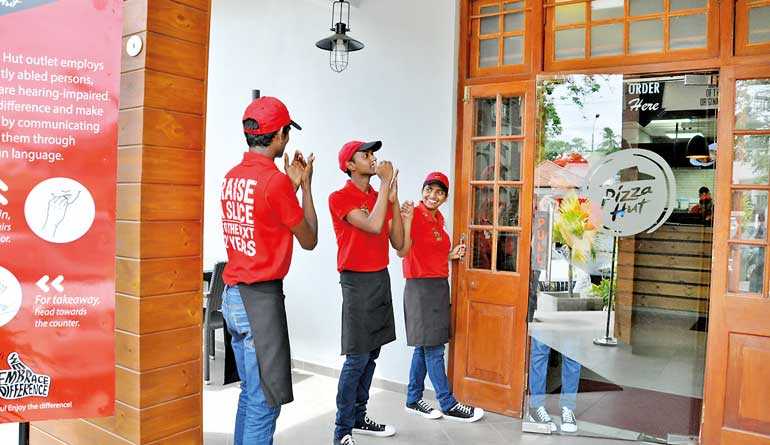 American brand Pizza Hut has set a great example through its outlet in Colombo 5, which is manned by people with disabilities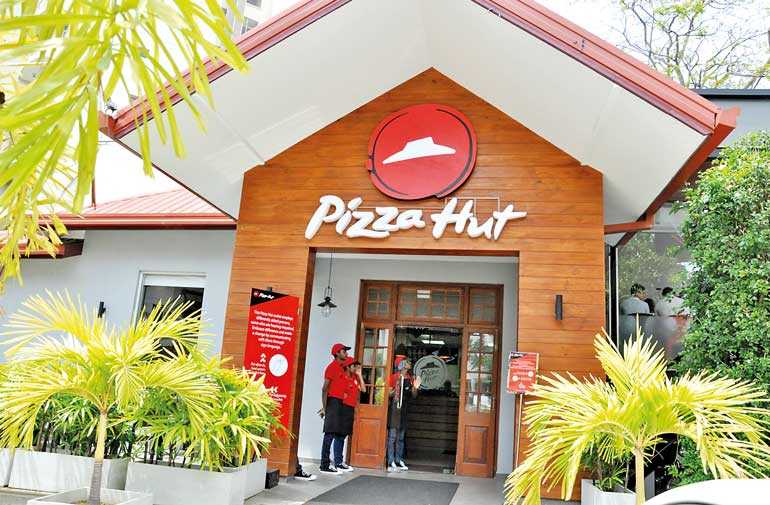 The Pizza Hut outlet in Colombo 5 is the world's first outlet employing people with disabilities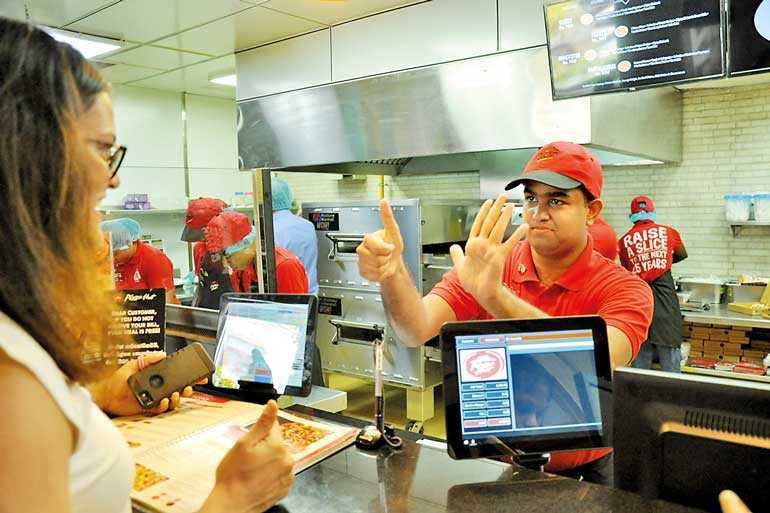 In general many of the signs are common ones that we use in our everyday interaction, such as the thumbs-up, nod and headshake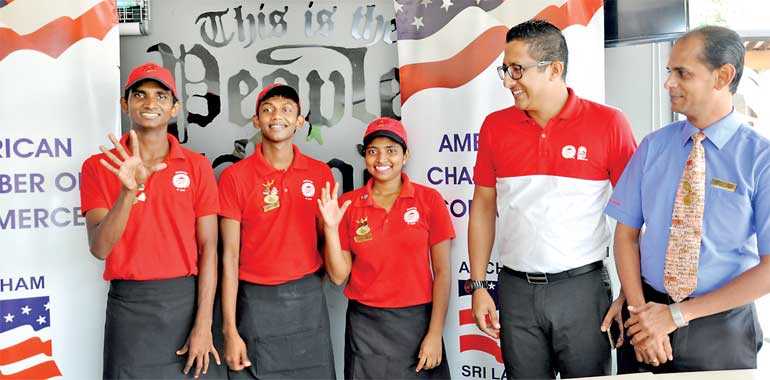 Some of the employees with Brian and Manoj
---
Outlet manned by people with disabilities, a world's first for the brand
---
By Fathima Riznaz Hafi

Society tends to segregate people based on their race, social status, level of intelligence, capabilities, the list goes on. People with disabilities share the same plight; they are rarely seen integrating in the mainstream, be it professionally or socially. People are reluctant to communicate with them because their mode of communication is different or 'difficult'. Employers have the impression that people with disabilities have no talents and cannot be productive.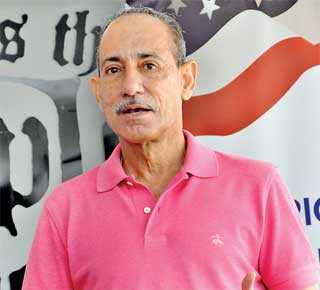 Gamma Pizzakraft and Gamma Lanka MD Amar Raj Singh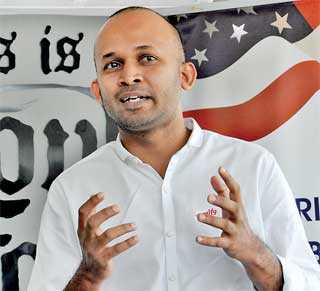 Gamma Pizzakraft Lanka Director – Human Resources and Administration Kaushal Mendis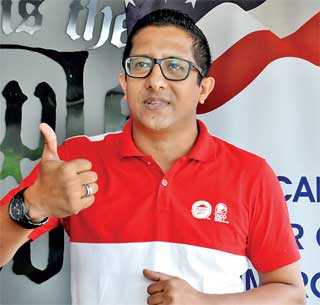 Brian, the trainer, volunteered to take on this challenge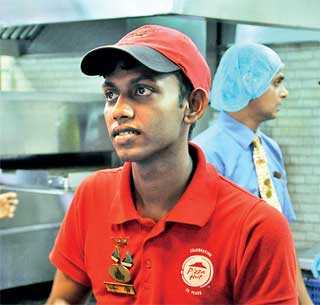 Rasika, polite, swift and confident in taking orders


Removing negativity towards people who are different and instead embracing that difference and helping them integrate into society has immense benefits for both parties as inclusivity nurtures a happy, productive, healthy culture.

With this in mind, American brand Pizza Hut has set a great example through its outlet in Colombo 5, which is manned by people with disabilities – a world's first for the Pizza Hut brand. AmCham Members Spotlight organised an event last week to highlight Pizza Hut's inspiring initiative.

Speaking at this event, Gamma Pizzakraft Ltd. and Gamma Lanka Ltd. Managing Director Amar Raj Singh said: "There are two distinctive features about this outlet; the first is we are in the business of food, which usually unites – we have it with family or friends. Then we come to the unfortunate part of our society by the way all cultures have developed – they are full of stratification and labelling. Whether we look at the Western world or our part of the world, we tend to stratify society's rich-poor, black-white, and we also tend to label people. That kind of attitude that society has adopted over the years, tends to divide.

"Food unites and stratification divides. And that is exactly the gap that we wanted to bridge, by making Pizza Hut a very inclusive culture by saying that those that people have labelled, those that society tends to treat differently, we want to embrace them and become a brand that is very inclusive, to ensure that not only do we welcome these very intelligent, talented people within our fold, but we actually don't treat them differently. And we give them the dignity of being just as much a part of our culture as anybody else's."


They should be everywhere

"We're moving beyond having outlets of this nature which are manned by people with disabilities, to an even more inclusive platform. Once again we feel that if we have an outlet that has got all differently-abled people then again we are sort of segregated. All of them went for their orientation to various outlets in the Pizza Hut system and the Government system in Sri Lanka.

"They were in batches of two or three and worked in these outlets; they integrated well – the learning was on both sides – people who interacted with them and they interacted with people on the other side. We wish to promote that; the idea is that they should be everywhere; everyone should learn how to interact with them and they should learn how to interact with everybody else. So this is probably the first and last outlet of this kind because we would like to see them all over the place, within the Gamma Lanka and Pizza Hut family.

"Now the attempt is to join hands with institutions, so that we can train people in advance, in the science of food, hygiene and the whole concept of service and then they practice their skills in communicating with people and people practice their skills in communicating with them; and that way the whole customer base, our society, and the people that we serve, become far more integrated and a happy family, that is providing great food and wonderful service. That process is going on."


A successful experiment

Pointing out how well the experiment has worked so far he said, "This is one of our best performing outlets; it has one of the best in-store times, it has zero complaints, it has one of the highest factors of 'within 30-minute-delivery' in its trade area – all the things that we dream for in a normal restaurant – and many times failed – these young men and women have achieved!

"In an industry where if you have a team member turnover of 60% you are doing very well. This is the situation in the industry. In the food and beverage industry, in the fast food industry usually the team member turnover is about 100%. In India it's 166 to 170%; it means the guy who's here today is not going to be here in three weeks' time. We have zero turnover in this outlet! Nobody has left – everybody is having a ball! They are doing so well and we are so proud of them."

"This group has shown that with the training that is provided and the support that is given – subjecting them to the entire set of rigorous standards of food preparation and service, they have come out winning. They are one of the best outlets that we have."


The search

Gamma Pizzakraft Lanka Ltd. Director – Human Resources and Administration Kaushal Mendis sharing the story of how they gathered this group of champions, said that when they set out on their search for suitable candidates they had to keep in mind that not all people with disabilities will be able to fill the role; for example a person whose disability is blindness will not be able to carry out the role as vision is critically required for someone working in a restaurant.

They then considered people with hearing impairment and selected the Ratmalana School for the Deaf where they found this group of talented youngsters who in addition to their school curriculum also received vocational training in bakery; they were taught how to bake buns.

"We are not making buns here but we figured they work in a kitchen so they know their basic culinary skills and can therefore make the connection. So we were really happy with the nine kids. The next challenge was bringing the idea to operations. They observed them in the test kitchens and saw their competence and they too gave the green light. Then the challenge came back to HR on how to materialise this. We have a bunch of talented kids here and had to figure out how to integrate them into a global brand which battles with time," Mendis said.

During discussion they noted that the main obstacle here was communication – due to the inability to hear or speak; therefore if the communication part was enabled, the obstacle would then be lifted. The answer was sign language! If the customers, colleagues and employers could communicate with them through sign language, the only true obstacle, would then be lifted and work would be smooth and successful.


The most entertaining language

Enter Brian's role. He is the trainer and going beyond his regular work volunteered to take on this challenge. He didn't know sign language so he approached the trainer at the Ratmalana School and sought his assistance.

"I discovered that it is the most entertaining language in the world – other languages using voice are boring compared to this because it is a total act – it's like drama – full of action. I got the basic stuff from the trainer at Ratmalana and after that I took over all nine kids and we started from our test kitchen in our head office where slowly we gave the knowledge on standard operation practices. While doing that I learnt a lot about communication from the kids," said Brian.

Brian and Manoj are the key personnel in this initiative, with Brian being the right-hand man in taking this process forward, while Manoj is the restaurant manager who runs this one-of-a-kind outlet of Pizza Hut.

"After a few weeks we heard the good news that the team was doing great!" exclaimed Mendis. "The social message is firstly there's a talented competent, labour force of this nature. There are organisations which provide employment for these kids but not in the forefront – they generally tend to get people to work in the back end where they will not have interaction with customers. We wanted to prove a point – if 100 customers come into our restaurant to have the most enjoyable, shareable food in the world, that my team is competent to take the order and deliver the order within 30 minutes – as tasty as in the rest of the Pizza Hut outlets," Mendis said.


Learn something new while waiting for your meal

Mendis says that children come with their parents and are often seen communicating with the staff through sign language – a beautiful sight that hopefully will be continuing to the next generation.

They learn the signs from the guide that is placed at each table with a set of picture diagrams showing how to use sign language to communicate with the staff. We can learn how to give basic instructions or make queries such as 'Can I have a bag?', 'Can I talk to your manager?', 'Increase the air con/music', 'Can I have the bill?', or 'Is the food 'less/more spicy?' I memorised some signs but by the time I got to the counter to order, forgot them all. Well evidently fluency, in any language, comes with practice.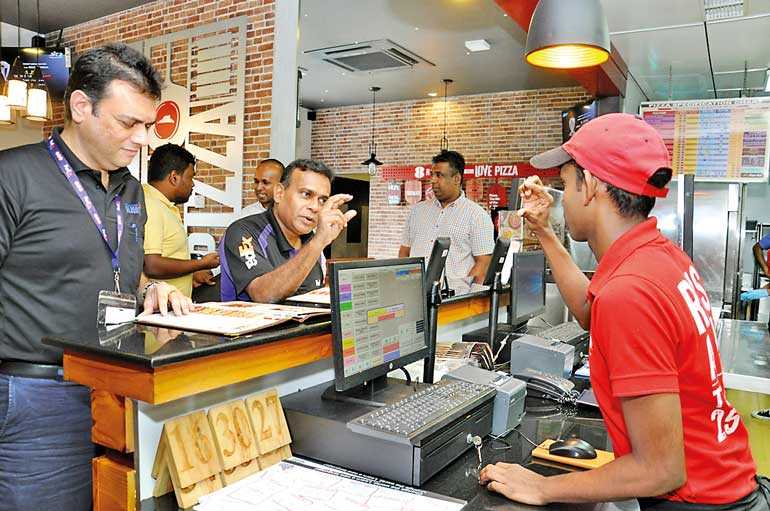 If we make an actual attempt to interact with people who are different from us and embrace them, great things can be achieved
---


Time to order

After learning about Pizza Hut's commendable new venture, we were invited to place our order and taste the pizza prepared by their champions. A smiley-faced, cheerful boy named Rasika attended to my order. I wasn't sure I could pull this off at first due to my lack of fluency in sign language but I found that in general many of the signs were common ones that we use in our everyday interaction, such as the thumbs-up, nod and headshake.

We communicated fine mostly but I got stuck for a second when I didn't understand a question – luckily our photojournalist Lasantha who had been observing him interacting with the other customers understood the language slightly better than me and translated it to me while Rasika remained patient and smiley.
The social message is there's a talented competent, labour force of this nature. There are organisations which provide employment for these kids but not in the forefront – they generally tend to get people to work in the back end where they will not have interaction with customers. We wanted to prove a point – if 100 customers come into our restaurant to have the most enjoyable, shareable food in the world, that my team is competent to take the order and deliver the order within 30 minutes, as tasty as in the rest of the Pizza Hut outlets – Gamma Pizzakraft Lanka Director – Human Resources and Administration Kaushal Mendis


He was polite, swift and confident when taking my order and I gave him the thumbs-up when he pointed at the screen to confirm if my order was correct. While the food was being prepared, I went on a quick tour of the station where his colleagues were busy with their meticulous layout of toppings for each pizza and then rushed back to the counter where Rasika was ready with my food – delivered swiftly and efficiently, still maintaining the same smile.

We gave each other the traditional Sri Lankan side-to-side head slant when the transaction was complete, and then of course there was the universal 'smile' when we parted ways. All in all, a very pleasant, refreshing experience.

Many of us tend to make excuses for not including people who are different from us, one of which is we don't understand them as we can't communicate with them. What I witnessed showed that it is all really in our heads and if we make an actual attempt to interact with people who are different from us and embrace them, great things can be achieved.

Pix by Lasantha Kumara