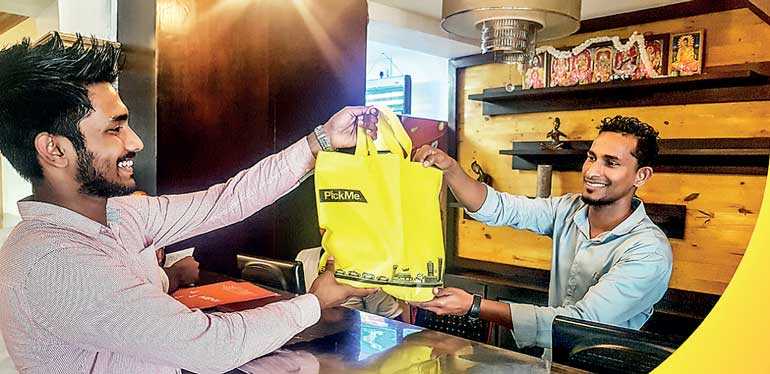 In yet another revolutionary move, the award-winning smartphone app PickMe's food arm 'PickMe Food' introduced an all new feature titled 'Self-Pickup' aimed at furthering the company's goal to provide greater convenience to Sri Lankan lifestyles.

This feature will provide consumers with the ability of placing a food order via the app and as the name suggests, they will be able to pick their order up themselves.

While delivering food will remain an integral part of PickMe Food's core purpose, this option aims to bring convenience to those who order from restaurants in close proximity to their homes or workplaces and even those who are able to pick their food up on the go, thus eliminating the need to stand in queues or spend time settling payments and in turn save consumers' valuable time.

Commenting on the launch of the feature, PickMe Food's Head of Operations Mevan Peiris said: "PickMe Food is offering yet another innovative solution for everyday Sri Lankan problems. Ordering food to Take-away on your way home, especially for dinner is very popular among the working crowd. We want to make that process easier, faster, seamless and hassle-free. Forget waiting in the queue while your koththu or hoppers are on the fire and the traffic police write you a parking ticket! Instead just walk in, pick up your favourite meal and head home to enjoy it fresh and hot."

In a day and age where time is of the essence, PickMe strives to always adapt to the challenges individuals face on a daily basis. That being said, after having successfully championed the ride hailing sector through the use of technology, the company believes that PickMe Food will revolutionise the F&B industry Sri Lanka as we know it.

In conclusion it must be noted that while this feature is yet another of the many set to be deployed by PickMe, it is safe to say that the 300+ strong engineering team currently housed at the MAGA ONE building in Nawala will continue to develop and build solutions aimed at resolving any and all issues in terms of mobility that should arise. Sri Lanka is an up and coming hub of talent in terms of technology and the company believes its drive to adapt and resolve will see the country emerging as architects of change with PickMe taking the lead.