Developing skills for peer leadership
Anver Dole will address a very interesting topic – 'Developing Skills for Peer Leadership'. He will explain that the emphasis on the skills used in the corporate world and non-corporate sector are different.

He will highlight the skills of legendary world leaders and assist you to examine your current leadership style. More importantly Anver will draw from his vast experience, to elucidate the special skills that need to be developed when working with and leading peers.

Anver Dole is a prove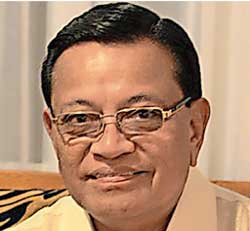 n leader in many diverse fronts. A Chemistry Honours graduate of the University of Ceylon, Peradeniya Campus, he is a Fellow of several professional organisations. He is a past President of the Institute of Management of Sri Lanka (IMSL), Institute of Chemistry, Plastics and Rubber Institute of Sri Lanka (PRISL), and a Founder Director of the Asian A
ssociation of Management Organizations (AAMO). Anver is a past District Governor of Lions Clubs International, a Worshipful Master in Freemasonry, the former Chair of the Employer Federations' Employer Network on Disability', and Chairman of ESCO REHAB Sri Lanka.

On the invitation of the ILO, he has addressed Employer Groups in Cambodia and Thailand, and was even invited by the World Bank in Washington DC, as the Resource Person from Asia, to discuss disability issues. He has been a mentor and an inspiration to the LEO Movement in Sri Lanka.

All members are welcome to listen, learn, enjoy, interact and network. Members may bring guests who may be interested in joining TMC. Rs. 500 will be charged for light refreshments and drinks.

The presentation will be held on 26 September at the Galadari Hotel from 6 p.m. onwards. Members are requested to confirm their participation early to the TMC Office – Pradeep/Joseph on 011 5860000 or by emailing: [email protected].