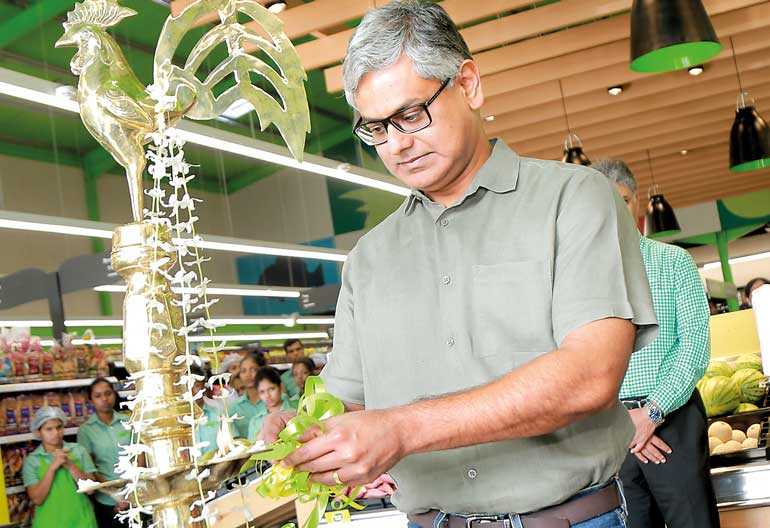 JKH Chairman Krishan Balendra opening the 100th Keells store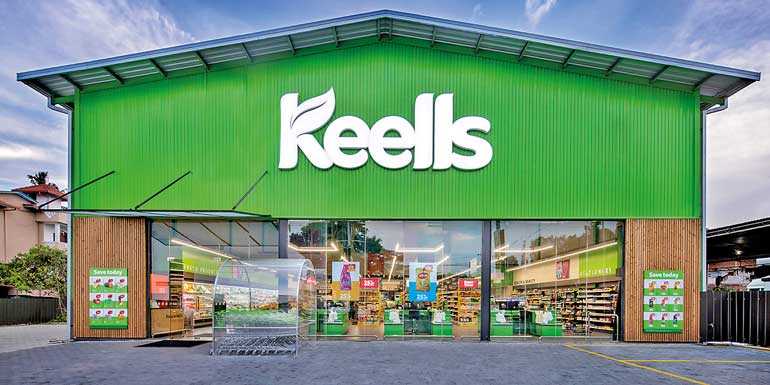 Keells New Store
Rebranding supermarkets in a record time of eight months to bring store in line with customer expectations.
Awarded 'Most Valuable Supermarket Brand of the Year 2019' by Brand Finance and National Business Excellence Award 2018 (Trade Category) by the National Chamber of Commerce.
Only supermarket chain awarded SLSI supermarket management system and GMP Certifications
Six collection centres across the country to source fresh produce from local farmers.
Very own retail academy and online training platform to train and empower the youth of Sri Lanka.
Committed to reducing single use plastics used in store by 50% by 2025.
Reducing the carbon footprint by utilising solar power in 43 stores.
Recognised for its trailblazing journey to change the landscape of modern trade in Sri Lanka and adjudged the most valuable supermarket brand of the year, Keells marks another impressive milestone as its 100th store opened in Miriswatta Gampaha on 31 August. Staying true to its core purpose to improve the quality of life of the nation through a journey of retail excellence, Keells has continued to grow its presence since its entry into the retail space way back in 1991, with its first supermarket at Liberty Plaza, Colombo 03.

Formerly known as Keells Super, the retail chain has set its own mark, innovating around its service offerings and building on trends from a global experience. While freshness, customer service and value for money are high on the agenda, giving customers an easy and enjoyable shopping experience has been the reason behind many innovations for the retailer. Embracing rapid advancements in technology, Keells was the first supermarket to launch an online site for its products in 2002, while adding the convenience of in-house bakeries and being the first retail chain to obtain SLS and GMP certifications, which are currently maintained across 60 to 78 stores respectively.

With the rebranding of its stores, the Keells retail chain gave itself an all-new look within just eight months. Always on the cusp of innovation, Keells has revolutionised the retail landscape by offering Sri Lankan consumers an international-level shopping experience, adding a range of services that offer convenience such as ready to eat meals, pizza, juice and imported products. Freshness being a cornerstone of Keells, the Sri Lankan consumer now gets the opportunity to experience fresh produce that is brought from farm to store within 24 hours and healthy value additions such as 'Never Frozen Chicken' achieved through collaborations with farmers and suppliers. Keells Freshness Guarantee 'or double your money back' policy instils confidence in the customer of the freshness of the produce.



At a time when general household spend has rapidly overtaken the income generation of many a household, offering an extensive range of over 295 'Own Label' products which maintain quality but at more affordable pricing has been a positive move made by the retail chain. In addition, extensive deals that enable cost savings are also launched week on week,

Giving back to the farming community, Keells practices a fair pricing policy that sources vegetables and fruits from collection centres in six different locations across the country, providing farmers access to markets for their produce while making it possible for consumers to enjoy the finest and freshest products at Keells outlets.


Employing over 4500 youth from across the country and giving them the opportunity to obtain qualifications such as NAITA and NVQ, Keells has enabled job creation while developing skilled youth, contributing towards the income generation of thousands of families.

As a responsible corporate, Keells has undertaken to reduce its carbon footprint by installing solar panels to generate renewable energy at 43 stores, and recently made a commitment to reduce single use plastics by 50% by the year 2025.

"This journey will not be possible without the support of our loyal customers, our suppliers, the farming community, and the committed Keells team members both past and present," said John Keells Group Retail President Charitha Subasinghe, "Where we are today is a testament to our vision and the efforts by all involved and a sincere thank you to all who have played a role in this journey. We have always believed that if we have the right conversations with our customers and partners the best outcomes can be achieved."

Keells is a subsidiary of John Keells Holdings PLC (JKH), Sri Lanka's largest listed conglomerate in the Colombo Stock Exchange operating over 70 companies in seven diverse industry sectors. JKH provides employment to over 13,000 persons and has been ranked Sri Lanka's 'Most Respected Entity' for 13 years. Whilst being a full member of the World Economic Forum and a Member of the UN Global Compact, JKH drives its vision of "empowering the nation for tomorrow" through the John Keells Foundation.