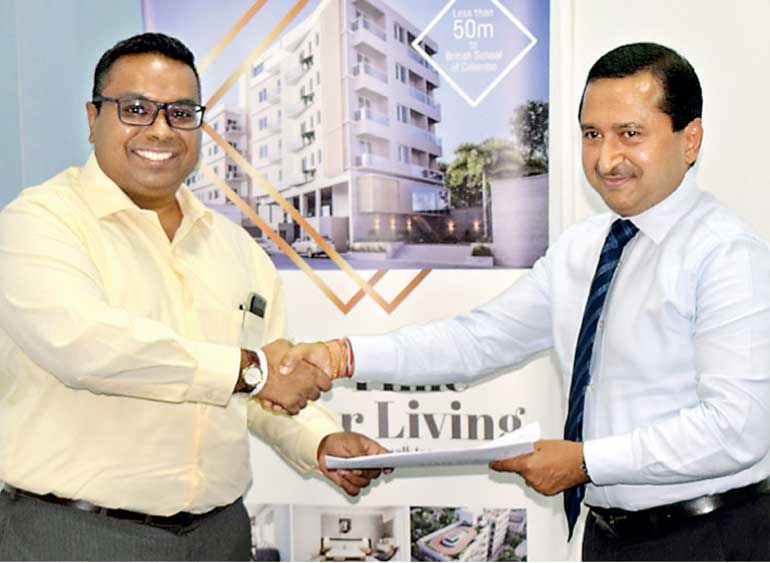 Ekroma Realtors, a BOI approved real estate developer with the vision to give Colombo a unique and new way of living, is geared up to unveil its signature project – Elegant 16.

Elegant 16 brings in a brand new concept of boutique apartments to Sri Lankan homeowners. A boutique apartment is a cozy and luxurious space with apartments ranging from 870sq. ft. to 1900 sq. ft. The dwelling spaces will feature open plan interiors to create the ideal ambiance for family life, offering convenient access to each other while being under one roof.

Adding to the allure of this novel living experience, Ekroma Realtors recently partnered with Softlogic Lifestyles which will conceptualise and create the mock apartment at Elegant 16. Softlogic Lifestyles is a one-stop shop for all interior solutions and household furniture. It is also the sole distributor for world-renowned lifestyle brands such as Natuzzi Italia, the largest luxury furniture manufacturer and world-leader in leather upholstery, SB Furniture, Koncept, Able and Silent Night.

The agreement between Softlogic LifeStyles and Ekroma Realtors was signed by Softlogic Retail Ltd. and Softlogic Brands Ltd. Director Hemantha Gunawardena and Softlogic Corporate Services Ltd. Manager Dinusha Edirisinghe and Ekroma Realtors Managing Director Onesh Subasinghe.

Ekroma Realtors is also offering for a limited time only fully-furnished apartments done up by Softlogic LifeStyles at Elegant 16 apartments at the selling price. This offer is valid till 30 October. This will allow potential homeowners living busy lifestyles the opportunity to move into a complete home without the hassle of furnishing and sourcing interior decorators. Ekroma Realtors will go the extra mile to give customers more for their money's worth.

Be it for young professionals, families or anyone who needs the convenience of city, with Elegant 16 you get the whole package. Detailed finishes and elegant fittings ensure that your home is a reflection of your personality and taste.

The apartment complex is located within the residential hub off Elvitigala Mawatha, Colombo 5 to give you the ultimate experience of being nestled away from the hustle and bustle of the city while still being within the hype, with a clear view of the Lotus Tower and Altair from the distance.