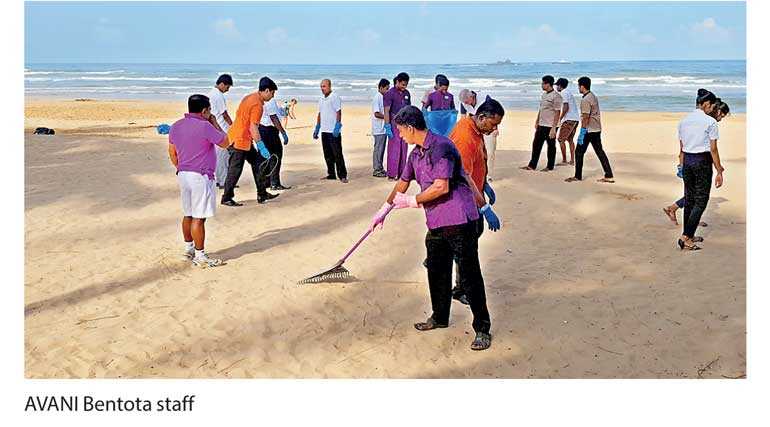 AVANI Bentota Resort, owned by Serendib Leisure Management Ltd. – leisure arm of Hemas Holdings PLC, recently concluded a beach cleaning program as part of their ongoing CSR project by removing scattered debris from over 350 meters of the Bentota coastlines. This a routine practice by the resort in order to maintain the pristine conditions of the beautiful beach stretch that Bentota is gifted with.

The resort has always been a strong advocate for adopting green practices and environmental sustainability where preserving nature and preventing pollution is a highlighted topic of discussion. One of the pressing issues that the world is facing currently is environmental pollution which is occurring in a large and unprecedented scale across the globe.

Approximately over 50 staff members gathered at the beach front in order to participate in the beach cleaning program; and was later treated to refreshments after hours of cleaning. Vast amounts of garbage especially plastic find its way into the world's oceans every year and it is causing significant threat to marine life and sea birds. AVANI Bentota Resort managed to collect through this exercise approximately 300 kg of debris which equalled to six truckloads of plastic, glass and other waste materials.

"It brings us great honour to have the ability to contribute and be part of a team that is making a difference to help our environment. We hope to have more volunteers onboard the next time to cover a larger area of the beach," said General Manager Urs Platz.

AVANI Bentota Resort with the intention of contributing to a cleaner and greener environment, continuously looks into other methods of giving back to the community; for example last month the staff undertook a project of planting coconut trees in the hotel gardens. Planting trees undoubtedly produce clean air, reduce carbon, and provide shelter to birds and other wildlife.

AVANI Bentota Resort is located on the best beach strip along Sri Lanka's western coastline, a mere 90 minutes from Colombo. Designed by world-renowned architect Geoffrey Bawa, who took inspiration from an 18th-century Dutch village. The property has a contemporary feel and offers a tropical island beachside haven. Facilities include 75 tastefully designed rooms and suites, three bars, two restaurants, two swimming pools, gym and AVANISPA.