In a time where entrepreneurship is escalating, more investments ensue to cascade into the country and greater opportunities and promising ventures bustle with life, there is a rising demand for elegant properties that promise unequivocal opulence and irrevocable comfort … things that cannot be compromised on.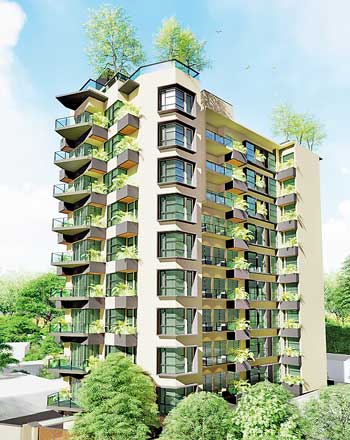 A subsidiary of JAT Holdings Ltd. who are pioneers and experts in the finishing industry in Sri Lanka, JAT Living is the arbiter of ushering fresh change. The brainchild of monumental architectural complexes, JAT Living facilitates pristine real estate solutions with top notch connoisseurs breathing light, shape and life to efficiently and immaculately create residential properties ahead of its time.

Nawala is a residential city that has become a corporate and personal favourite of patrons who seek comfort, luxury, convenience and quality without compromise. 4th Lane is located at the centre of the Nawala-Rajagiriya main road and provides access from three directions, where Kirimandala Mawatha offers a route with close access to Colombo. This budding property is situated conveniently and offers tranquillity and security, privacy and safety.

This development is the first of many residential properties to be developed by JAT Living. '77th on Fourth' is designed by Philip Weeraratne of PWA (Philip Weeraratne Architects), a renowned and leading architect in the country. The construction of the property will be handled by a 'C1' type construction company Access Engineering, while the management will be supervised by Prof. Chitra Weddikkara and her team from Qserve Ltd.

The property facilitates a variety of 24 state-of-the-art luxury apartments, with floor areas ranging between 1,386 sq. ft. to 2,218 sq. ft. and one super luxury penthouse suite of 3,536 sq. ft. The 42,000 sq. ft. private living space (not including common areas) provides all amenities while offering a myriad of common facilities such as rooftop, BBQ area and terrace, swimming pool, gym, lounge and an epic roof terrace that brandishes elegance with panache to give patrons a holistic experience.

The property offers high ceiling rooms ascertaining spaciousness, wooden floors, ALNO kitchens from Germany, custom-built doors from Spain and smart key door access along with personalised designs with facilities made for conveniences such as, 24 hour back-up electricity, lobby areas on each floor, drivers' quarters and dorm with eight beds and washrooms.

Among the other facilities are also two high-speed OTIS lifts, garbage disposal on each floor, a waste water management system and LED lighting, central gas supply and gas water heating systems. '77 on Fourth' is a bona fide haven promising chic grander coupled with majestic living conditions with personality and character that metamorphoses a quality house into a valued home.

'77 on Fourth' will be your silver key to unlocking the doors to fulfilment, zen and happiness with its safety, security, impeccable amenities, picturesque and perfect surroundings.

This is a residential complex that nestles evocative splendour while harnessing the spellbinding traits that are guaranteed to propel '77 on Fourth' to the very apex of the real estate industry.