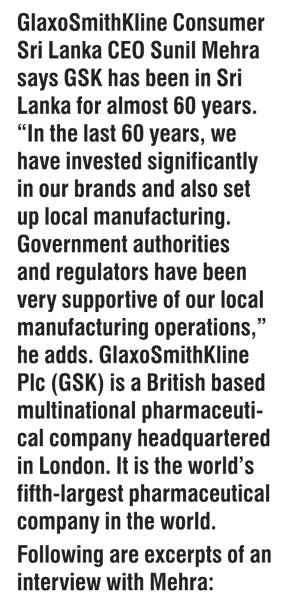 By Cathrine Weerakkody



: In the current context, what are some of the challenges faced by GlaxoSmithKline Sri Lanka?

: GSK has been in Sri Lanka for almost 60 years. In the last 60 years, we have invested significantly in our brands and also set up local manufacturing. Government authorities and regulators have been very supportive of our local manufacturing operations.

We do believe that the economic development in the country, with a high focus on infrastructure development, increasing skill sets, increasing per capita income and reducing cost of living, will only throw up new opportunities for us in the future.

We are hopeful that over a period of time, high taxes and duties on material cost and finished goods cost will be rationalised. This will go a long way to help the business grow further. Relaxation and speeding up of the regulatory requirements will also help us to innovate as fast as we could and drive more science backed products in Sri Lanka.

: How much of value addition is done in Sri Lanka compared to five years ago. Is the GSK consumer poised for long-term growth or does the company face a crisis because of a depreciating rupee?

: Though we are a global company our operations in a country are very local. Over the years we have immersed ourselves completely with the local culture shaping our journey with the local nuances. This is reflected in our robust brands, developed on strong local insights. We have a very high per capita consumption for many of our brands in this market.

We invested heavily over the last five years in the local manufacturing for Panadol, Eno and Iodex. As the market leader in pain relief, we are the only multinational with local manufacturing capabilities.

Sri Lanka is a key market within the Indian Subcontinent. In the global context, we are an emerging market and therefore need to be a growth driver. We believe we can be the first and best Fast Moving Consumer Healthcare Company in Sri Lanka, driven by science and values.

: What does being number one in the paracetamol drug category mean to you and the business?

: It is an honour to be the market leader in pain relief in Sri Lanka. It shows the tremendous faith that the consumers and the medical fraternity have in our products. Panadol has been a trusted pain reliever for almost every Sri Lankan at any given time. This is a clear articulation of our global vision of bringing relevant and science backed products to consumers so that they do more, feel better and live longer.

As a market leader, it's also important to do business and market our products responsibly. We have introduced many firsts to the market, such as 'Dosage by Weight' for Panadol for Children and 'Child Resistant Caps'. We will continue to deliver a healthy supply of our products and drive responsible medication in Sri Lanka

: How strong are your brands in the nutritional category?

: The country's nutritional landscape is still in the growing phase and there's clear opportunity – for a science based healthcare portfolio to emerge.

We have very strong brands in our nutritional portfolio, which were developed by Global R&D experts based on local consumer insights and needs. We believe our brands need to connect beyond a product experience and instead become a part of people's daily lives.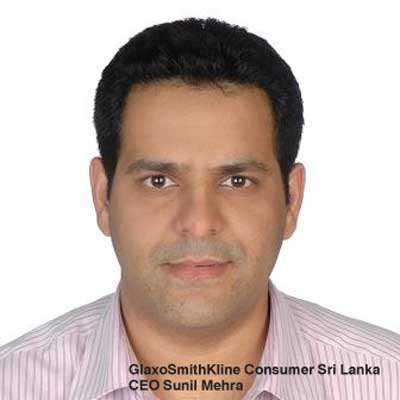 Today the nutritional business is about 50% of our portfolio and we believe it's one of our growth engines for the future. In the nutritional portfolio, Viva plays an important role in giving energy for young adults to do more and go that extra mile in seizing every opportunity in life.

We recently launched a new Ginger variant in Viva, keeping the Sri Lankan consumers' palate and preferences in mind. Horlicks is positioned as a specialist product to enhance the goodness of milk and help children between the ages of 6-16 years achieve full potential in their development.

: GSK dental products are very popular globally. How strong are they locally and do you see potential for these products?

: Globally GSK has driven the specialist categories in addressing unfulfilled needs of oral hygiene conditions, such as sensitivity and gum health.

In Sri Lanka, we have been catering to the therapeutic sensitivity segment, creating a niche for ourselves in just five years. Today GSK owns 5% of the overall toothpaste market for Sensodyne.

We have been very successful as a Fast Moving Consumer Healthcare Company, backed by GSK's expert credentials and consumer marketing capabilities. This model has been proven globally and we have all the confidence that Sri Lanka too will be a category success in the near future.

: What are some of your CSR initiatives that can and will help you to connect with society and there by become socially relevant?

: Our purpose of existence itself is to help people to do more, feel better and live longer. The products we market genuinely connect with this purpose. We have two unique community partnering initiatives at GSK, helping our employees to connect with the larger society.

Our focus for CSR is education and children, hence we select CSR projects under these two pillars.

GSK Orange Day is a day where employees on a dedicated paid day, get to contribute to the wider society. Every year, our employees identify a worthy cause and spend the day helping a community enhance their wellbeing and lives.

GSK's PULSE program sees employees given the opportunity to work for selected NGOs to support the NGO in providing a better service to the community. In addition to these two programs, employees are encouraged to do skills volunteering to build capabilities in various communities. Some of our managers support university students as mentors. We also do career guidance programs for students to offer them a better understanding about career options in the private sector.

We partner with local universities to provide in-house training opportunities for students to acquire experience in the corporate sector. We also provide support for service learning projects for university students to develop a community partnership 'gene' at an early stage in life.

We also connect with the community by partnering with local bodies for periodic Dengue eradication programs.

: What are some of the processes you have within GSK to develop exceptional managers with a distinct set of talents?

: The GSK Leadership Development Framework connects the processes, tools and programs in a comprehensive approach to achieve personal development.

There is a clear focus for differentiated development, ensuring that all employees have an individual development plan that will stretch them in an appropriate way, considering their performance over time and their potential, as well as their individual aspirations. Focus is also on the 70/20/10 development principles, with on the job experiences, blended with interactions and relationships with people, supported by formal instruction or access to learning resources, all underpinned by support from the line manager.

CLEAR (Competencies, Leadership, Experience and Results) profiles provide a good understanding to our employees regarding the technical and behavioural and leadership competencies they need to develop, to accomplish their career aspirations. We also encourage and provide exposure to global roles to enhance the capabilities and skills of our next generation leaders.

: How are you coping with the current talent shortage?

: GSK employee value proposition (EVP) which revolves around four pillars – Development, Purpose, World-class Performance, Best Working Environment - support us to attract the best talent in the market.

We also recruit entry level employees and develop them within the organisation to ensure that we build required capabilities to fulfil our talent needs. We further connect with and conduct various programs to attract the best talent from the top universities.

: Finally, in your two years in Sri Lanka, what have you learned about Sri Lankan management practices?

: The strong collaborative GSK culture is geography agnostic and embeds us easily in any situation. My tenure in Sri Lanka has been made easy by the supportive local team who have helped me to learn the cultural nuances and business dynamics within a very short time. I am grateful for this high performance, collaborative team that is geared to scale new heights and take our business to the next level.
(The writer is a graduate in financial management from the UK and a CIMA passed finalist.)