By the Economic Intelligence Unit, Ceylon Chamber of Commerce

Sri Lanka's economic policy in the past few years had a significant emphasis on infrastructure development in an effort to make the country a logistics hub. However Sri Lanka ranked poorly on international logistics performance indices due to implementation lags in the soft infrastructure and weaknesses in other facilitation services. These have made it difficult for Sri Lankan exporters to maintain competitiveness in global exports and pursue the vision of becoming a logistics hub.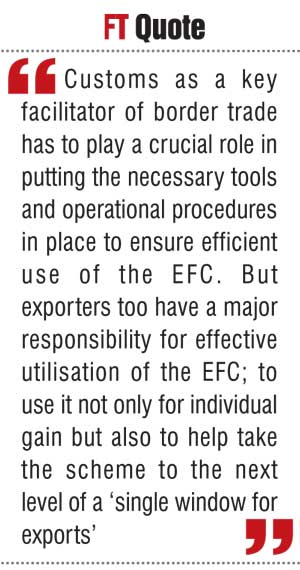 Improved efficiency in Customs facilitation

The increasing momentum in international trade due to steady growth in trade volumes, increased trade complexity and trade velocity implies that Customs have to process an increasingly higher amount of cargo. The speed and efficiency at which cargo can be processed is a crucial determinant of an economy's export performance and competitiveness as a logistics hub.

The launch of the Export Facilitation Centre (EFC) in September 2014 heralded a new era for the Sri Lankan export industry with Customs facilitation being available on a 24×7 basis for exporters. The EFC was established under the 'e-Customs' initiative as a one-stop facilitation centre for exports. The initiative was welcomed by the export industry considering its potential to facilitate export trade with improved efficiency, transparency, consistency, predictability, simplification and standardisation of Customs operations.

Since its launch, the EFC has brought many positive changes to the export industry; reducing the trade restrictiveness with less paper work, improved data accuracy, improved enforcement of customs operation, improved revenue flows for the government and through reduction of hidden costs resulting from unethical practices.

Yet there are a few areas that require fast track implementation and further improvement.


1. Green Channel Facility

The green channel facility is a fast-track system where export cargo clearance is done without routine examination. This facility saves significant time and costs for traders. A list of companies entitled to use this facility is not publicly available but the Customs notifies companies on an individual basis that they have been granted the facility. So there is lack of transparency in the qualifying criteria for the green channel facility.

If the Customs can come up with a minimum qualifying criteria for the green channel facility and publicise that information, it will incentivise exporters who are not enjoying this benefit to improve their compliance with Customs standards and graduate themselves to enjoy fast track cargo clearance. Strict action should be taken against those caught for violating this facility, as only exporters with a clean track record should be able to benefit.


2. Drive through facility

The drive-through facility is currently available for cargo of BOI companies. Export verification of BOI cargo is done at the BOI Verification Centre. Pre-verified BOI cargo with no further amendments to export documentation (vessel and voyage/date/container number/seal number package/weight, etc.) should be allowed to use this facility by fast-tracking EFC cargo clearance for pre-verified BOI cargo with no additional cost to the exporter. The same can be extended for exporters holding a green channel facility.

It is also important to explore possibilities to fast track the processing of 'pre verified BOI cargo with amendments' to allow such containers to move directly to port stack allowing effective utilisation of the drive through facility.


3. E-warranting of the CUSDEC

Some export cargo requires special permits, licenses, and certificates for the purposes of lodging a Customs Declaration (CUSDEC). Having a facility to process such documents electronically and a system to cross check the validity of such certificates with the relevant authorities can help improve the e-warranting at EFC and further cut down the time spent on processing export cargo.


4. Electronic panel examination

Currently, whether export cargo is subject to panel examination or not is at the sole discretion of a Customs officer. Having an electronic panel examination system will ensure fast track screening and reduce the opportunity for unethical practices.

The ASYCUDA system (an automated system for Customs data) can determine whether the cargo should undergo a panel examination at the point where the export CusDecs are lodged, but the exporters should only be informed on this at the EFC entry point to eliminate corrupt practices.

It is also important to develop a system for panel examination without penalising exporters holding the Green Channel facility. For example, if panel examination is linked to a HS code, the system will require all cargo under that particular HS code to undergo a panel examination including export cargo with the green channel facility.


Way forward

Customs as a key facilitator of border trade has to play a crucial role in putting the necessary tools and operational procedures in place to ensure efficient use of the EFC. But exporters too have a major responsibility for effective utilisation of the EFC; to use it not only for individual gain but also to help take the scheme to the next level of a 'single window for exports'. This can help Sri Lanka improve its ranking on ease of doing business, logistics and trade indicators, while supporting an export driven growth model for Sri Lanka.


(This article was prepared by the Economic Intelligence Unit of the Ceylon Chamber of Commerce, in consultation with various stakeholders.)