By Ayman Nuhuman
The challenge

Heavy traffic congestion persists on Colombo roads due to a significant increase in vehicle registrations over the past several years. Alternative options have been discussed, most of which are capital intensive and would take time to implement. As per a recent Daily Mirror Infographic (12 October), over 500,000 vehicles flow through Colombo's major entry corridors on a 24-hour, two-way basis. The breakdown is 443,586 motorised private vehicles, 29,064 public/mass transport vehicles, and 36,598 'good' vehicles.

According to the Department of Motor Traffic, the total vehicle population was 5,633,234 in 2014 (almost double that of 2007 – 3,125,794). Further, there has been a steady increase in new vehicle registrations.

This converts into heavy traffic congestion in the city of Colombo, with commuters having to lose valuable time on the road.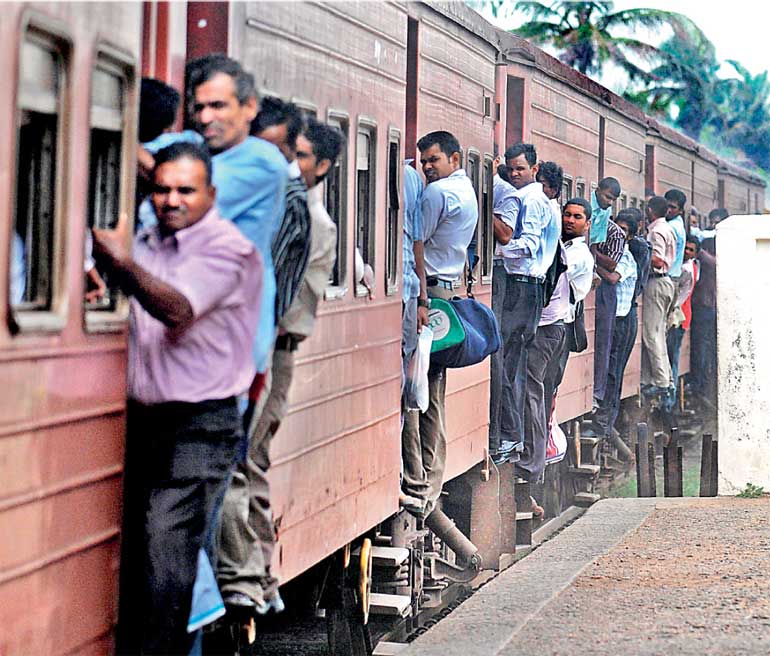 Railway transportation
Opportunity

This challenge could be made an opportunity if the existing railway network is optimised. If more trains could be added to the rail network and proper transportation to and from the station to major roads provided, the writer believes commuters may opt to travel via train.

The business opportunity lies in adding more trains with air-conditioned and non-air-conditioned compartments, which would be similar to the semi-luxury buses that travel daily along Galle Road. If the Government could lease out train carriages to the private sector and if these carriages were equipped with air-conditioned compartments (similar to the Kandy-Colombo air-conditioned trains), the writer believes commuters may opt to use the rail network instead of using the bus or their own vehicles.

The attempt here is to simulate a metro-style transportation solution. Thus, this would mean all passengers would not be able to be seated while travelling to their respective destinations (often the case with crowded buses during rush hour).
Critical success factors

1. Trains need to travel on time. Commuters may have to be realistic that there may be delays due to reasons ranging from signal failures to accidents, but the operating company needs to operate the service in a timely manner.

2. Proper transportation to and from the station. The company may need to provide a bus service to and from the station to major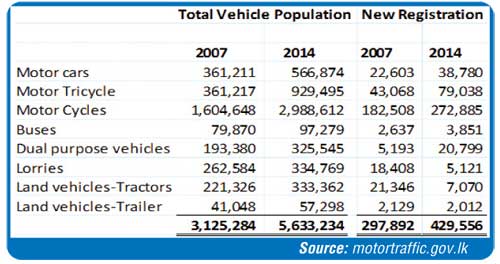 road networks in the area so that commuters can get to the station on time. A similar structure already exists for some commuters, where certain offices offer bus transport to and from major train stations. Presently, trishaw drivers near stations run something similar to a cartel, charging unfair rates for short distances, as the train stations are not situated close to main roads.

3. In case of a delay, the train operator should be able to communicate to all other passengers the delay and the reason for the delay via SMS or an app, so that commuters who have not yet reached the train can use alternative modes of transport.

4. The Government should lease out the train carriages at reasonable rates, as the private sector would be helping the public increase productivity by reducing traffic congestion.

5. There should be proper security provided to instill confidence in all commuters that this is a safe mode of travel on a daily basis.

6. The total commute cost should be equal to that of intercity bus travel or even marginally cheaper for this project to succeed in the implementation stage.
Business case

1. Calculation by number of people

As per an article published in the Sunday Observer (1),174,000 people enter Colombo through Galle Road using vehicles daily (focus on Galle Road due to the main train line running along the coastal belt);if 50,000 of these commuters opt for train travel at a ticket price of Rs. 100 per head (return/hypothetical figure), it would yield total income of:
Daily – Rs. 5,000,000
Monthly – Rs. 100,000,000 (assuming 20 working days)
Yearly – Rs. 1,200,000,000
OR

2. Calculation by number of vehicles

Of the 15,000 buses that enter Colombo daily (2), if we could reduce 2,500 buses (assuming 50 people travel per bus, that would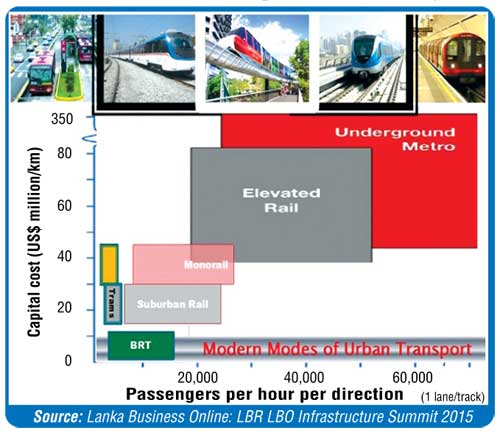 work out to 125,000 commuters), and of the 225,000 private vehicles, if we could reduce 25,000 vehicles (one person per vehicle), that would be a total of 150,000 commuters reduced. Pricing a ticket at Rs. 100 would yield total income of:
Daily – Rs. 15,000,000
Monthly – Rs. 300,000,000 (assuming 20 working days)
Yearly – Rs. 3,600,000,000
The above numbers should be compared with the yearly revenue of Sri Lanka Railways, which was approximately Rs. 4.5 billion in 2013.

The same logic could be used to increase train commuting inland wherever a rail network is available.
Cost comparison to the Government of Sri Lanka

At the recent LBR LBO Infrastructure Summit 2015: "Making Colombo a Globally Competitive City", the insights provided by Dr. Lalithasiri Gunaruwan showed that Sri Lanka Railway could lay railway lines at a cost of less than $ 1,000,000 per kilometre compared with a highway cost of approximately $ 7,000,000 per kilometre. The cost of a monorail system per kilometre is estimated at $ 35,000,000. (3)

The infographic below, from the same LBO article, provides valuable insight into a comparison between capital cost and passengers per hour per direction.
Ancillary business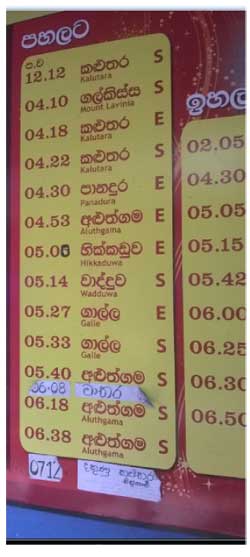 The train operator could install TV screens so that commuters can have entertainment while travelling. They could also sell advertising space within the train for companies to do below-the-line advertising.
Timetable

Currently, the train timetable is directed more towards Government employees (average work hours 8 a.m.-4 p.m.). If trains are scheduled in smaller intervals during peak times (morning/evening 6:00-9:00), people would consider the train commute.

Further, at certain points there are train delays due to slow trains being stopped for express trains to pass. This automatically builds a level of inefficiency into the whole train transportation model. The workaround would be to optimise on the existing rail-track network, facilitating continuous movement and zero stoppage (unless absolutely unavoidable, for instance, due to accidents). This may require trains to be able to change tracks at multiple stations. Currently, at certain important city stations trains cannot change track (for example, Dehiwala and Bambalapitiya).

Another constraint is that at peak travel times there are certain trains that carry cargo. This automatically builds in a level of inefficiency, as train delays occur due to delays in loading the goods on to the train. Sri Lanka Railway should consider off-peak times to transport cargo.
Conclusion

This is a cheap and efficient solution to ease the traffic congestion within Colombo compared with more capital-intensive projects such as the monorail system. An expanded and more efficient railway network would greatly ease the current situation, which appears to be spiralling out of control.

(1)Ranil Wijayapala (2014). Monorail – the answer to Colombo's traffic congestion. Available: http://www.sundayobserver.lk/2014/03/30/fea08.asp. Last accessed 10 November 2015.

(2)Mirudhula Thambiah (2012). Soon you'll be speeding at 15 kmph on Colombo roads. Available: http://www.sundaytimes.lk/120212/News/nws_18.html. Last accessed 10 November 2015.

(3)Chamath Ariyadasa (2015). Public investment in bus, railway a priority before monorail, says transport experts. Available: http://www.lankabusinessonline.com/public-investment-in-bus-railway-a-priority-before-monorail-says-transport-experts/. Last accessed 10 November 2015.