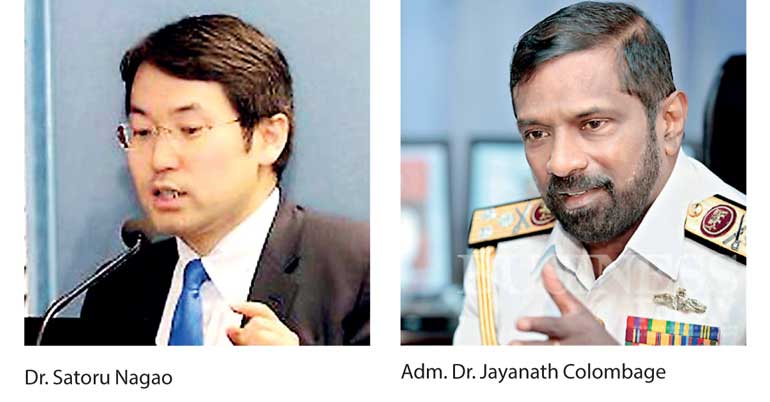 By P.K. Balachandran

Given the way Sri Lanka is being wooed by countries deeply concerned about maritime security in the Indian Ocean Region, the South Asian island nation could well become South Asia's maritime communication base to serve India, Japan and the US.

"It would be easy for the four countries to remain abreast of events in the Indian Ocean if this is set up," says Dr. Satoru Nagao, Research Fellow at the Colombo-based Institute of National Security Studies (INSS) after predicting the setting up of such a communication system in Sri Lanka.

There is already a Japanese project for Maritime Safety Capability Improvement worth approximately 1.8 billion yen or $ 16.5 million, which includes the provision of two patrol vessels to the Sri Lankan Coast Guard (SLCG), he notes.

"There is also a possibility of Sri Lanka buying patrol planes, the P-3Cs, radars, and sensors to track objects and events in the Indian Ocean," Nagao says in his latest paper in the INSS journal.

"Furthermore, if Sri Lanka operates Japan's P-3C patrol planes, Japan, Sri Lanka, India, and US would be using similar equipment for patrol planes. Therefore, the equipment will present other opportunities for Japan-Sri Lanka-India-US cooperation in using and upgrading equipment, and for sharing information collected by the patrol planes," he adds.


Malabar exercise
Earlier this month, Japanese Prime Minister Shinzo Abe had suggested to visiting Prime Minister Ranil Wickremesinghe that Sri Lanka should join the US-India-Japan Malabar Naval exercise.

According to Indian sources, Sri Lanka is likely to be an "observer" in the July 2017 Malabar exercise, and may become a full participant in the next exercise.

Japan is sending its largest warship, the helicopter carrier Izumo for the 2017 exercise – the first overseas foray for the largest Japanese warship. Significantly, the Izumo will be docking in Colombo en route to India for the Malabar exercise.

However, Sri Lanka has not officially reacted to the invitation to join the Malabar exercise.

Be that as it may, Nagao has suggested the start of a "Japan-Sri Lanka-India strategic trilateral dialogue to share information, better identify Sri Lanka's needs, and choose courses of co-operation or support."
Japan's stakes

in Sri Lanka
In his latest report to the Pathfinder Foundation, former Sri Lankan Navy Chief, Adm. Jayanath Colombage says that analysing the country of origin of foreign warships visiting the Port of Colombo from 2008 to 2017, it is observed that 65 Japanese Maritime Self-Defence Force Ships (MSDFS) had arrived in Sri Lankan ports, mainly the Port of Colombo.

"This is rather a high number and second only to Indian warships visiting Sri Lanka," he notes.

Explaining Japan's interest in Indian Ocean security, Adm. Colombage says that with total dependence on foreign sources for its oil needs and with the sea routes under increasing threat from the Chinese, Japan has become the "most energy insecure nations" in the world.

"The increased MSDF activities in the Indian Ocean can be attributed to their heavy dependency on crude oil," Colombage says.

Japan is not only converting its Self-Defence Forces into regular armed forces, but is also upping political, economic and military alliances with key countries in the East-West trade route. Japan is currently the most energetic champion of an India-Japan-US-Sri Lanka strategic maritime alliance.
India is cornerstone
Relations with India is the cornerstone of Japan's Indian Ocean maritime security policy. Japan has concluded several security agreements and treaties with India including the 'Joint Declaration on Security Cooperation between Japan and India' in 2008.

Japan now participates in several multi-lateral and bi-lateral naval and coast-guard exercises involving India, such as 'Malabar' and 'JIMEX'.

According to Adm. Colombage, Japan initially moved to cultivate Sri Lanka because it considers the Port of Colombo as a convenient transit and rest and recuperation harbour for its counter piracy operations.

"This is the reason for the visit by a large number of MSDF ships to this port. Japan has now stationed a Defence Attaché in Colombo, who is coordinating visits of MSDF vessels and other military cooperation with Sri Lanka."

In 2017, for the first time, Japan's MSDF participated in the 'Pacific Partnership" a multilateral exercise off Hambantota with the participation of military and non-military personnel from the USA, Australia and Sri Lanka.

"This is the 12th year of this exercise and the first time it was conducted in Sri Lanka. The aim of this exercise was to enhance regional cooperation in the fields of medical readiness and preparedness for Humanitarian Assistance and Disaster Relief (HADR) situations," Colombage observes.
Japan's role in

Colombo Dockyard
In a sense Japan has been involved in Sri Lankan shipping for long. The 40-year-old Colombo Dockyard Ltd. (CDL), one of the most successful enterprises in Sri Lanka, is a joint venture between the Government of Sri Lanka and Onomichi Dockyard of Kobe, Japan.

In the beginning of 2017, the Sri Lankan Coast Guard (SLCG) placed an order for construction of two 85-metre Offshore Patrol Vessels (OPV) with the CDL to enhance its capabilities in deep sea surveillance. This project will be undertaken by a loan provided by the Japanese Government.

"These two OPVs will have the capability to launch and recover helicopters and small utility boats at sea. They will be the biggest ships of the SLCG and will enhance its capability to a higher level," Colombage says.

"The building of these two OPVs by CDL is also a boost for the local ship building industry in Sri Lanka. The two ships will be based on a European design and SLCG and Sri Lankan Navy marine and electrical engineers and ship building architects will be able to gain valuable practical experience by engaging in this project," he adds.

Interestingly, the Sri Lankan Navy and the Sri Lankan Coast Guard will be able to utilise their experience in countering maritime terrorism in the construction of these two ships, Adm. Colombage notes.