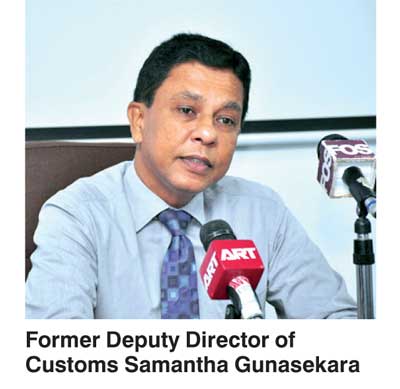 By Shannine Daniel

Former Deputy Director of Customs Samantha Gunasekara recently stated that the illegal trade in wildlife is the second largest illegal trade in the world, with United Nations Environment Programme (UNEP) figures estimating that it amounts to between S$91 billion and S$258 billion annually.

He made this statement at the 'Illegal Trade in Wildlife' panel discussion organised by the Base for Enthusiasts of Environmental Sciences and Zoology (BEEZ) of the Faculty of Science of the University of Colombo, Biodiversity Sri Lanka and the Institute of Environmental Professionals ( IEPSL) to mark World Environment Day (WED) 2016.

This year's global theme for WED was 'Go Wild for Life; Zero Tolerance for the Illegal Wildlife Trade', where cross border trade that is currently threatening the world's plants and animals, including our own, was brought under the microscope.

Gunasekara elaborated that this form of trafficking is defined as the sale or exchange of wild animals and plant resources - including their parts, products, derivatives, extracts and secretions - by people.

When an animal is killed or taken from the wild, despite the laws that are there to protect them, they become part of the illegal trade that has become widespread among many countries in the globe. Most often the illegal trade is associated only with endangered species but in reality this is not the truth. The sale of timber sourced from illegal logging and even the sale of fish caught in restricted areas or through illegal fishing methods can be considered part of the illegal trade in wildlife.

Today the illegal wildlife trade is thriving as a result because of a rise in demand for wildlife-based commodities such as bush meat, leather, fur and animal skins, carvings, jewellery and ornaments from ivory, rhino horn as well as substances, ornamental plants, medicine and even pets.

Illegal wildlife trade has many aspects to it, ranging from agricultural, economical and ornamental to pharmaceutical and nutraceutical and these are all relevant to the species in our country, according to Gunasekara.

Gunasekara further stated that Sri Lanka was a hotspot in terms of biodiversity as it has a high degree of endemism, but this creates a greater threat for the animals and plants in the country and makes it a target for the illegal wildlife trade.

He went on to highlight the consequences of exploiting the country's wildlife.

"For 3,000 years we had the best pearls in the world and our biggest competitor was the Arabian Sea. Now they produce the best pearls in the world because our pearl industry was exploited by foreigners and our own people," he opined.

The strategic location of the country also plays a huge role and as Sri Lanka is situated in the middle of the Indian Ocean and is a transit point in one of the busiest shipping routes, it is a part of the mounting illegal wildlife trade between Africa and East Asia.

The detection and capture of a container with 359 pieces of Blood Ivory weighing 1.5 tons on the way to Dubai form Kenya by the Sri Lanka Customs in 2012 is proof of this. In 2014, a convoy of 28 containers carrying a load of Rosewood timber worth $ 7 million, which was being transported from Zanzibar to Hong Kong via Sri Lanka, was also seized.

Pix by Lasantha Kumara
Environmental lawyer says severity of illegal wildlife trade being ignored
Presenting several instances of the illegal trade in wildlife that have taken place over the recent past, environmental lawyer Jagath Gunawardena questioned the extent to which people have grasped the severity of this issue.

"The illegal trade in wildlife is a problem we have been facing across three different dimensions for the last few decades, namely the domestic trade, the illegal export of animals and plant resources and the illegal imports of animals, plants and their resources," said Gunawardena.

He went on to say that Sri Lanka needs to pay a lot more attention to these illegal imports because at the moment people are more concerned with the illegal wildlife trade going on internationally, between other countries, whereas the real problem is ignored.

"For example, a place like Diyatha Uyana contains several imported aquatic plants. But if you look at the regulations under the Plant Protection Act, no aquatic plant can be imported to Sri Lanka under regulations made in 1981. Yet some of these plants are imported and openly sold and are even becoming invasive species in the wild," revealed Gunawardena.

He also examined the domestic dimension of the illegal trade.

"For example the Walla Patta issue is rarely spoken about even though it is a huge problem, and we have several other species almost driven to the point of extinction due to the unauthorised collection of specimens," emphasised Gunawardena.

"We also talk about the killing of leopards and the bush meat trade when it comes to the illegal domestic trade in wildlife but what about illegal specimen collection of new species? This is never mentioned in any discussion," he added.

Gunawardena went on to speak about the illegal export of Sri Lankan wildlife resources.

He stated that seashells, bird nests, coral and aquatic organisms were being exported illegally from Sri Lanka and this was a practice which was being largely ignored.

He elaborated that plants which are endemic to Sri Lanka are always under threat.

"Quite recently there was a case where a plant from Sri Lanka was illegally collected to make beauty products in foreign countries but this was never spoken about," he added.

"These things are never mentioned and the way I see it there is something radically wrong with this whole approach," stated Gunawardena.