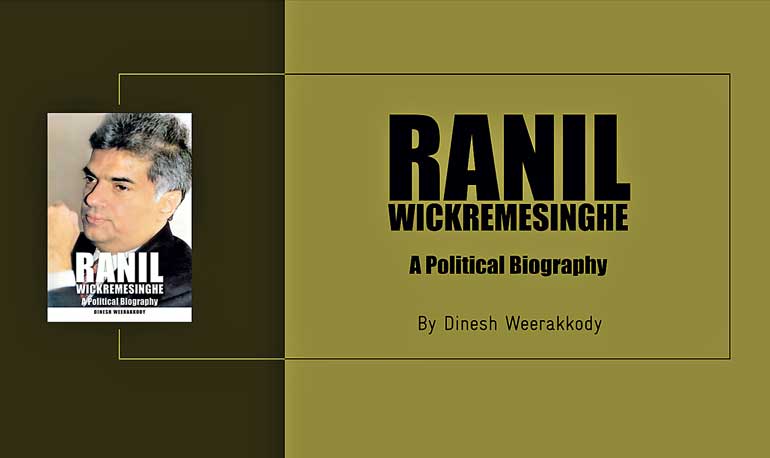 Dinesh Weerakkody talks about his new book 'Ranil Wickremesinghe – A Political Biography'
By Nuwan Ranawaka

Q: How many books have you written so far and where do you get the passion to write?

A: This is my sixth. 'The November Revolution' published in 2015 was the fifth. Writing runs through the blood of my family. My mother's elder brother wrote 16 books, her other two brother are also authors and counting. My grandfather and great grandfather were both self-published authors. But I must admit I never had a burning ambition to be a writer.


Q: Any reason you chose to write Ranil Wickremesinghe's biography?

A: To find a gentlemanly and able politician is like trying to find a needle in a haystack. But Prime Minister Ranil Wickremesinghe is one of those few politicians who combine both.


Q: Is that the only reason?

A: I had many reasons. Firstly, I have known him for nearly 25 years. Secondly, Ranil Wickremesinghe has been the Prime Minister of Sri Lanka four times, equalling Prime Minister Dudley Senanayake's record. Thirdly, he is the longest serving Leader of the United National Party, since 1994, and an elected Member of Parliament for Colombo District since 1977. So it was easy to pick out the highlights: Member of Parliament at 28, four times Prime Minister, a Leader of the House, and a ministerial career in the portfolios of Foreign Affairs (Deputy Minister), Education, Youth Affairs and Employment, and Industries, Science and Technology. Then unlike many of his contemporaries, and those who have followed, he has believed strongly enough in the strength of the local education system to go to the University of Colombo for his degree rather than to a foreign university.


Q: Would you have still written the book if he never became Prime Minister for the third and fourth time?

A: Yes, this is a project I started in 2009 and shelved for a while when I became a Chairman of a big bank, because finding the time to collect data then became a big challenge. I revived the project once again after I completed my last book in 2015. Minister John Amaratunga motived me to complete the book and a few people known to Ranil helped me to put this book together. Writing is never easy!


Q: How is the book structured?

A: The book talks of Ranil's ancestry and his rise, his vision for a new Sri Lanka, the policy options available. The reality today is the world has become like a chessboard and Sri Lanka needs to manage the relationships strategically to ensure our economic survival. Ranil is one man who has the ability to play the game at an international level.


Q: What are the highlights?

A: Ranil is surprisingly a very simple man, who never throws his weight around. He is only interested in getting a job done well, and that was his reputation when he moved to other ministries as well. The book gives a much more complete and revealing picture of the man, his character and what he stands for as a political leader and his desire to take Sri Lanka from where it is to where it has never been. So the image that emerges from the book is of a highly-refined and deliberative man, one who holds progressive views but without a show of passion unlike other politicians, and who values building consensus over bashing his opponents for short-term political gain. The final chapter highlights the big difference between connecting with voters and the final delivery. Also there are ideas about how the Government should function – how should our welfare state be structured? Should education be made for-profit?


Q: You invited an author of 15 books, Member of Parliament and former bureaucrat Dr. Tharoor to speak; why did you pick Dr. Tharoor?

A: Dr Tharoor is a very eloquent speaker and an award-winning author. He was a former UN Under-Secretary-General, India's nominee for the UN top job and a former Indian Minister of State for Human Resource Development and Minister of State for External Affairs. He is currently the Chairman of the Parliamentary Standing Committee on External Affairs, so we asked him to speak about Sri Lanka's balancing act between India and China. There is so much interest in his visit.


Q: To whom did you dedicate your book?

A: The book is dedicated to the late Ven. Sobitha Thera and his generation of locally-rooted social and intellectual leaders who have shared a common set of universal values and the profits of the sale of the book will be donated to the National Kidney Foundation.
(Nuwan Ranawaka is a graduate in business administration and works for a research company.)