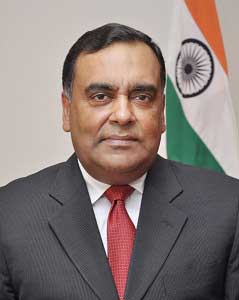 A 'new and transformative phase' in relations between India and Sri Lanka began last year heralding a new beginning after the formation of a new Government in Sri Lanka, the Indian envoy said on Thursday.

Delivering the opening remarks at the panel discussion 'India-Sri Lanka Relations in the 21st Century' organised by the Bandaranaike Centre for International Studies, Indian High Commissioner to Colombo Y.K. Sinha said bilateral ties have become robust and entered a new phase with highest-level engagements as four high level bilateral visits within 90 days of the formation of a new Government last year heralded a new beginning.

Recalling a series of high-level visits by the leaders of the two neighbours last year, Sinha said the momentum generated by these visits has continued this year.

He said Sri Lanka is an integral part of Indian Prime Minister Modi's "Neighbourhood First" policy which recognizes that India's growth is linked to the prosperity of its neighbourhood. Prime Minister Modi has a vision of a neighbourhood where trade, investment, ideas and people move seamlessly across borders, and a key element of this vision is strengthening bilateral ties with Sri Lanka, and other SAARC countries.

Speaking of bilateral trade and investments, the envoy expressed hope that Sri Lankan businesses will take advantage of their proximity to India as India is becoming the fastest growing major economy of the world.

He noted that bilateral trade has remained buoyant, with two way trade at $ 4.6 billion during 2015, of which Indian exports were around $ 4 billion and Sri Lankan exports were around $ 645 million. India is also among the top investors in Sri Lanka with cumulative investments of over $ 1 billion since 2003.

Sinha said the cornerstone of the bilateral trade relations has been the India-Sri Lanka Free Trade Agreement (ISLFTA), which has now been in force for more than 15 years and contrary to perception in certain quarters, both India and Sri Lanka have reaped tremendous benefits from the FTA.

Commenting on the concerns over the proposed Economic and Technology Cooperation Agreement (ETCA) with India, the High Commissioner said it is up to Sri Lankans themselves to decide on the contours of any agreement that they sign with a foreign country but he is happy that that a genuine debate has now begun in Sri Lanka on the issue, rather than a one-sided presentation of misinformation by some.

The envoy recalled that India has committed over $ 2.6 billion in development assistance to Sri Lanka, with over $ 435 million in outright grants. "This is an enormous contribution, and our projects cover areas like housing, de-mining, agriculture, education, health, livelihood support, fisheries, industry, handicrafts, culture, sports and connectivity," he said.

Speaking of defence relations between the two neighbours, the envoy said India and Sri Lanka continue to enjoy a strong defence partnership based on extensive training and close linkages between their Armed Forces and India is Sri Lanka's largest partner in defence training.

Briefly touching on the sensitive fishermen issue of both countries crossing the International Maritime Boundary Line (IMBL), the envoy said it is a humanitarian issue which has livelihood implications stemming from long standing socio-economic patterns of subsistence.

He said as a long-term measure, India is providing financial assistance to their fishermen to move to deep sea fishing but the process will take some time. Minister of Fisheries and Aquatic Resources Development Mahinda Amaraweera is expected to visit India later this year to discuss solutions to the vexed issue.

The High Commissioner said both India and Sri Lanka, being closest neighbours in every sense, have dealt with issues of identities, inclusion, claims, dignity and opportunity for different sections of our societies and India at the highest levels has reiterated the need for national reconciliation in Sri Lanka through a political settlement of the ethnic issue.

"India's consistent position is in favour of a negotiated political settlement, which is acceptable to all communities within the framework of a united Sri Lanka," he said.

"The Government of Sri Lanka has commenced this journey by taking important and positive steps. India has an abiding interest in the security of Sri Lanka and remains committed to Sri Lanka's unity, sovereignty and territorial integrity. India will continue to remain engaged with Sri Lanka and offer our support in a spirit of partnership and cooperation," Sinha said.
Harsha flies Lankan flag high at Gateway of India Dialogue
​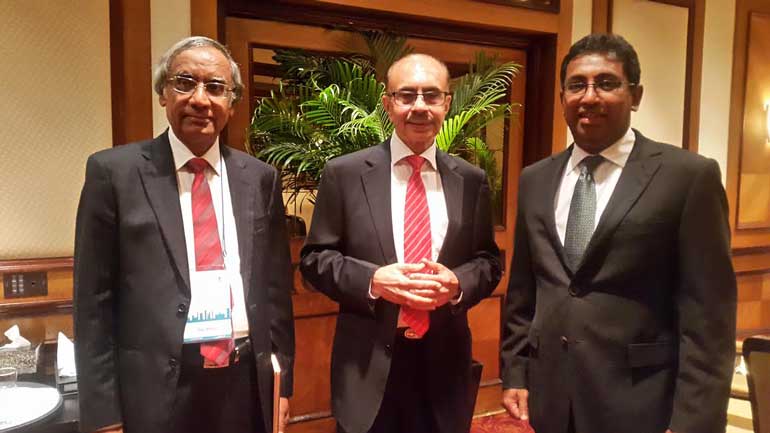 ​Deputy Minister of Foreign Affairs Dr. Harsha de Silva visited Mumbai, to deliver the inaugural address at the Gateway of India Dialogue on 13 June 2016.

The event were organised by the Gateway House; the only foreign policy think tank in Mumbai and the Ministry of External Affairs, India.

In his address, the Deputy Minister emphasised the importance of Sri Lanka's bilateral relations with India and highlighted the late Minister Lakshman Kadirgamar's thesis that India and Sri Lanka should work together to build on a shared geography, history and culture in a relationship he defined that should be in a state of 'irreversible excellence'.

The Deputy Minister further highlighted, the significance of reclaiming Sri Lanka's Indian Ocean identity beyond South Asia, which will help Sri Lanka and others unlock tremendous opportunities Sri Lanka possesses for mutual benefit, in creating the new reality in the emerging Asian century.

He further stated that Sri Lanka, as a small but increasingly more strategically important island in this emerging large and powerful Asian neighborhood, must determine the optimal navigational strategy in order to meet its macro objectives. Throughout its ancient history, Sri Lanka had close links with the entire Indian Ocean rim spanning from Africa, the Arab Gulf, Persia, South Asia, South East Asia and Australia.

Dr. S. Jaishankar, Indian Foreign Secretary; Adi Godrej, Chairman of the Godrej Group and Blaise Fernandes, CEO of Gateway House also addressed the event.