Text and pix

by Shiran Illanperuma

"As you know palmyrah is life, here in the north," says Jesuthasan as he stands in a community-run fibre production factory in Pachchilaippali, Killinochi. Indeed the resilient palmyrah tree which dots the arid landscape of these parts has come to be something of an avatar for communities long battered by conflict.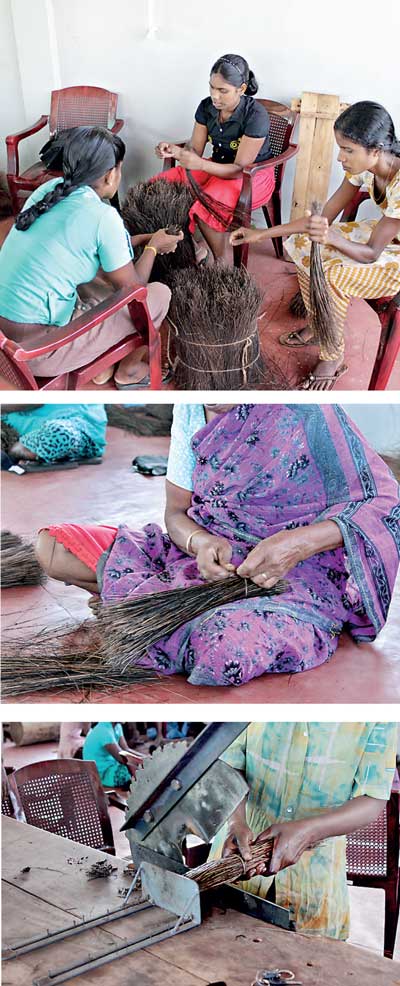 The scars of conflict are inescapable at the Ithavil Palmyrah Resource Ltd. factory. Just across the road is land still undergoing demining. The factory itself was funded by the Swiss Agency for Development and Cooperation and is staffed mostly by Tamil women of all ages who tell stories of loss and displacement during the war. But with peace finally here the bigger battle is development from the grassroots level.

Sri Lanka's palmyrah industry has over the years avoided large-scale industrialisation surviving only through traditional means. A large setback for the latent industry was of course the years of civil war which raged predominantly in the north and east where palmyrah is abundant. Estimates by the Palmyrah Development Board suggest that as many as four million trees have been destroyed over the last 30 years.

While palmyrah is known for its popular edible products such as jaggery, yams and even toddy, the tree boasts a number of construction and industrial application that are lesser known. Fibre production is one such application and one whose potential this privately run factory is attempting to tap into.

Jesuthasan who is a Project Coordinator for Swiss Labor Assistance remarks that locally produced palmyrah fibre faces stiff competition from coconut-based fibre – which is softer and grown in larger quantities on the island – as well as palmyrah fibre imported from India where development of the industry has helped reduce prices.

However, while trying to carve a new market for palmyrah fibre, Jesuthasan emphasises that the key success of the factory is the contribution it makes to the livelihoods of war-affected communities.

Raw material for the fibre is sourced from around the region, particularly from villages around Kayts and Pooneryn. The factory offers a minimum of Rs. 3 for a pair of palmyrah sheathes which are the raw materials required for fibre production. While the factory itself employs around 16, the sourcing of raw materials has allowed for 80 people to receive an income including a number of schoolchildren who pluck low lying sheathes on their way home. A person plucking full-time could expect to earn up to Rs. 500 a day, says Jesuthasan.

Currently, one of the factory's key buyers include Ravi Industries Ltd., a leading manufacturer of brushes and brooms which itself is owned by Sri Lankan corporate giant Hayleys. However Jesuthasan outlines plans to grow the enterprise even further with potential deals with Japanese car manufacturers who use fibre to make car seats.

However, despite community hopes, the factory and the palmyrah fibre industry as a whole face a number of key challenges to ensure competitiveness. One factor is the cost of production which at that moment is higher than in India. With most fibre production operations using out of date baling machines that are both inefficient and a health hazard, investment is necessary to bring the industry into the modern age.

Another issue is the amount of waste particles produced in the fibre making process. When put through a baling machine, palmyrah sheathes are torn into individual fibres; but the process also leads to a large amount of dust and twigs that are too small to be used in any brush. In fact the ratio of fibre to waste production is one to one says, Jesuthasan who is looking into waste applications such as composting no minimise loss.