The head table at the Joint Committee Meeting and the Business Forum
It is a great pleasure to address this joint meeting of the Sri Lanka-Japan and Japan-Sri Lanka Business Cooperation Committees.

Let me at the outset extend a warm welcome to Mr. Tadayuki Seki, the Chairman of the Japan -Sri Lanka Business Cooperation Committee as well as his delegation.

I would also like to thank the Ceylon Chamber of Commerce and the Japan Chamber of Commerce and Industry for coordinating the arrangements for the meetings.

Japan has been a very long-standing and extremely steadfast friend of Sri Lanka. In modern times, our bilateral relations have been strongly shaped by President J.R. Jayewardene's memorable speech at the UN Session, in San Francisco, in 1951 where he invoked the teachings of the Lord Buddha to call for forgiveness and goodwill at a difficult time for Japan.

Our Japanese friends have never forgotten this gesture. Their friendship and support has been unwavering and generous. Japan has been Sri Lanka's largest bilateral source of concessional foreign assistance over the years. The Asian Development Bank, where Japan is very influential, has been our biggest multilateral donor.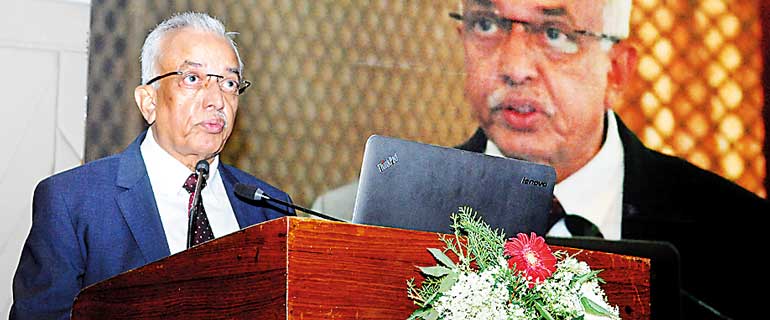 Minister of Development Strategies and International Trade Malik Samarawickrama

Foreign direct investment

Now that we are a lower-middle-income country, there needs to be a greater focus on foreign direct investment.

There have been some landmark Japanese investments in this country. These include Noritake, Tokyo Cement, Colombo Dockyard and the Hilton Hotel.

However, the 27-year conflict resulted in Sri Lanka losing out when Japan recycled its large surpluses by exporting capital to other Asian countries following the G7 Plaza and Louvre Accords, which led the revaluation of the Yen in the 1980s.

Countries like Indonesia, Malaysia and Thailand were able to attract billions of dollars worth of FDI from Japan. This proved to be a key driver of the transformation of their economies.

A Japanese business delegation comprising over 30 potential investors were in Colombo when the disturbances of 1983 broke out. The escalation of the conflict thereafter, resulted in the loss of a massive opportunity as Japanese investors became discouraged about the investment climate in the country.

The time is now ripe to make up for lost time.

G7 Outreach Summit and Japanese assistance

In this connection, I must place on record our deep gratitude to Prime Minister Abe, his Government and the people of Japan for the generous hospitality and excellent arrangements at the recent G7 Outreach Summit. All of us in the Sri Lanka delegation greatly enjoyed the excellent hospitality and were privileged to interact with some of the most influential people in the world.

Above all, it was an honour for President Maithripala Sirisena to be the first Sri Lankan Head of Government to be invited to this prestigious forum. Such recognition brought credit to Sri Lanka and its people. It is also testament to the dramatic transformation brought about by the Sirisena-Wickremesinghe Government. There is a great deal of respect and goodwill towards what this government is trying to achieve on the constitutional, political and economic fronts.

The visit to Tokyo also enabled high-level consultations on economic cooperation between our two countries. The Japanese Government pledged a substantial amount of assistance to promote the socioeconomic development of Sri Lanka.

I am delighted that a business delegation has followed so quickly after our visit to Japan. Our Government is giving the highest priority to FDI, as non-debt creating inflows are crucial for promoting sustained growth and employment generation in this country.

Stabilising the economy

I should point out that we are committed to stabilising the economy with the assistance of the IMF. Japan is also playing an important role in this respect by providing direct budgetary support through a Development Policy Loan.

The highest priority is being attached to fiscal consolidation to address the main source of instability in the system. This will strengthen the balance of payments; boost external reserves; and contain inflationary pressure. We are confident the macro-economic fundamentals will become more robust going forward.

Our Government has also initiated a number of measures to improve the investment climate as well as trade policy and trade facilitation.

A concerted effort is being made to improve the ease of doing business. An Agency for Development and an Agency for International Trade are being established to expedite decision-making; strengthen coordination; and improve delivery. A One-Stop-Shop has also been initiated in the Board of Investment.

In addition, we are in the process of formulating a National Trade Policy Framework to bring coherence and consistency to trade related policies.

This is being complemented by leveraging the trade-investment nexus through signing a number of comprehensive economic partnership agreements.

The existing FTA in goods with India is being deepened and broadened into an Economic and Technology Cooperation Agreement. The FTA with Pakistan is being invigorated. We are negotiating a comprehensive Economic Partnership Agreement with China and have embarked upon completing a similar agreement with Singapore. We are also confident that the EU's GSP+ will be restored before the end of the year. During my visit to Washington, in April 2016, we also agreed to launch a five-year program to enhance trade and investment with the US.

The upshot of all this is that by this time next year, enterprises based in Sri Lanka, will have preferential access to a market in excess of three billion people. Our proximity to India, the fastest-growing large economy in the world, particularly the buoyant Southern States, can be attractive to Japanese investors seeking to penetrate Indian markets, including the value chains being generated by Prime Minister Modi's Make in India Strategy.

At this point, I should also say that Colombo is certainly the most amenable city in the region for Japanese families. As a result, it is also a good location for Japanese companies wishing to establish regional offices.

In addition to the focus on trade policy, we are also improving trade facilitation. Customs automation has been upgraded to ASYCUDA World and every effort is being made to introduce an electronic single window.

Improved trade facilitation will enable Sri Lanka to capitalise on its strategic geographical location and excellent port facilities to become a distribution and logistics hub. Efficient trade facilitation, along with low tariffs, are a prerequisite for plugging into regional and global value chains, which have become a key driver of international trade.

Look afresh at Sri Lanka

Our Government is convinced that the time is now ripe to formulate outward looking trade and investment policies, which can revitalise Sri Lanka's export competitiveness and integrate the country more closely with the region and the world. I urge Japanese investors to be early movers in taking advantage of the improving investment climate; preferential access to regional markets; and declining trading costs by investing in Sri Lanka.

In asking Japanese investors to look afresh at Sri Lanka, I should also add there are a number of area development programs in the pipeline that will transform the Sri Lankan economy and generate a multitude of jobs. These programs will also create many opportunities for investors as well as contractors.

Large projects are envisaged. They include infrastructure, transport, residential and commercial real estate, ICT and an International Financial Centre under UK law.

The Western Region Megapolis Project is the centrepiece of our development program. We will be announcing our plans within the next few weeks. Priorities for early action will be identified. These include a light railway or monorail; elevated roads; and investment in heritage buildings around the commercial centre of Colombo.

Other major area development plans include Kandy, where Japan is taking a lead role in developing the Master Plan as well as constructing a segment of the Colombo-Kandy Expressway; Trincomalee, where Singapore will do the planning but intends to involve Japanese partners in developing the area; and Hambantota.

I am confident that we in Sri Lanka have embarked upon a trajectory of accelerated growth and development. This will generate many opportunities for investors from abroad.

Let me conclude by reiterating that the benefits of investing in Sri Lanka include: its resilient economy, supportive Government policies, its educated workforce, strategic location and connectivity, preferential access to large markets, fast developing infrastructure and increasingly vibrant business environment.

I wish every success in your deliberation today and hope very much that this important visit by a Japanese delegation results in many mutually-beneficial business outcomes.

Pix by Githika Talukdar