Hails diplomatic relations; outlines opportunities for Japanese investors; pledges to provide all assistance required
Following is the address by Speech of Minister of Development Strategies and International Trade Malik Samarawickrama at the Sri Lanka-Japan Policy Dialogue last week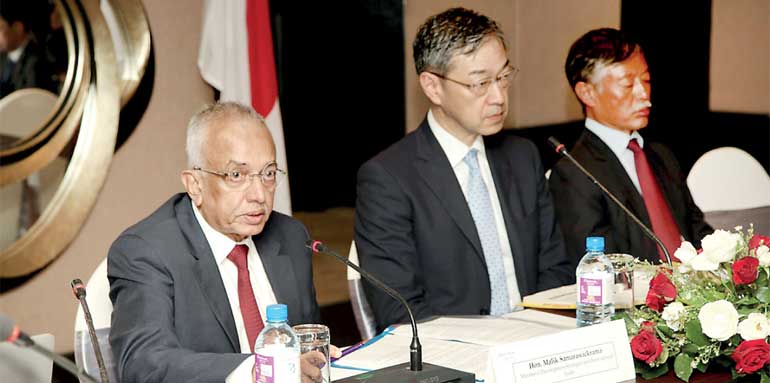 Minister of Development Strategies and International Trade Malik Samarawickrama delivering his address
I believe that you had some useful, fruitful discussions this morning. I must also thank Ambassador Siganuma san for all the assistance and cooperation given to our Government since the new Government has been elected.

As we all know, diplomatic relations between Sri Lanka and Japan were established in 1952 and Sri Lanka and Japan have traditionally maintained an extremely friendly and very strong relationship for a long period of a time. I cannot recall any moment where there have been any disputes or even misunderstandings between our two countries, which really shows that Japan and Sri Lanka are true friends. Both are predominantly Buddhist countries and based on the teaching of the Buddha, both countries have been extremely cooperative in all the events that have taken place.

With the new Government in place with President Maithripala Sirisena elected in January 2015 and the new Parliament under the Prime Ministership of Ranil Wickremesinghe formed August in 2015, ever since then the relationship between the two countries has grown strong.

I have had the privilege of visiting your beautiful country with the President for the Outreach Summit along with the G7 summit and we must say that we were warmly welcomed by your Government and the people of Japan. We had extremely good bilateral discussions and I was also informed by Prime Minister Wickremesinghe that his visit was also extremely useful and that he was very warmly received. This shows that the time has come for our countries to take the next steps for even closer cooperation.


Development assistance
I must also thank the Japanese Government for the development assistance extended by Japan through grants, technical cooperation and soft loans at different stages and times which were an extremely important part of our development program and contributed towards putting the country on to the development path. Those were difficult days, but Japan as a true friend was always there to assist us.

There are many landmark projects that have been undertaken in the areas of infrastructure, institutional and capacity building, health, telecommunication, IT sector and so on. For example, the Colombo Port expansion project, part of the Mahaweli Development, irrigation projects such as Samanalawewa and Kukuleganga Projects, Colombo Airport Aerobridges and Expansion Project, telecom network expansion and the railway and road rehabilitation projects, Sri Jayewardenepura Hospital which was a gift to President Jayewardene, Peradeniya Teaching Hospital, Medical Research Institute, Institute of Computer Technology at the University of Colombo Rupavahini Corporation and Upper Kotmale Hydro Power Project are some of the key projects that come to my mind.

As I said before, the recent visits of our leaders, the President and the Prime Minister, prompted promotion of investment and trade cooperation on national development and national reconciliation.


Trade and investment
With the aim of making Sri Lanka a highly competitive economy, our Government is determined to make the next generation of economic reforms. The barriers to foreign investments as well as bottlenecks and constraints for doing business are being removed. Both leaders of our two countries have decided to make maximum use of the public-private joint forums and joint business cooperation for the promotion of the trade and investment between our two countries.

As I said before, our country is looking for new forms of partnerships that will maximise the true potential of our country. We are strategically located and it is our intention to make Sri Lanka a hub, a trading and logistics hub. We will have a preferential market access to about three billion people. So it is your opportunity; it is time for Japanese industries to set up their plants, automobile parts, IT related services and so on. At the same time we also logged the application for GSP+ concessions from the European Union, which is positively looking at granting us duty free access to the European Union market as well.

We are presently engaged in dealing with our FTA with India; we are hoping to even have a comprehensive Economic Cooperation and Technology Cooperation agreement with India. We are entering into negotiations for FTAs with China and Singapore. We already have a FTA with Pakistan which we want to invigorate further. So, with all these Free Trade Agreements in place by March next year, I believe this is an ideal opportunity for the Japanese investors to come over here and set up their industries and plants and look at the market in this region.

In this context, the relationship between Japan and Sri Lanka is being evolved to new heights. Within the few months there will be delegations of both private and public sector organisations in Sri Lanka and Japan visiting each other to look at the opportunities.


Major projects
At the moment one of our major projects in the Western Region Megapolis plan has been finalised and under this project there will be many opportunities for infrastructure development, railways, elevator roads, middle-income housing and so on. The plans are in place and we can have a detailed discussion later during the day. This is a 40 billion dollar project over a period about 15 years and we are looking at the private sector both local and overseas to take this project forward.

At the same time we are extremely pleased that Japan is undertaking a feasibility study and preparing the Master Plan for development of Kandy City and suburbs. This will also give us many opportunities to invite the Japanese to come and invest in Sri Lanka. I believe that the third phase of the Colombo Kandy Expressway will be undertaken by Japanese constructors. This will also help us to reach Kandy within a shorter time.

In addition to that, we also looking at developing the city of Trincomalee. The Master Plan has been prepared by Sabana Jurong of Singapore and we have already indicated to them that they must liaise with Japanese Government in formulating in that plan. So all these means there will be many opportunities for both the public sector in Japan as well as the private sector to help us to develop our country.

We also recommencing the Colombo Port Project which will be known as the Colombo Financial City in the future, similar to Dubai and Singapore, with probably laws of Britain applicable to this area.

So as I've said there will be so many opportunities for your investors to come over here and we as the Government believe that most of these projects will have to be undertaken by the private sector. We warmly welcome Japanese investors to come over here. From our side, from the Government side, we will give all the assistance and we look forward to closer cooperation between our two countries.