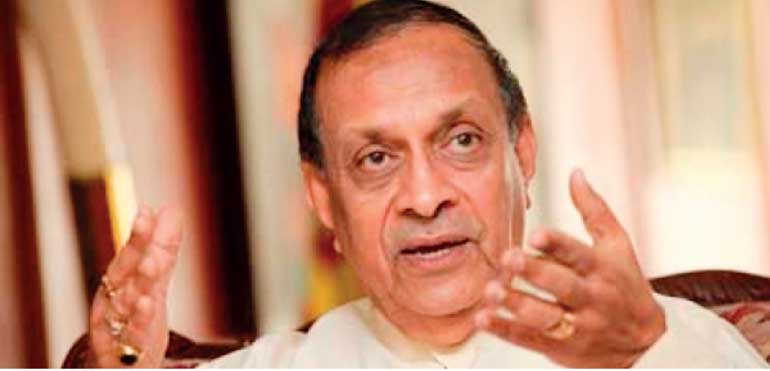 By Krishantha Prasad

Cooray

Much can be written about any individual who has lived 76 years. A lot happens over a period of 76 years after all. However, most lives are marked by fairly common routines in pursuit of quite unremarkable goals and their achievement. On the other hand there are a few who are so productive and the way they conduct themselves are rare that it is difficult to capture their lives with a few hundred words. Frankly, it is hard to begin and harder to select what was most important in their lives. Writing a tribute to Karu Jayasuriya on his 76th birthday is one of the hardest tasks I have set myself, such is the stature of the man.

Politicians are generally a breed of people that promises to build a bridge even if there is no river, have callous disregard for other people's time or feelings although they will wax eloquent on how much they care, who hunger for media attention and even have their own entourages of media personnel, rarely use the word 'we' but drop the word 'I' at every turn, are humble in opposition and arrogant in power, who get into politics either because they have no other options or in order to feather their nests, and who act as though they are fearless but are in fact cowards. Karu Jayasuriya was an exception on all the above counts. He cares, is committed, is honest, is capable and is humble. I can't remember a time when he used the word 'I'.

I still don't know how to begin this, so let me begin with an incident which seemed uncharacteristic of the man. Karu Jayasuriya is a man who rarely responds to insults. If someone offers an opposing view, he would engage with courtesy. If he felt the other person has a stronger case, he would graciously concede. If he felt that common ground cannot be met, he would try to reach an agreement to disagree. Even if this were not possible, he would not hold it against the particular individual. He would remain respectful and would not hesitate to befriend the person should the need arise.

And yet, on one occasion at least Karu Jayasuriya lost his cool. It happened a few years ago during a parliamentary debate. He was accused of being a traitor, the accusation drawing from an erroneous report in a newspaper. He lost his cool when a house that heavily outnumbered the opposition opted for a shouting match rather than a sober discussion of the issue at hand. He lost his cool but recovered his composure quickly enough. He silenced his critics and also gave the entire house and indeed the country a lesson in humility. And unintentionally he gave all of us an insight into his life and ways of being.

"I do not carry a board stating I am a patriot but I too love this country!" he said. He pointed out that he first wore the national dress way back in 1955, long before some of the chest-beating nationalists screaming at him were born. He said that he first pinned the national flag to his pocket in 1992, when he was appointed as Sri Lanka's Ambassador to Germany.


A patriot, through and through

What irked and hurt him deeply was being called a traitor. Karu was and is a patriot, through and through, but not the kind who made a song and dance about the fact. He did and does what he believes is in the best interest of the country, even when decisions he has taken appear in retrospect to have been ill-advised and detrimental to his personal advancement politically.

He earned the ire of his party when he joined Mahinda Rajapaksa because he wanted to support the efforts to rid the country of the terrorist menace. Once this was done, he returned to the United National Party because he felt that he would serve the national interest better by challenging a government that was clearly not interested in reform.

In retrospect one could say that he should not have challenged Ranil Wickremesinghe for the UNP leadership. To his credit it must be said that he contested like a man, accepted defeat like a man, did not sulk, gladly joined the ranks of the back benchers, did not attack the leader that the party had elected, continued to take on the then Government and worked tirelessly to overthrow that Rajapakse regime and bring to power forces that were determined to democratise the country. He did not fade away.

For him, obviously, position was less important than cause and one might even say that when he did seek position it was because he felt this would further the cause rather than boost personal ambition. It would be hard to find an example anywhere in the world where after such setbacks someone still remained politically relevant to the point that he was among the top three contenders to be the main presidential candidate of the opposition. Perhaps it is not his political errors that cost him the opportunity to be the president of this country, but the fact that he possesses a kind of humility that our society is not mature enough to appreciate.



Karu was always determined to do his utmost to make Sri Lanka a better place for all her citizens, be it by eliminating terrorism, forging unity, engineering reconciliation or bringing about democratic reform. His efforts to unite the Opposition against the previous regime and develop a concept and programme that reflected the aspirations of the population are known to those who were close to him during the difficult times. And today, following the passage of the 19th Amendment, he is determined to do everything necessary to make the independent institutions effective. There is no doubt in my mind that Karu is the most powerful Speaker in our history.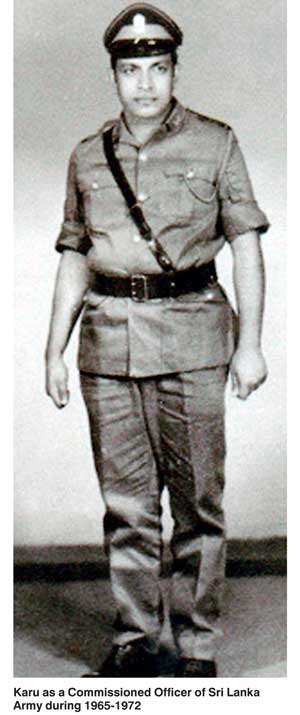 In fact as the ex-officio Chairperson of the Constitutional Council and therefore entrusted with overseeing the important business of selecting impeccable individuals to the independent commissions, next to the President and the Prime Minister,
Karu Jayasuriya has the greatest sway in charting the democratising course of this country. The country is certainly privileged to have at the helm of this process an individual who always stood for these necessary changes and who is knowledgeable, experienced and most importantly humble.

It cannot be emphasised enough that there is absolutely no point in aspiring greatness if you have to compromise your humanity and if you lack humility; young politicians as well as others who dream of greatness have a lot to learn from this exceptional man. A deep study of what he has done and how he has done it over his life and in all the many roles he has played and the positions he has held would yield many valuable lessons. That, I believe, is usually the case when it comes to individuals of rare ability and disposition. Karu has contributed immensely to changing the political culture of this country and he's done it so easily and in such a matter of fact manner that I wouldn't be surprised if only a few would even acknowledge.


A man made for crises

Karu is a man made for crises. Even if the entire world is against you, Karu will not let you down if he believes you to be right. I will never forget how he would call me almost every day to inquire if everything was okay during the time I was in exile. He knew that I was worried about my parents' wellbeing and he made it a point to visit them whenever time permitted. I still remember him telling me, 'Don't worry, if there is any serious issue, we will attend to it.' I am sure that hundreds of others will have personal experiences of the deep compassion he possesses, most probably drawn from a serious engagement with the doctrine of the Buddha he subscribes to and practices, again without any fanfare.

Even a biographical sketch would show Karu as a remarkably versatile individual. The fact that very few know that he is one of the most successful business personalities in the country, was in the military and was a diplomat, and therefore not just another politician, demonstrates what a humble person he is. He doesn't advertise himself; he just goes about his work and the tasks he has set out for himself to make Sri Lanka a more democratic nation whose citizens have greater voice and opportunity.

Karu Jayasuriya never waited for or cared about applause, but someday if the story of this genial man is written in full, I have no doubt that the people of this country would count themselves blessed to have been spoken for and protected by such a remarkably versatile man, a patriot through and through, and a truly extraordinary human being.

Today, as he turns 76, we can but say 'thank you' to this exemplary fellow-citizen, wish him good health and peace of mind, and the blessings and protection of the Noble Triple Gem. May he continue to infuse good sense and professionalism into a political culture that is sorely lacking in these qualities and may his ways inspire others to be better politicians and better citizens.