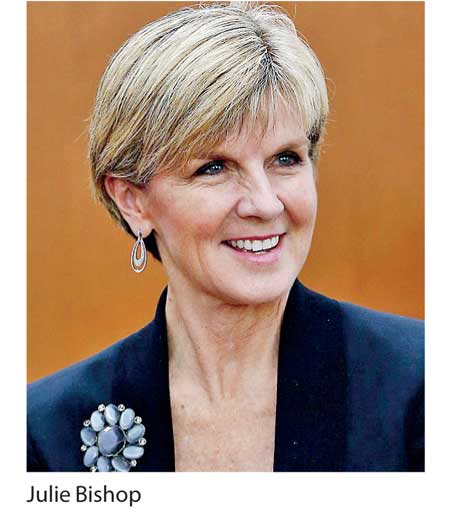 The Lakshman Kadirgamar Institute of International Relations and Strategic Studies (LKI) is a think tank that analyses Sri Lanka's international relations and strategic interests, to provide insights and recommendations that advance justice, peace, prosperity, and sustainability. LKI reflects the vision of the late Lakshman Kadirgamar by promoting the country's intellectual profile in foreign policy research and engagement.

LKI's Spotlight Series features interviews with experts and policymakers from around the world on aspects of contemporary international relations. Past interviews have covered topics such as UN peacekeeping, women in foreign policy, and the South China Sea disputes.

This latest interview in the Spotlight Series is with Australian Minister of Foreign Affairs Julie Bishop, who was recently in Sri Lanka on a two-day official visit. The interview focuses on Australia's vision and strategies for regional engagement, in light of Australian Prime Minister Malcolm Turnbull's keynote address at the 2017 Shangri-La Dialogue.

Minister Bishop is Australia's first female Foreign Minister, She was sworn in on 18 September 2013, following four years in the role of Shadow Minister for Foreign Affairs and Trade. As Minister for Foreign Affairs, she has overseen the single largest expansion of Australia's overseas diplomatic presence in 40 years, enhanced Australia's engagement with Pacific Island countries, and promoted Australia's interests at the United Nations Security Council.
Following are excerpts of the interview:
Q: In his address at the recent Shangri-La Dialogue in Singapore, Prime Minister Turnbull noted that several factors have contributed to regional stability in the past fifty years, including the global leadership of the US, the success of ASEAN, and the advancement of a rules-based order in the Indo-Pacific region. What factors do you regard as important for maintaining regional stability in the next 50 years?
A: I outlined Australia's priorities for the region in my Indo-Pacific Oration in New Delhi on 18 July. First, upholding the international rules-based order in the Indo-Pacific and respecting the sovereignty of nations will remain key to continued peace and prosperity. This can only be achieved if all nations are able to pursue their own interests free of coercion and interference.

Secondly, we must work together to promote regional growth and prosperity. Countries of the Indo-Pacific have benefited from increased intra-regional connectivity over the last few decades. We need more trade, more openness, more investment and greater integration to maintain this positive trajectory.

Thirdly, we need to bolster regional institutions and strengthen collective leadership, including in the Indian Ocean. Forums such as the Indian Ocean Rim Association are important for building consensus on regional norms, addressing common challenges and resolving differences, when they arise. Indo-Pacific democracies, such as India, Japan, Indonesia and Australia, as well as Sri Lanka, should also work more closely together in support of regional stability and prosperity.
Q: Prime Minster Turnbull observed that US global leadership in the region is backed by hard power yet has derived its greatest potency from soft power; in particular, by standing for principles of "freedom, democracy and the rule of law." As a former lawyer, familiar with debates of interpretation, what do you see as the core meaning of these principles? As a Foreign Minister, can you specify how Australia stands for these principles in the region?
A: In a democracy, citizens have a right to choose their government and, through their representatives, to contribute to law-making in their country. These laws stand above the government and individuals in that country. In Australia, human rights such as the right to vote, freedom of speech, freedom of association, freedom of religion and freedom from discrimination are protected by the law. These principles underpin our liberal democratic system of government.

We work with other countries in the region and through the United Nations to promote and uphold human rights internationally. Australia's candidacy for the Human Rights Council for the 2018-20 term is a measure of our commitment to these values. We are looking to bring an Indo-Pacific perspective and approach to the Council, should we be elected this October.

For example, we are committed to the eradication of modern slavery and human trafficking. Next month, Foreign Minister Marsudi of Indonesia and I will chair the first meeting of a new Bali Process Government and Business Forum in Perth. This new initiative will bring together business leaders and Ministers from the region to consider ways to prevent and combat human trafficking and slavery. I am pleased that Minister of Justice, Wijeyadasa Rajapakshe and Chevaan Daniel of Capital Maharaja Organisation have signed on to attend the Forum.

Australia's advocacy for the rules-based order is informed by liberal democratic principles. In international relations, all nations should agree to resolve their differences peacefully and in accordance to international law. They should have the same rights, privileges and obligations irrespective of how large or powerful they might be. Australia actively promotes adherence to such a rules-based system, which has underpinned the stability and prosperity of our region for decades, and we will continue to work hard to promote these principles in our region.
Q: Prime Minister Turnbull's address refers to China's rise and its need to avoid falling into the Thucydides trap and the conflict that follows. A study of Sino-Spanish relations in the 16th and 17th centuries offers an alternative scenario to a Thucydides trap; where a rising power and a dominant one increasingly integrate economically, without normative convergence. How would Australia view such a development over the long term in Sino-US relations?
A: Australia is hoping that the US and China can avoid the so-called Thucydides trap – and I imagine so does the rest of the region. Avoiding this unhappy scenario is the reason we support the international rules-based order.

Participation in, and respect for that order has allowed once poor or weak countries to grow rich and strong: Japan, South Korea, Singapore, Malaysia, Thailand and more recently China. All countries – including China – will continue to benefit from upholding and contributing to the ongoing development of the rules-based order. Conversely, challenging or undermining that order and the principles underpinning it will only increase the likelihood that the US and China will fall into the Thucydides trap which would be disastrous for the entire region and world.
Q: Prime Minister Turnbull has refuted arguments that Australia has to choose between Beijing and Washington, stating that Canberra has a "good friend and partner in Beijing and a steadfast friend and ally in Washington." He explained that the latter is embodied in the Australia-US alliance, which reflects an alignment of interests and values. What do you see as embodying Australia's friendship and partnership with China, and to what extent do these aspects reflect non-economic interests and values (such as a shared commitment on climate change)?
A: Australia has a broad-ranging partnership with China that encompasses our economic relationship, but also strong people-to-people links and increasing cooperation on a range of regional and global challenges. The economic dimension is certainly important. We are long-standing and reliable economic partners with annual trade worth more than AUD$150 billion. Our resources and energy exports play an important role in building and powering China and we are increasingly collaborating with China in the services sector and on research. The China Australia Free Trade Agreement, which entered into force in December 2015, provides the platform for us to expand our economic relationship into the future.

Our friendship is also underwritten by strong people-to-people links. In 2016, Australia hosted 157,000 Chinese students, and China is the most popular destination under the New Colombo Plan – an initiative of the Australian Government that sends undergraduates to study and undertake internships across the Indo-Pacific, to strengthen our knowledge of the region. More than one million Chinese visit Australia each year and almost half a million Australians travel to China annually.

We also work closely with China on regional and global challenges. Our law enforcement agencies are working together to disrupt the methamphetamine trade, with our joint 'Taskforce Blaze' operation seizing over ten tonnes of illicit drugs since November 2015. We have mechanisms in place to cooperate on innovation, energy, education, counter-terrorism and cyber-security.