Says true SLFPers need a new political party and SLFP polices are not being implemented under this Government.
Notes military persons have turned to be good politicians in the world, but in Sri Lanka most of them have proved to be failures
Concedes Fonseka played an important role in ending terrorism as Army Chief
Asserts Rajapaksas are not rogues; says he never threatened media
Says Yoshitha is O/L qualified
Asserts he is not anti-Tamil or anti-Muslim and has nothing to do with Bodu Bala Sena, Ravana Balaya and Sinha Le
Gotabaya Rajapaksa, the second most powerful man among the Rajapaksa clan during the previous regime, asserted that no one could politically destroy the Rajapaksas even if they were jailed or killed. The former Defence Secretary, Rajapaksa said that the family had been in politics for over 80 years and that all attempts to wipe them out would be a failure as people still hoped to bring Mahinda Rajapaksa back into power.

In an exclusive interview with the Daily FT, he denied their involvement in corruption and fraud and revealed plans to form a new political party to recapture the SLFP strong-hold while denying Yoshitha Rajapaksa was treated as a 'special naval officer' in the Sri Lanka Navy.

He challenged the Government to prove that the Rajapaksas possess enormous wealth and had stolen billions of rupees. "The Financial Criminal Investigation Division (FCID) was created with selective people, who are political stooges. The FCID acts against the laws of this country because somebody wanted to punish somebody else. That is not justice and not what they have promised the people," he charged.

Following are the excerpts of the interview: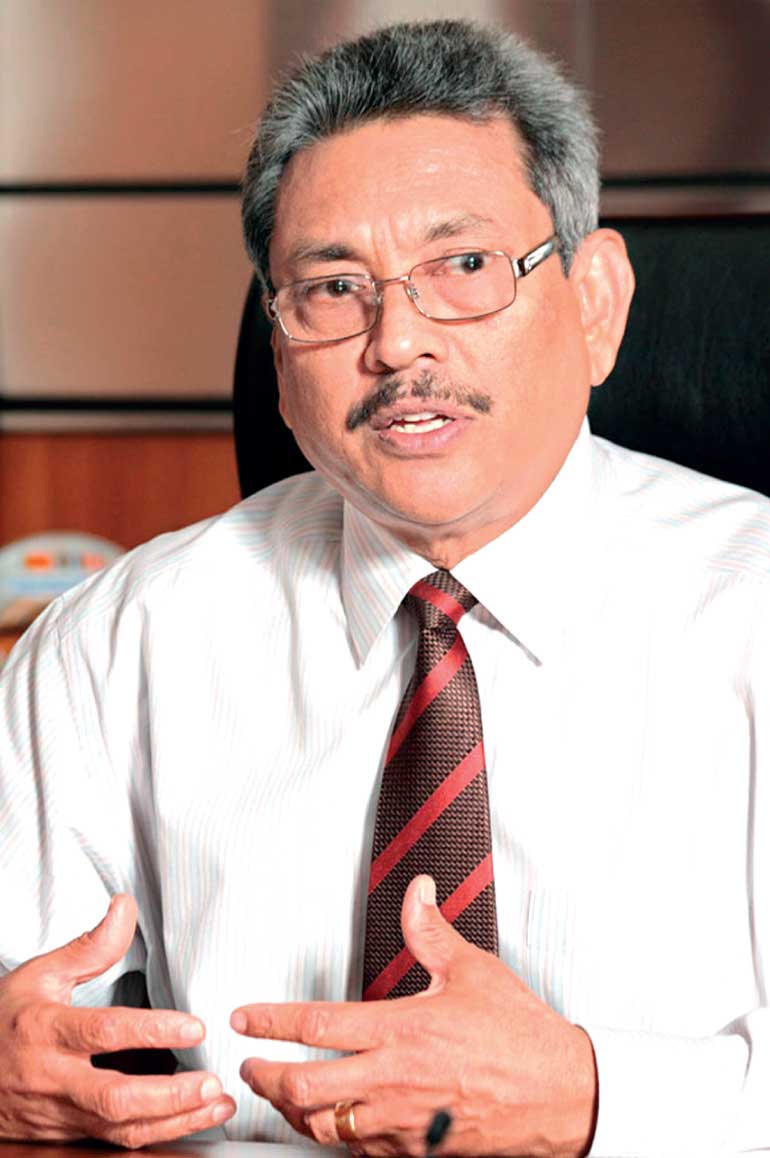 Former Defence Secretary Gotabaya Rajapaksa
By Shanika Sriyananda

Q: What is keeping you busy these days?

A: The Presidential Commission, the Bribery Commission and the FCID. I am also spending time with my lawyers consulting them to face the false accusations by those commissions against me. That is how my life goes on these days (laughing).
Q: Discussions to form a new political party by the Rajapaksas have also kept you busy, haven't they?

A: Yes, discussions are going on these days to form a new political party but it is not exactly by the Rajapaksas. The idea purely came from the original and true SLFPers, who are thoroughly disappointed and also in the wilderness now that their much-loved party is now in disarray. The SLFPers at grass-roots level have urged us to form a new party for them. However this will be the real SLFP.
Q: People are already divided into several political parties. Do you think a new political party will survive?

A: Yes, why not? All the original and true SLFPers will rally around this party. The country had the general elections and those who won at the election won because of the hard work of the former President Mahinda Rajapaksa. Those politicians made use of his image to win the elections and get high preferential votes. Remember, those SLFPers who voted for them didn't want them to join the UNP to form a UNP-led government. They voted for them to form a SLFP government and if not they wanted the SLFP to be the main Opposition. They lost both opportunities and now these SLFPers claim they are lost in politics and they do not have a political party. Once formed, this party will have the cream of the SLFP.
Q: What would be the role of the former President Mahinda Rajapaksa in the proposed party?

A: We have had few rounds of discussions and need to discuss more. When the right time comes, he will take a decision to join the party or guide the party. It is up to him to decide his future with the new party.
"The Government lied a lot about exposing corruption but today it has failed to prove those allegations. Because it can't prove those charges, it is taking action to arrest the Rajapaksas illegally. This is not justice

The main mistake was that we couldn't recognise the corrupt politicians in our Government. They were with Mahinda Rajapaksa till the last day. They always worked for their personal political agendas. Fortunately, they are with this Government and today they are the ones who are voicing against us"
Q: Will you be the leader of this party?

A: I will be assisting to groom the party. I am not an experienced politician; I hope the party leader will be an experienced politician. As a citizen of this country I have a right to support the political party which I like. Therefore, I am ready to provide any support to build up this new political party, which will lead the true SLFPers in this country.

I believe that the most important factor of a political party is its policies. Today, we see polices of the SLFP are not implemented under this Government. The SLFPers always stood for the country, its unitary status and the country's war heroes but these policies are challenged under this Government. The SLFP was formed with the support of other communities and represented all communities. They worked together to build the party. The new party is also for the SLFPers from all ethnic groups.
Q: If you are chosen to be the leader of this party, how confident are you of having democratic leadership qualities given your military background?

A: I left the military some years back and then I became an official. I have now been in civilian life for a long time. There is no difficulty for a military person to become a politician. There are enough and more examples in international politics where military persons have turned to be good politicians. But in Sri Lanka most of them proved to be failures. I know my capacities and leadership qualities. Therefore, I can prove that military persons can also become good leaders.
Q: One Minister recently said you entering into politics would be as a 'dictator in the making'. What is your comment?

A: You see these people make remarks for their political advantages. I have heard this same Minister was promoting Sarath Fonseka to be in Parliament to fill the vacant seat of former MP Gunawardena. Just compare the two statements. On one hand he promotes Fonseka and on the other hand he accuses me of becoming a dictator if I enter into politics. For me, these people just talk with no basis.

I also heard him saying I know only to say left and right. It is true because I know what is left and what is right well. But this person has mixed up left, right, north and south and everything.
Q: Given the serious allegations of corruption and fraud, do you think that the Rajapaksa family has a future in politics?

A: Why not? Though these people have roped us with various allegations, we Rajapaksas are not rouges. The Rajapaksas have been in politics since 1936. For the last 80 years we have done our best for this country and our people.

When somebody comes to power and sends us to various investigation arms, trying to tag us as criminals, do you think he can wipe out Rajapaksas from politics? No. Even if he is a dictator and wanted to kill us all, he can't destroy us as the people are still with the Rajapaksas. In a democratic country with the power of the people it is very clear none can destroy the image of Rajapaksas.
Q: If someone says that it was people power that changed the Rajapaksa regime on 8 January 2015, would you agree?

A: No, it was not the ordinary people who wanted a change but the politicians with personal agendas who brought about that change by misleading voters. Former President Rajapaksa had and still has all the support of the people.

If you take history, there were so many rulers who couldn't continue to be in power due to the power of people's wish, which changed governments. History has proved that dictators have failed to rule countries continuously as people rose against them. The rulers can put their opponents behind bars but they can't destroy them and their popularity. When the time comes the people will decide whether they want the Rajapaksas to serve them in the future or not.

Even immediately after this Government won the election, people started to rally around Mahinda Rajapaksa. They want him back after a short period of forming this Government. If you take the 2015 election, Mahinda Rajapaksa had to contest from the SLFP which is headed by someone else. Otherwise he could have easily won the election.
Q: As the former Defence Secretary, you were tasked to fulfil two tasks – ending the war and also urban development including beautifying Colombo city. What would be your task in the new political party?

A: That is too early to discuss. First, we have to form this new party to give confidence to the true SLFPers. We need to give them confidence of forming a better government to take the country forward. No one can deny the fact that the MR Government did a lot for the country and achieved a lot. He gave the leadership to end the war that was dragged for three decades.
Q: But people accuse him of trying to take all the credit for it alone despite it being a collective effort. Your views?

A: Yes, some say we ended the war because of Sarath Fonseka. How can they give the whole credit to him? He was there for over 38 years and held different posts in the Sri Lanka Army. He could have done it if he really wanted to end terrorism.

I agree that he played an important role in this mission as the then Army Commander. But the task of ending terrorism was much more than his task as the Army Chief. Without the leadership of Mahinda Rajapaksa, who was the Commander-in-Chief of all forces, no one could move an inch to defeat terrorism. Lots of coordination was done by me. Yes, it was a collective effort that helped the Government end the war in a short period of time.

We did a lot in terms of post-conflict development in this country. The amount of work that we did is clearly visible if you travel to the four corners of the country. The good things that we did for this country are more and they are not highlighted but whatever little mistakes are being spoken of widely.
Q: Do you agree that the attitude of the MR Government towards the Tamils and Muslims in the country also contributed to its defeat in 2015?

A: Yes, they were misled by their own politicians, who were aspiring to gain personal benefits. For these reasons not only Tamils and Muslims but also some of the Sinhalese voted against us. Unfortunately, they believed the wrong picture painted about the MR Government by those politicians and also by so-called civil societies.

The present Government promised to implement various changes before it came into power. Today, people are well aware of what it is doing. It lied a lot about exposing corruption but today it has failed to prove those allegations. Because it can't prove those charges, it is taking actions to arrest Rajapaksas illegally. This is not justice.

While there is a legal process and State legal institutions to punish the wrongdoers, how can those so-called civil societies name people for committing corruption? Following their recommendations, this Government is punishing the Rajapaksas while letting the real culprits go scot-free.

Why did they create the FCID while having other investigative arms like the CID and Bribery Commission to investigate such allegations? The FCID was created with selective people, who are their political stooges. The FCID acts against the law of this country because somebody wanted to punish somebody else. That is not justice and not what they have promised the people.
Q: Do you deny the corruption charges against Rajapaksas?

A: Yes. The Government claims that we engaged in various corruption and have so much of wealth and financial assets. I challenge the Government to prove these allegations soon. It is very unfair and unethical to accuse us without proper findings. The Government has created various bogus allegations to imprison us. I would like to ask them to show the evidence for billions of rupees that we have allegedly stolen. People of this country have realised the truth and they are well aware about these episodes of the drama directed by the Government.

Other than trying to punish the Rajapaksas, this Government has done nothing which it promised the people within its one year stay.
Q: You said there were some weaknesses of the MR Government. What were they?

A: The main thing was that we couldn't recognise the corrupt politicians in our Government. They were with Mahinda Rajapaksa till the last day. They always worked for their personal political agendas. Fortunately, they are with this Government and today they are the ones who are voicing against us mostly.
Q: But your Government entertained them and their behaviour?

A: Yes, that is why people blame us. Today they are with this Government and attacking us. We will not repeat the same mistake. This is one major mistake we made during our tenure. I agree that when these people were doing wrong things we didn't take proper action at the correct time. People blame us for that now. We will select the good people to serve the people in future.

With the help of those politicians who crossed over to the Government, those civil societies want to attack the Rajapaksas. As I said before, they want to tarnish the image of Rajapaksas. Today, I just ask journalists to talk to their hearts and say whether they have more freedom now than during Mahinda Rajapaksa's regime.

I can remember once I gave a call to the then Editor of the Daily Mirror to point out an error in an article. I called her as I know her. Unfortunately it was interpreted as my threatening her. The British High Commissioner had also visited the Editor and created a huge issue. Where are those people today when this Government has openly threatened the media? I ask them why they have double standards.
Q: So you want to say that you never threatened the media when you were the Defence Secretary?

A: No, never. Former President Rajapaksa and I never threatened the media. People who really threatened the media are now with the Government. People who are responsible for assaulting the media, threatening and doing various things to journalists are now with the Government today.
Q: Can you name them?
A: No need to name them as people know well who they are.
Q: You have recently said that 'Yahapalanaya' regime is much worse than even Hitler's rule. Your comments?

A: Yes, it is true. It can be seen from what they are doing. Without any evidence or proper investigations to prove allegations, they are just taking people into custody. One of the Parliamentarians has abducted a person and she gets bail, but not Mahinda Rajapaksa's son, who was not even a director of that company.

I ask people to think about the way this Government is handling the issues. With the change in government, Opposition politicians are facing various charges but we have not seen a government like the present Government, which is trying to take revenge so vigorously.

The prime target of this Government is the Rajapaksa family and its supporters. Even after a one year of forming this Government, they are going behind the Rajapaksas and their supporters without any basis. They are doing it the extent of taking Rajapaksa children into custody. I regret to say that there is no law and order, freedom and leadership in this country today.

There are some Ministers in this Government who decide who goes to jail. They are the people who are giving instructions to arrest people. They promised independence to the Police and the Judiciary. When the politicians give orders to the Inspector General of Police to question, arrest and imprison people, where is the independency of the Police they are talking about? Where is the independency of the Judiciary when the politicians criticise a decision given by the Attorney General?
Q: Some critics say this is similar to the situation that prevailed during the MR regime. Your views?

A: I have also heard that some politicians are saying the same. They say that similar things happened in the past regime. If they claim that there was no independence in the Police and Judiciary during the previous regime, people elected this Government to correct those. Since it has failed to keep the promises, the Government is trying to justify its failures.
Q: You have asked people to rally against this Government. Is it to evade the allegations against the Rajapaksas and their supporters?

A: Isn't one year enough to prove these allegations against us? But other than chasing behind the Rajapaksas, this Government is doing nothing. Where is the country's development which they are talking about? Where is the media freedom that they are boasting about? Where are those critics who were very critical about us but are very silent when the Prime Minister of this country openly criticising the media in the Parliament? He named some journalists and also asked the editors to write editorials as he wants. Just compare media freedom now and then.

Once an Ambassador told me, 'when you say something, it gives a meaning as you are the Defence Secretary'. Here the Prime Minister of this country says so. Don't his words have any weight?

The Rajapaksas do not want to escape from any allegations. We will face any situation and we are not scared of these allegations as we know well that we have not committed any crime. What is happening now is that they select people and punish them while real culprits are going scot-free. When someone is a political threat to someone, he will be punished.


Q: The Government has repeatedly said that it is not taking revenge from the Rajapaksa family and also not hunting political opponents. Your comments?

A: Why not? It is very clear that the Government is on political witch-hunt. They carry out arrests and summon us before various investigative bodies with no proper evidence. They arrested Yoshitha on some financial irregularities at Carlton Sports Network, which is a private company where he has no connection. I do not know on what grounds they took him into custody and are trying to punish him.
Q: It was recently revealed in Parliament that Yoshitha Rajapaksa doesn't have the required basic educational qualifications to become a Lieutenant of the Sri Lanka Navy. As the former Defence Secretary, weren't you aware of his qualifications?

A: The then Navy Commander Admiral Wasantha Karannagoda told me that it would give a morale boost for parents if a child from the Rajapaksa family could join the military. Throughout military history, before the war broke out, a limited number of youth joined the military as officer cadets. Those days most of them were those who had excelled in sports. There was a huge competition to join the military. Those who were selected were those who captained a team or national players. When I joined the Army, they took 20 such good sportsmen. I can remember there was a good rugby player who was shorter than the required height but he was in as he had excelled in sports.

Anyway during the war time, several second lieutenants got killed and very few joined the Navy. We wanted to motivate the parents and youth to join the Navy as officer cadets. Then President Rajapaksa gave his consent for Yoshitha to join the Navy as an officer cadet. Yoshitha is from S. Thomas' College, Mount Lavinia, and captained the school rugby team and also represented Sri Lanka's National Rugby Team. How can anybody say he was disqualified to be an officer in the Navy? He is more than qualified.
Q: When someone joins the military on merit in sports, the Ordinary Level examination qualification is not looked into?

A: Why not? He should have the minimum qualifications to join the Navy.
Q: Therefore, Yoshitha Rajapaksa has passed the O/Ls?

A: Yes, of course. Otherwise he couldn't join the Navy.
Q: As the former Defence Secretary and the uncle of Yoshitha, were you aware of his educational qualifications?

A: Yes, the Navy would not recruit those who don't have basic educational qualifications. What I say is that he was more than qualified to become an officer cadet.
Q: Are you sure that he was not given any special attention when recruiting?

A: No. He was not given any special privileges or consideration. This is the truth. It was very difficult to get those who have excelled in sports into the military because of the war.
Q: The Navy has also questioned him for having taken over 36 foreign tours without the approval of the Navy Commander. Can this happen without your knowledge?

A: To which Navy Commander are they referring? Any of the Navy Commanders who were there during the previous Government can't say Yoshitha went abroad without their approval. Karannagoda was the Navy Commander who wanted Yoshitha to join the Navy. Then there was Tisara Samarasinghe, Somatilake Dissanayake, Jayantha Colombage and at last there was Jayantha Perera during the previous regime. They can never say that I influenced them to select Yoshitha for any special courses or training. I always instructed them to treat him like any other officer cadet in the Navy. I challenge any of them to say whether I influenced any of them to treat Yoshitha as a special officer.
Q: But what if someone has overruled your instructions to treat him in a special way?

A: No, I don't think even President Rajapaksa would do so. It was up to the Navy to look after him once he joined organisation. I was in the military and I know how the children of senior officers and politicians get various special treatment when they join the forces. I believe it is the Navy Commander's responsibility to see they are treated alike. This is how you make a good officer and a good institution. I hope during my tenure as the Defence Secretary, the Navy treated Yoshitha like a normal officer.

Especially when they have a Defence Secretary like me who didn't influence them on anything and who gave them lots of freedom to do the correct thing, I am confident they must have done the correct thing even when treating Yoshitha.
Q: People think Gotabaya Rajapaksa is anti-Tamil and anti-Muslim. Are you?

A: (laughing) That is a very wrong impression about me. Those who want to get some advantages must have spread this. When I was providing houses for the shanty dwellers in Colombo, I have given houses to the needy and didn't care about their political affiliations and ethnicity. If you count those who have got houses, the majority are Muslims and then Tamils. When I started this project, the Opposition falsely accused me of trying to resettle Sinhala families from outside. I never did such a thing. I am not anti-Tamil or anti-Muslim as I strongly believe that we are all Sri Lankans.
Q: Do you think this country belongs only to the Sinhalese?

A: Who says so? I don't think anybody will say this. We have all lived together for ages and we are still living together. The problem arises when some people try to divide this small country. I must say that the Sinhalese are not creating these issues but politicians always try to create issues to divide these communities. This country belongs to Sri Lankans – Sinhalese, Tamils, Muslims and Burgers. In Sri Lanka, the Sinhalese are the majority and we have to remember and recognise that too.
Q: With the recent unruly behaviour of some of saffron-clad people, blame comes to you for tolerating them and letting them go scot-free when you were the Defence Secretary. What are your comments?

A: Yes, critics can say we have tolerated them. Whether it is a Buddhist or a Hindu priest or a member of the Muslim clergy, we have treated them equally. They are religious dignitaries and we can't treat them as ordinary people. If they have done something wrong, they should be punished under the existing legal framework. The issues where the religious leaders involved need to be handled carefully as they are very sensitive issues.

The best example was the Aluthgama incident. There people were blaming the Muslim youth for starting the unrest. We handled it carefully and controlled it within no time. It was between two ethnic groups. If we had taken one side, it would have created a situation like in 1983.

Unfortunately, those who blame us have forgotten how the 1983 riots dragged on for weeks. The same people who were in power now were ruling this country when the 1983 riots erupted. In the 1983 riots, they burnt, killed and looted the Tamils but at Aluthgama nothing happened as we immediately brought the Police, the STF and the Army into the scene and controlled the situation soon. I would like to tell those who criticise us to compare the two incidents to judge the difference.
Q: Will Bodu Bala Sena, Ravana Balaya and Sinha Le join the proposed new political party?

A: No. They have a different ideology and are different groups. These movements are started by various people and they don't relate to me. I have nothing to do with them.