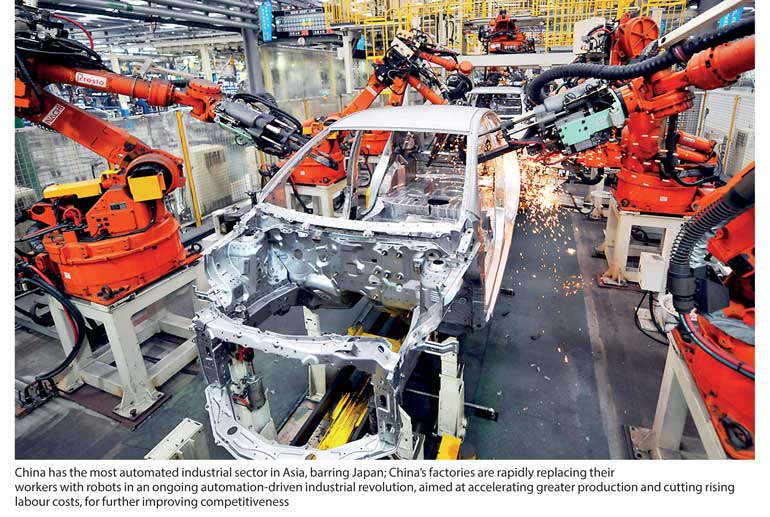 By C. R. de Silva
Specific country issues – Trojan horses abound?
The current timing and wisdom of negotiating preferential, supra-national Free Trade Agreements (FTAs) is questionable, without first establishing a viable export industry strong enough to withstand international trade competition, as was done earlier by the 'miracle' economies of East Asia, in relation to more industrialised countries.

Advisability of proposed FTAs with China, Singapore and India, inter alia, with all of whom Sri Lanka has substantial adverse trade balances, historically as well as currently, has come into serious question by both stakeholders like the SMEs as well as by concerned professional associations, like the economists and exporters (as was pointed out in an earlier part of this essay).

The Government, nevertheless, is pushing ahead speedily with finalising such ill-conceived, anti-national and perverse trade policies which will further decimate business profitability and already declining export prospects, by killing nascent 'basic' industrial efforts, which are fully deserving of the import substitution safeguards proposed by local trade experts and professional economists' associations – early policies which were sponsored during their speedy industrialisation by the 'tiger' economies of East Asia (see this writer's 'The Development Strategy of the 'Miracle Economies of East Asia,' Daily FT, 2 March).

A brief examination of the advanced technology and industrial status of the countries with which Sri Lanka is planning to speedily intensify trade liberalisation, aimed at increasing export revenues, is revealing at this point.
China
This is a country with the most automated industrial sector in Asia, barring Japan; China's factories are rapidly replacing their workers with robots in an ongoing automation-driven industrial revolution, aimed at accelerating greater production and cutting rising labour costs, for further improving competitiveness. China has bought more industrial robots than any other country since 2013, in a determined quest for cheaper and more reliable industrial mechanics, performed with greater precision.

China's technological revolution has very far to progress, raising the six million dollar question: Can developing economies like Sri Lanka still hope to follow the conventional route to prosperity through enhanced trade liberalisation, exporting low end products, e.g. leather goods and garments, to countries like China, now already the world's biggest exporter of manufactured goods, or even Singapore, another competitor?

China's central planners are offering generous subsidies, spurned by Sri Lanka's economic guru, the IMF, to industrial concerns both to use and build robots, also upgrade them and capture new export markets – with a proactive Government throwing its full weight behind the domestic robot revolution. Meanwhile, as the demand increases the price of industrial robots is falling and their performance is improving progressively, enabling China to overcome labour shortages and rising costs ('China's Robot Revolution' from Artificial Intelligence & Robotics). Automation as well as FTAs become important for China as the country loses the export pricing advantage of a "low cost global workshop" with some inevitable Yuan appreciation, and some losses in potential for FDI and investment profitability due to higher labour costs in manufacturing.

In analysing the related ongoing FTA negotiation, the Sri Lanka/China trade experience shows that in 2015, while bilateral trade between these countries crossed the high $ 4 billion threshold, 93% (or $ 3.7 billion) were imports from China into Sri Lanka, while Sri Lanka's exports to China were valued at a miniscule $ 293 million (or 7%); and plans are to make this quite unbalanced bilateral trading relationship still more stark, as it is now sought to be further liberalised even more extensively and deeply under an FTA. In addition, a significant proportion of Sri Lanka's exports utilise major imported components from China itself, reducing the local value added significantly!

During the last 11 years when Sri Lanka/China bilateral trade ballooned nearly six-fold from $ 659 million in 2005, the proportion of Sri Lanka's exports to China did not increase due to numerous structural factors, adequately detailed and summarised in previous parts of this essay already, extracted from SLEAS and IPS commentaries – but principally relating to the significant lack of exportable products, generated by a vibrant industrial sector in Sri Lanka. This is the result of a still-non-existent, national industrial strategy, detailing a vision of a modern economy's path to a "powerful" (balagathu) Sri Lanka.

It is relevant to mention here that the Second China Product Export Exhibition, launched recently in Colombo in late-November 2016 and attended by a 120-strong visiting Chinese delegation, is further designed to exploit still more intensively and further expand current advantages to China, soon to result from greater liberalisation under an FTA, of even more preferential Sri Lanka/China trade, which is current government policy.

Trade policy analysts have also identified several lessons for Sri Lanka from the Pakistan/China FTA, derived from experience under it during the ten years of its operation, as follows: firstly, tariff concessions extended to Pakistan appear superficially generous, but despite Pakistan's close and long-standing foreign policy relationship, China has awarded better or equal trade concessions to competing ASEAN countries, while also placing Pakistan's more unique exports in the 'non-concessional' category, cumulatively resulting in the FTA eventually benefiting China more than Pakistan. The question arises whether our negotiating authorities have first consulted domestic businesses to ensure that FTA's concessions are beneficial to Sri Lanka's trading interests?

Secondly, China appears to benefit more from a number of products covered, and their variety under the FTA than Pakistan. So, is Sri Lanka negotiating an FTA which covers products with high export potential and enjoying competitive advantages in world markets, thereby diversifying its export basket? Thirdly, given the unequal benefits shared under the FTA and Pakistan's steep adverse trade balance with China, very similar to Sri Lanka, exports from China keep increasing, causing income and revenue loss to Pakistan, necessitating increase in Pakistan's export lines and expansion of product variety, rather than trying to discourage exports from China – a losing game.

Similarly, IPS research (from which these very cogent arguments are extracted), shows close to 300 items of goods imported by China, not being now exported by Sri Lanka, presenting new export potential for innovative domestic entrepreneurs, but they would initially need a 'protected' milieu to develop, possibly concessionary Bank credit and government export subsidies, which will cause IMF's loud megaphone to be turned on again at policymakers – but this was precisely the early strategy of the 'miracle' economies to speedy global export success.

Thirdly, the IPS research has reported that China is well known to its trading partners (and to WTO) for imposing non-tariff measures on imports, which include anti-dumping duties, technical trade barriers, sanitary and phytosanitary constraints, customs processes, other such import restrictions, and conditions protecting intellectual property rights. These as well as tariff barriers have been encountered in practice by Sri Lankan exporters, 'who have experienced a lack of mutual recognition of certificates and standards', especially for agricultural products which predominate in local exports.

For example, the IPS study cites rare-earth testing for tea exports, which is a unique problem, since required testing facilities in Sri Lanka are insufficient, and China does not recognise certificates provided by Sri Lanka. Other unique issues relating to quarantine, testing and certification are reported across other agricultural export categories, as well as lack of transparency in food safety regulations, e.g. three years to obtain quarantine certification to export bananas! ('Barriers without Tariffs: Sri Lanka's Exports to China' IPS, 29 August 2016). Trojan horses certainly abound.

In recognition of these concerns, a Nestle Lanka top manager took the public position recently that while an FTA with China would be desirable, with trading giants like China, it would be all- important to determine the tariff structure under it.

Lastly, there is a serious potential danger to Sri Lanka from finalising FTAs with more industrialised countries – for instance, Pakistan's FTA with China has resulted in increased imports of finished products into Pakistan, flooding the local market with cheap substitutes to locally crafted goods and reduced their demand and, therefore, profitability; also causing under-utilised capacity among local enterprises. Does Sri Lanka have the time and funds to extend speedy, subsidised support to local industry, rendered vulnerable by cheap Chinese competition flooding the local market?

China has famously entered even other highly industrialised countries as well, like the US and wiped out both entrepreneurs, and with it, employment on a large-scale – leading to loss of jobs and impoverishment of workers, one directly contributory reason for the recent regime change in that country. Sri Lanka is attempting to do what the US industrial powerhouse could not do successfully, may be at similar or even worse costs.

Dr. Janaka Wijayasiri, a trade policy expert at IPS, the Government-supported think tank, from whose original and imaginative research, the foregoing 'Four Lessons of the Pakistan-China FTA for Sri Lanka' (Talking Economics Blog) are derived, has recommended that "Sri Lanka should urgently enact legislation against anti-dumping, countervailing and safeguard measures…to ease the transition towards freer trade and protect local industries against unfair trading practices and surges in imports".

In addition, does Sri Lanka, with an IMF-imposed flexible exchange rate, have a level currency playing field with China? Chinese exporters have for a long time opposed a market-determined exchange rate, fearing potential currency appreciation, which would make their exports expensive in markets like Sri Lanka or the US, where politicians have been raising this battle cry of unfair, depressed Yuan values for many years.

So, time is of the essence, but nothing happens that fast in this slow-moving, tropical paradise! In fact, local manufacturers are reported to be irked that a 90% tariff liberalisation, with only a 10% negative list, covering substantially all trade, allowing cheaper Chinese products to certainly flood the market and adversely affect local industry, will result in huge job losses. While China wants to fast-track the FTA signing, before India's, in a typical Sri Lankan 'cart before the horse' scenario, responsible local bureaucrats have been, ex post facto directed to undertake a comprehensive sector-wise analysis to identify industries which will be affected, with data on their exports, employment, turnover and production volumes, at this very late stage, after the FTA horse has in fact almost bolted! Better late than never, hardly works at this critical juncture, because, very sadly poor peoples' livelihoods are at stake.
Singapore
Next to Japan and China, Singapore is the City State, Sri Lanka is said to be emulating in Asia. Singapore is rushing into automation at top speed – building expertise in high tech niches such as robotics, 3D printing, biologics (making drugs from protein in cell cultures, rather than synthetic chemicals), and similar cutting edge production, to help it sustain a large, high-end manufacturing sector, employing more than 100,000, despite the exit of many labour-intensive, low-end industries to cheaper locations, potentially like Sri Lanka and elsewhere, where Singapore FDI may well invest.

Encouraged by low tax rates, and other similar incentives and subsidies, spurned the by IMF in Sri Lanka, Singapore's transformation from a sleepy trading post, which declared its independence only in the early-1960s, to an industrial and economic powerhouse is being proactively driven by its Government. Attractive policies and a high standard of living have induced 44% of global companies' Asian headquarters to re-locate to Singapore.

Sri Lanka may also possibly benefit from Singapore focusing on developing a regional manufacturing supply chain, where its labour intensive work can be based in nearby countries, but not design, engineering and sophisticated manufacturing, which are done at home, often utilising foreign expertise. So, Singapore has a target of attracting about 2,500 data analytics professionals by end-2017. Already, about one-half of South East Asia's data centre capacity is in Singapore. (Extracted from "Singapore Targets Investment in 'Disruptive' Technologies"). Conversely, Sri Lanka's debilitating brain drain which really started about 1956, and accelerated in 1983, is still in full flow, showing little sign of reversing, certainly unlike India and possibly even Bangladesh, both emerging 'tiger' economies. The continuing brain drain is seriously affecting development programs in Sri Lanka.

Sri Lankan trade policy concerns, similar to those with China, surround the Government's aggressive push to finalise a bilateral free trade agreement with Singapore, which is unarguably the most highly industrialised and sophisticated manufacturing centre in South East Asia, as described earlier, starting as an independent country barely 55 years ago but following the 'Development State'-oriented government interventionist and anti-western route to first world prosperity in less than 50 years.

While Sri Lanka currently has four trade agreements, Singapore has 21 bilateral and regional FTAs in force with 32 other countries, and imposes a zero rate of duty, across the board on average, on all imports, and may demand reciprocal treatment from Sri Lanka, causing a revenue loss, but little gain. Singapore is now moving from a manufacturing economy to a service and investment base. Like China, Singapore is not an important export destination for Sri Lanka – with exports totalling only $ 85 million, while Singapore exported mainly refined petroleum products, electronics, chemicals, plastics, machinery and even food items to us, totalling over $900 million in 2015.

While a Sri Lanka/Singapore FTA may include liberalisation of the services sector, the so-called 'Global City' has now turned conservative about admitting overseas workers, given the major influx of foreigners, high- as well as low-skilled, who now constitute two out of every five residents, causing a public backlash. The conclusion on the proposed FTA, of IPS trade policy analysts, whose above research the writer is indebted to, are that "Sri Lanka has little to gain…due to its minimum amount of exports and Singapore's existing duty free access (to all imports)… Mobility of labour to Singapore should not be anticipated…", but as mentioned earlier, a potential increase in FDI is possible ('Benefits of a Potential Singapore-Sri Lanka FTA,' IPS, 20 July 2016).

Despite not entertaining yet any constructive suggestions or stakeholder comments, the Ministry of International Trader has decided that the proposed FTA will be entered into about mid-2017 and will cover not only goods and services (financial, telecom and e-commerce), but also mainly investment, customs procedures, trade facilitation and economic cooperation more generally. (However, since no draft FTA has been released for industry or stakeholder review, most information results mainly from leaks, (which is a new tool of democratic governance in this country).
India
The foregoing analysis shows that Sri Lanka is lagging behind the vast majority of booming Asian economies, as well as in relation to the rate of phenomenal growth and size of India's massive economy. Sri Lanka's experience with the already operational bilateral trading arrangements with India under an FTA, leaves much to be desired, due to discreet Indian obstructionism, already confronted by Sri Lankan exporters. These are non-tariff barriers, concealed State as well as Federal Government trade regulations, and the 'fine print' not obvious to simplistic-minded, domestic SME trading concerns, including "invisible" obstructionist measures, which the well-known, unique genius of the Indian bureaucracy and businessmen can be depended on to transpose, and will further continue to erode the already unbalanced, adverse historic, bilateral trade experience between Sri Lanka and the Indian import market.

From that viewpoint, India is really a more equal challenge for American and European, even Chinese, exporters who originate from more highly industrialised and sophisticated, export-driven, better advanced economies, which have moved up the technological ladder to conquer futuristic, innovation-related obstacles and established new-age knowledge and product automation, as well as service-oriented development goals, leaving their surplus lower-end, sometimes lower quality, manufactures for export to developing countries, such as those in South Asia, and also to African countries.

India is also insulated from rising global protectionism and China's emerging economic power, since "India's model of growth is a mix of protectionism and globalisation. It is neither an export based economy nor one susceptible to globalisation's deficiencies. Its growth is polarised on domestic demand and local currency resources" (Subrata Majumder, 'Amid Protectionism vs. Globalisation,' CT, 17 April). Self-reliance in every aspect is a virtue Sri Lanka has progressively lost in 2016-17.
Sri Lanka-India

FTA experience
In the context of the earlier South Asian regional FTA of 2000 failing to realise enhanced trade, and analysing the seven-year experience with the ongoing bilateral FTA with India, studies have concluded that "the rejection of Sri Lankan products entitled to concessions, non-acceptance of Sri Lankan standard certification, excessive time taken for product testing, complexity of and difficulties in, obtaining relevant information, and lack of efficient Indian border controls are some of the key barriers in trading with India".

Other important issues that have been likewise highlighted which have reduced the potential utilisation rate of FTA provisions to 60%, include the bulk of Sri Lankan exports to India being outside their purview, the utilisation rate by Indian exporters being as low as 14%, non-tariff barriers referred to earlier, trade facilitation issues, lower prospects for vertical integration, strict quotas on Sri Lankan exports and stringent rules on product origin criteria, have been pointed out in an IPS study, as far back as 2014, but not corrected.

Based on a negative list approach, the FTA excludes 1180 Sri Lankan products, while excluded Indian products disproportionately amount to only 429, while in addition, India and Sri Lanka were given three and eight years, respectively, to completely enforce the FTA's zero duty provisions, recognising the asymmetries between the two economies. In addition, both countries were required to produce 'Proof of Origin', requiring substantial value addition in-country, to qualify for duty exemption. Given the inclusion of an overwhelming share of imported components in most Sri Lankan manufactures, these operative caveats mean granting opportunities for subjective Indian value judgements, inhibiting FTA benefits, especially for a low-end industrial export sector, as Sri Lanka has today.

Aside from a myriad other loopholes and bottlenecks experienced by Sri Lankan exporters to India, especially SMEs, IPS has identified several important FTA-related issues worth mentioning here: 1. In addition to the BOI, Ports and Customs, operations of other supporting and facilitating government agencies are not automated, e.g. the Commerce Department's documentation, like Certificates of Origin, are still written manually; 2. Cargo from India arrives here in 24-48 hours, but notorious red tape and Indian bureaucratic delays affect arrival of needed documentation, delaying cargo clearance, especially of perishables; 3. Sometimes, delays in de-stuffing containers due to Colombo port congestion takes up to seven days; and 4. The standard and quality requirements for imported products are set by different local organisations in India.

Likewise, issues faced by Sri Lankan exporters at the Indian end have been also identified in the same study, as follows: 1. Lack of efficient border control mechanisms in India and, of transparency and information sharing with officials, cause considerable delays in shipping and logistics, e.g. different ports demand different documentation, being not linked or automated; 2. Ignorance of Indian customs officials of FTA concessions for product categories, leading to delays and corruption; 3. Non-acceptance of standards certification by SLSI, (Colombo), despite reciprocal recognition of Indian certified products; 4. A major issue is excessive time taken for lab testing of perishable exports from Sri Lanka, often five days, with higher food standard requirements than Japan or the EU; and also excessive spot testing of even garments!; 5. Complexity and difficulties in obtaining information on new regulations, especially by SME exporters, e.g. recent food safety regulations; 6. Exporters' need to make informal payments to oil the machine erode price competitiveness, where profit margins are slender; and 7. Absence of an Indian agency or 'help desk' to resolve problems like the above, where a quick response is critical due to ensuing high costs from delays, negating FTA benefits and discouraging Sri Lankan exporters. (Above points and arguments are extracted from 'Facilitating Trade Between India and Sri Lanka,' IPS, March 2016).
Proposed ETCA
The above IPS study of one year ago, includes Policy Recommendations to overcome the numerous constraints at both country ends which have been encountered in the operation of the existing FTA, but if after seven years, the experience of Sri Lankan businesses is not good, the bottom line is: Why are political leaders in Sri Lanka rushing into an expanded, new Economic and Technical Cooperation Agreement (ETCA), extending to wider economic cooperation, including labour and services, without resolving important existing trade issues with India?

Sri Lanka's political and business community's and professional bodies' opposition to the proposed ETCA, which is a disguised, now abandoned Comprehensive Economic Cooperation Agreement (CEPA) has extended to the issue of allowing migrant labour and India's unemployed millions – a reported 41 million unemployed – to enter and saturate the Sri Lankan job market, to replace the large numbers of skilled and unskilled workers who have migrated to the Middle and Far East in search of more lucrative employment, thereby increasing labour costs here. Will these moves further discourage FDI in Sri Lanka, at its lowest historical ebb in 2016, due to increasing costs of importing labour from India?

Meanwhile, a new but very perceptive national policy think tank 'National Council for Sri Lanka' has urged the Government to abandon the proposed ETCA, and stated that "it is the responsibility of the Government to conduct a comprehensive investigation of the 'non-tax obstacles' of both countries…Sri Lanka's National Economic Planning Council needs to focus on the country's total manufacturing and services' key areas…including stabilising the country's manufacturing and service delivery processes…the present Government considers bilateral trade agreements as the foundation of foreign trade. Therefore, the Government continues to establish such bilateral agreements with a number of countries, including China, Singapore and India. In fact, these are outmoded instruments based on traditional development models. Therefore, instead of such bilateral agreements, the Government should focus on new mechanisms for establishing trade relations with many countries. Just as the previous regime proposed the CEPA with India, the present Government has proposed ETCA, and both of these are inequitable for Sri Lanka, and should therefore be abandoned…" (Ceylon FT, 3 March).
Technology advancement
Finally, India, which is globally the fastest growing economy, is also fast automating its industry, the momentum being driven by foreign robotics companies, which are cultivating the market and tapping into opportunities. Accordingly, India will have an installed base of 24,000 industrial robots by end-2017, while warehouse automation is expected to become a $ 32 billion market by 2020 (from $ 1 billion in 2013); 'robotic butlers' are helping to pick, sort and package items in warehouses across India, while car manufacturing plants are relying on robots for speed, scale and accuracy – welding and painting cars – and buying 60% of all industrial robots made in India.

Locally made robots are also cleaning radio-active components at India's Atomic Research Centre, while an autonomous underwater vehicle is inspecting and repairing bridges, pipelines and hulls of ships. So, robotics use and development in India is not waiting for the Government to formulate policy, but quickly diversifying the market for automation ('India's Asian Dilemma: How Best to Grow Robotics Industry?' – from Robotics Business Review). Finally, the six million dollar question arises: Can Sri Lanka compete in fair trade as an equal partner under a proposed ETCA with such an advanced, industrialised country?

The gathering storm – The People's Commission for a National Policy on International Trade and Treaties

The following noteworthy observations were made by participants at a first meeting on 6 April of the 'Professionals National Front', which instituted the above-mentioned Commission, to help formulate a national trade policy:

Local entrepreneurs have not been looked after by any government. Local banks should help entrepreneurs who had no money to invest, without first inviting foreign sources;

As an example, according to a ministerial source a large tract of land is being allocated to a Singapore investor for sugar cane cultivation, without seeking out a local entrepreneur;

When entering into foreign treaties, economic considerations should not be the only criteria applied – the long-term impact on the people, on society, on the environment, and on biodiversity also should be taken into account;

Bringing in industries that have been rejected by other countries should be avoided, e.g. polluting industries which have caused problems in China;

Sri Lanka had limited exportable items, such as tea, rubber products, spices, apparel and garments, which India had sought to limit under the existing FTA, which, however, has a long eligible list of exportable items Sri Lanka did not manufacture, such as aircraft engines and ships. During 15 years of operation, this FTA had brought no tangible benefit to Sri Lanka. Reciprocity had not been observed in imposing product specifications; while non-tariff barriers had inhibited exports from Sri Lanka, discouraging local exporters;

The proposed Singapore-Sri Lanka FTA was quite unnecessary since no duty is charged on any exports to Singapore; however, Sri Lanka had very little to export to Singapore, while Singapore exported repaired or reconditioned goods from elsewhere, (without a Certificate of Origin, as required by WTO rules, e.g. old telephones and used computers; this is different from re-engineered products;

From China's massive production base, Sri Lanka is already getting imports which are mostly rejects and "seconds", which are under-invoiced to reduce duties even today. Under the proposed China-Sri Lanka FTA, local industries will suffer and will have to close. Under-invoicing reduces payable duty and undermines the whole system;

When an ETCA is signed with India, our neighbour will take the lead role in many sectors of our economy; under the existing FTA, India had imposed limitations on Sri Lanka's only major exports (tea, rubber products, spices and garments), and Sri Lanka was expected to export other items. The duty-exempt list was long but consisted of products not made in Sri Lanka like aircraft engines, ships, etc. Reciprocal restrictions have not been placed on Indian imports, just as product specifications are not applicable to Indian imports, nor have these imbalances been corrected in 15 years. The existing FTA is without tangible benefits for Sri Lanka. Product specs have replaced tariff restrictions as trade barriers;

The fundamental question which arises is whether local industry should produce goods for local consumption, and after developing local industry, also export their products on the one hand, or import those goods from overseas. Was there also any country in the world which, being unable to produce enough food as well as other essential commodities for the consumption of its own people, and meet local demands, had started to produce ample goods straightaway for the export market, as a result of, and benefit from, free trade agreements? We leave the reader to ponder these loaded queries, as well as a host of others raised in this essay.


(The writer who was a member of the former C.C.S., was later a senior professional at World Bank Headquarters for over 30 years).