By Himal Kotelawala

The notion that Sri Lanka has an independent judiciary capable of addressing the issues of accountability with regard to alleged war crimes without any foreign assistance might not be entirely accurate, Former Secretary of Justice Dr. Nihal Jayawickrama said.

Delivering the Deshamanya Dr. P R. Anthonis Memorial Oration titled 'Healing the Nation – a question of leadership' organised by the Lanka-Japan Friendship Society on Wednesday, Dr. Jayawickrama said that although President Maithripala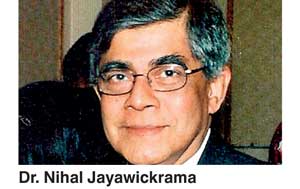 Sirisena has repeatedly asserted that under no circumstances would he agree to the participation of foreigners in the accountability process in Sri Lanka, the "real position" must be considered.

"In many significant respects, the Sri Lankan legal and judicial system has, in the past few decades, failed its multi-ethnic and multi-religious population, and has demonstrated that it lacks the will and the capacity to address such serious crimes. War Crimes and Crimes against Humanity, as well as Enforced Disappearances, have not been criminalised in Sri Lanka. Neither the International Covenant on Civil and Political Rights (which the Jayewardene Government acceded to) and its Optional Protocol (which the Kumaratunge Government ratified), nor the International Covenant on Economic, Social and Cultural Rights, have yet been incorporated in our law," said Dr. Jayawickrama.

No effective mechanism has yet been established for the protection of witnesses and victims of crime, he said, adding that Sri Lanka lacks the legal framework within which accountability can be established for such crimes.

"The process of remedying that deficiency may benefit from expertise, whether international or otherwise," he said.

Sri Lanka is believed to have one of the highest rates of reported cases of enforced disappearances in the world, and yet no tangible steps have been taken for several years even in respect of the much publicised disappearance of journalist Pradeep Eknaligoda, said Dr. Jayawickrama.

"Over 300 political killings in 2005, and over 700 extra-judicial executions in the next two years have been recorded, with no action being taken to investigate them. The high profile killings of Lakshman Kadirgamar in August 2005 in circumstances that are still classified and shrouded in mystery; of Joseph Pararajasingham at a Christmas Eve church service in Batticaloa in 2005; of 17 ACF workers in Muttur in August 2006; and of Lasantha Wickrematunge within a high security zone in January 2009; have all remained uninvestigated or not effectively investigated," he said.

The previous government, said Dr. Jayawickrama, clearly demonstrated that it lacked the will or the desire to hold persons who have perpetrated such serious crimes accountable for their actions.

"Even if the present Government wishes to reverse this culture of impunity, does it have at its disposal the expertise to successfully investigate several thousand cases of enforced disappearances and extra-judicial killings?" he asked.

The Attorney General's Department, which Dr. Jayawickrama said remained embedded in the Presidential Secretariat from 2011 to 2015, did not possess the capacity or the inclination to view, with independence and impartiality, the crimes allegedly committed with the knowledge or connivance of those at the highest levels of the then government, he said.

"Instead, its senior officers travelled annually to Geneva to deny before the international community that any such crimes had ever been committed. An Attorney General himself uttered what was later proved to be a lie in regard to a disappeared journalist. Is it being seriously suggested that these same officers should now be entrusted with the task of presenting the evidence which OHCHR claims it has, and which they have so strenuously repudiated for decades?" he said.

The apparent indifference with which investigations that commences after the change of government are being handled by those in the commanding heights of that department suggests that the culture in that department remains the same, said Dr. Jayawickrama.

Sri Lanka's inability to conduct credible investigations through quasi-judicial bodies has also been demonstrated by the performance of a succession of commissions of inquiry headed by retired judicial officers, he added.

"The Udalagama Commission lost its credibility very early in its proceedings. The Paranagama Commission keeps rolling along, from month to month, year to year, signifying the urgency it attaches to Enforced Disappearances. The performance of the previous Human Rights Commission, which had the duty to investigate infringements of fundamental rights, was so abysmal that the United Nations downgraded its status for lack of balance and objectivity," said Dr. Jayawickrama.

Despite the present government's insistence that the judiciary is now independent, he said, its failure to resort to a "vetting" process, which was successfully applied under the Constitution of Kenya, will only strengthen the belief among the international community that our judiciary lacks the competence or the integrity to address war crimes and crimes against humanity.

"The question which the Government will need to address is whether it has, with the resources available to it, the capacity to effectively investigate, prosecute and try the serious allegations referred to in the report of the OHCHR investigation on Sri Lanka, including war crimes and crimes against humanity.

"To admit that we cannot undertake these tasks alone is not an admission of weakness. On the contrary, it will be a sincere and genuine commitment to achieving the objective of accountability on behalf of those who laid down their lives and the families who continue to live in grief. In respect of war crimes and crimes against humanity, the expertise of lawyers skilled in dealing with such crimes, military analysts, crime scene investigators, trauma experts, psychological counsellors, and a host of others who are competent to address issues of victim needs and rights, witness preparation and protection, are essential, and international assistance in that regard ought to be welcome," said Dr. Jayawickrama.