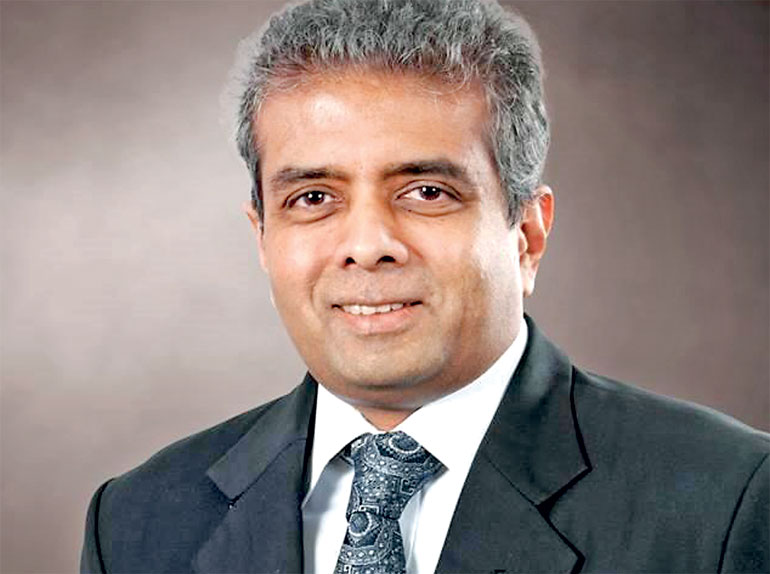 Having built and spearheaded the country's biggest telco and a flagship for the rest of South Asia, Dr. Hans Wijayasuriya remains unassuming.Celebrating 20 years as CEO of Dialog Axiata, Sri Lanka's biggest foreign investor, Hans credits the entirety of the company's success and its multiple pivotal milestones to team work. A Chartered Engineer by profession and one of the three pioneering employees of the company, his career of 22 years at Dialog Axiata has been challenging and equally inspiring. He joined as the Deputy Head of Engineering and was the CTO in 1996 before being appointed as the CEO. Stepping down as Dialog Axiata Group CEO from this week, Hans singles out the creation of multi-stakeholder benefits and empowering the country as the most significant contribution by him and his team at Dialog. Market leader in mobile telecom for 16 years Dialog Axiata now boasts of a customer base of over 11 million. Dialog's parent Axiata's investment in Sri Lanka cumulates to $ 1.9 billion by 2015. Despite his busy schedule, Hans spent over an hour with Daily FT to recollect major milestones of Dialog, the challenges faced and highlight industry and Sri Lanka achievements. Hans, who will continue to be in the telecom industry as Malaysia's Axiata Group Regional CEO for South Asia, also shared key insights to the telecom industry's way forward for both Sri Lanka and the region. The following are excerpts:
Departing as CEO after 20 years, Hans recollects major milestones of Dialog Axiata, the challenges faced, highlights industry and Sri Lanka's achievements and key insights to way forward


By Nisthar Cassim
​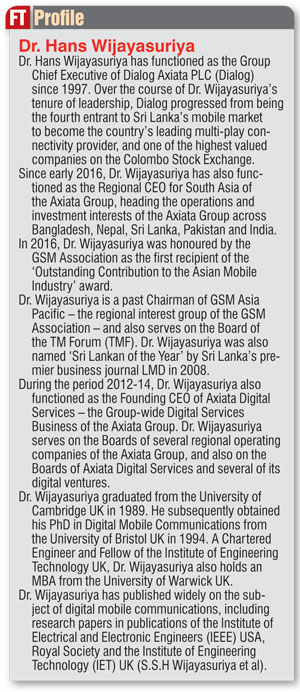 Q: In the 20 years you have been the CEO in the company, what would you list as the milestones during the period?

A: As you say, 20 years is a long time and I will try to pick up on a few milestones that I think were pivotal in termsof the company's evolution from where it was. When I joined the company I was one of the first three employees, seated around a table very much like this without a single tower or a single piece of infrastructure on ground.

I was then in Engineering, and that obviously the first milestone would have been the launch of the region's first GSM network, and at the time the shareholders were Telecom Malaysia and the Maharaja Group. I think both set the tone for a vision of advanced technology ahead of the region for Sri Lanka. That tone has been pivotal in what is today and I think it goes beyond technology, andit was the belief that the Sri Lankan market and the consumer and enterprises would be provided a viable base for very latest modern communication technology. That was pivotal. Many other regional countries and regional investors didn't have that vision.

We launched in 1995, and it was a tough road to compete with analogue networks at the time because GSM coverage per cell was much lower because of technical constraints compared to analogue whereas features of GSM communication devices were far superior but the principal USP was coverage at the time and we were lagging. It took us quite a while to build up a competitive network.

Localisation of management took place in 1997; again I think this is another pivotal milestone where Dialog became one of the first multinational subsidiaries in Sri Lanka to have local managers. When I say localised, it included myself being appointed as the CEO at the unlikely age of 29. That was a major gamble for the shareholders, but they also allowed me to select a good committed local team, in addition to a very strong expat support in one or two key positions.

The majority of the team from that point became local and many people attribute along the years the fantastic battle of heading a company that has grown so much. But I say truly the achievement belongs to my team. But one part of the story that I take credit for, that is having selected the right team, early part of 1997 and putting together a set of people who were truly experts in their field, who had the energy and they were all young.

In 1997 we set out to build a vision of becoming the number one in the mobile industry by the year 2000. I think no one outside of this close knit group who have really thought through this goal of becoming number one in the market would have believed. Then came the four years, from 1997 to 2000 where we climbed up from #4 to #1. So the next pivotal milestone was in 2000 when we became the #1 market leader. Very different challenges and drive when you are chasing a target such as a market leadership, because the road is fairly well defined and you need to find the fastest way to go through that competitive market. I think the breakthrough was that we from day one we were very committed to the principle of inclusion and we believed in it. A hypothesis that we set down way back then was thatif a high tech company was to survive in the long run and be sustainable, they should be able to make their product available and affordable to as many people as possible. That is to not to ride on exclusivity but to drive inclusion.

Here I think we were orthogonal in strategy to our competitors, so it was all about changing the entire game from exclusive to inclusion, to play to that theme consistently and to deliver to that theme through product, quality, service and brand. And we were single-minded in making our product plurally available to everybody. We didn't leave out any quarter in making this possible.

So as the inclusion theme started working, we were able to launch many products. Pre-paid service was another breakthrough in 'sachetising' communication moving away from minimum revenue per user, or maximising revenue per user, to maximising profit per minute or tiny piece of communication, and that enabled the whole sachet phenomenon, like you see in FMCG, where we allowed or facilitated users to use as little as they wish. This was completely opposite to making consumers use as much as they want, which was an orthogonal strategy.

In between we were growing in coverage and becoming more available and affordable. GSM phones were becoming more popular; from that point we grew very fast to #1 in 2000, and from that point to 2005 was one of growing on that platform, meeting consumer needs and growing in the position to be the undisputed leader.

Come 2005 was another milestone of the IPO. Our shareholders, Telecom Malaysia, by then held 100%. Shareholder vision was to extend our inclusive approach to one dimension further; that was local ownershipand making the public a stakeholder in the company. As you would recall, it was the flagship Initial Public Offering (IPO), still the largest IPO, not something that we can be proud of; there should have been much larger IPOs in the last 10 years but nevertheless we are proudthat we were able to play a role in the stock market. The high standards of governance and learnings from the CSE and SEC were an eye-opener and a great strength for Dialog to take on the challenge of being a public listed company, relatively young bothin terms of business and management age maturity, having taken on the responsibility of transparency, being able to stand against the greats of corporates was a lot. We are very appreciative of what the Colombo Stock Exchange and that entire ecosystem of investors and governance and Sri Lanka's capital market has done for us.

Soon after the IPO, another milestone was our decision to go beyond mobile. That infact took some soul searching, for a company in an era where most global players were moving towards mobile only, many players globally felt fixed line was dead, and mobile was the only way forward, and this was the honeymoon bubble for mobile telcos; they were doing very well at the time and the valuations were very high. But after some soul searching we felt that our role in this countrywas onewhere we have earned a lot of customer trust, we have plurally aligned to inclusion, we were present all over the country, people trusted us and our brand was representative of good quality and inclusive access, meaning that anybody in Sri Lanka felt comfortable placing their trust in Dialog, not just one socioeconomic class. So taking that as a key asset, we felt that we should leverage this assetto the benefit of the business and to the benefit of the community. Hence our acquisitions of the fixed lines company which was then the MTT, and also the TV licences, and we went on to acquire CBN-Sat in 2007. We expanded our fixed line share in 2012 by buying Suntel.

This spelt an era of moving from single play to quad play, between 2006 and I think 2011 to quad play, converting Dialog from mobile only to multi-access. Around the same time, you may recall the Sri Lankan economy went through a very bad patch in 2007, with the war escalating and inflation and interest rates hitting 20, this combined with the price war in the market which I guess you could say was the industry's own doing, it was a perfect storm, which led to both Dialog and many other playershitting rock bottom due to crashing of revenues due to the price war and as well asthe financial crisis and the global crisis which followed in 2008.

I would not call it a milestone, but the most impactful period of serious change and transformation for the companywas in 2008 and 2009, where we had to restructure and simplify the structure. We moved from subsidiary structure to a group business, and with shared services and lot of simplification and went through the tough part of a downsizing by almost 30%. These were all very challenging for myself as well as the management in terms of emotional stress and of course the business stress of turning around a company which was delivering fantastic returns but had to bring it back as fast as possible. Dialog rebound, as we call it, came back within six to eight quarters, which was very fast. This was only possible because of the phenomenal, shoulder to the wheel, granular and committed output by every single employee of the company plus the shareholders.


Growing contribution to GDP

So post 2010 this was behind us, to an extent that the industry has reset, and in 2006 both Sri Lanka Telecom and Dialog had impact of around Rs. 10 billion, neither of our companies have hit Rs. 10 billion, 10 years on, while the rupee has devalued by almost 50%. If I take it to the sector, the profitability I think has had a very sharp blow during this period. If you count the investment which has gone to the same period it must be close to $ 1 billion between the two big players during this period.

Therefore, very simple math would be we have negative Return on Capital Employed during this period for the industry. Now is that all bad? No, our companies have done well, but I think valuations that the telcos enjoy in the stock exchange today EBITA of 4-4.5 times and PEs are at sub 9 which is low relative and certainly way low compared to industry norms. But the upside of this was Sri Lanka's telecommunication sector has become a flagship in the entire region and the world in terms of the standard of the latest technology you can enjoy in Sri Lanka, which is amazing, and the value added services, and the tariffs – bothvoice and data – arerecognised by the ITU as the lowest in the world.

So in terms of inclusion I think we have collectively and here I would like to think Dialog led the way and I am proud about that and our competitors have aggressively been following that, which is great so we all have the same broad vision for the country. So the result is the performance indices for Sri Lanka's market consumers is fantastic.

The other aspect is that we have also been able to contribute immensely to the economy. If you look at direct contribution from Dialog alone, our direct contribution in terms of taxes and levies, is Rs. 14 billion per annum. That is taxes, levies, frequency fees and so on. We also collect on behalf of the Government another Rs. 21 billion or so. So all together, the contribution is around Rs. 35 billion. Indirectly as wellDialog alone pumps in about Rs. 20 billion a year into the retail sector, to all our retailers, agents, service providers who are very representative of the economy.

All our retailers, agents and service providers who are very representative of the economy, from the tea shop in the remote part of Sri Lanka to large partners and contractors we have at the centre. So around Rs.50 billion from Dialog as direct and indirect contribution and Rs.100 billion from the industry is our impact on the GDP which is about 1.3% and quite significant. In this story while you might say the operators have not yet achieved value in terms of their valuation for one reason or the other, the entire story in terms of FDI, Dialog is the largest single company FDI, in terms of localisation of management being run by Sri Lankans, the fact that Dialog employs 3,000 people, the benefit to consumers, and the advancement of the country's infrastructure, put all this together and it is a story which is very, very impressive and something very sustainable. This I think is something everybody can be proud of.

Some triggers for this, I think is the liberalisation in 1996 which was key, and building on the liberalisation came the setting up of an independent regulator. If you take a 20-year period, regulations in Sri Lanka have been very progressive. That's how we have 4G today, and that is how our tariffs are as low as they are, and companies are making reasonable profits. All respective governments and respective regulators over timehave made a major contribution to this story.


Digital services

Come 2012, was the next departure, while we were getting strong in the quad play – fixed, mobile, broadband and TV; weembarked on digital services journey, which was to spawn several digital business, some internally, some investments in startups, internal investments made was in mobile payments, and we received the mobile payment licence from Central Bank in 2012, it is the Easy Cash system, the evolution you see today. In addition we invested in Anything.lk, which is now wow.lk, and also in some other digital businesses, in health and education.

So today in 2016, I would say we are at a point where we are a strong quadplay converged telcom player, and my team has made it possible to build a telco which is a flagship in the region. Very few countries I think can boast of a similar converge play. In Sri Lanka it is quite unique, because Sri Lanka Telecom is also a converged play. Of course there is healthy and good competition between the two. In a country having two strong players like that will obviously yield the best benefits to the consumer.

And the final milestone would be completing succession, in the fashion that I have been fortunate enough to do, where the entire team has grown into beingthe best in class. My successor Supun Weerasinghe also took a departure from Dialog in 2012 by design to gain experience overseas. He succeeded in a very difficult market in Bangladesh with a customer base of over 30 million. He completed Bangladesh's largest merger and acquisition when Robi Axiata merged with Airtel and Supun was a key architect of that merger. We are very happy, everyone in the team is very happy with how the change is going to come around. Under any circumstances I think a 20-yearstint and changing at that point is not the easiest. I think we have grown smoothly over the last few years into that.


Q: You mentioned that there was a VRS in 2009, almost 30%, but have you come back to the samenumbers?

A: No. we are at 3,000.
Q: Do you think that is the sub optimum?

A: I think to provide the customer service that we aspire to provide, you need that number. Now whether that number is within you payroll or it's in the form of outsourced service providers, it's a design question and we have opted to be a fairly in-sourcedin structure. But if you take customer to employee ratio, and you count as an employee any headcount whether in-sourcedor outsourced, who is looking after your customer, one way or the other, either the network staff visiting at a home, looking after the phone, I think we are the right size. We have used an in-sourced structure as opposed to outsourced.


Q: With growing use of technology, is it that telcos won't be employing a lot in the future?

A: Yes I think so. For example, the network itself is becoming much simpler. The 4G network has far fewer elements and a smaller footprint and most of it is in the cloud, so the jobs around maintaining boxes and so on will be obviously contract with time, but the software space is growing.

Telcos are going to be far more application-oriented and software-oriented, hence jobs would appearin terms of innovation and in terms of application development. The way we approached it is toopen up our network to external parties to develop our infrastructure. If you take Dialog IdeaMart for example, where we have a large developer base of about 3,000 who develop apps for use by our customers, are they employees? No, but are they employed by the ecosystem, yes, and what I am seeing also is that as the technology becomes sophisticated and empowers consumers more, the layer of human resource you need to help the consumers in terms of technologyincreases.

The number of technical intermediaries, where the immediacy of how close these are to the consumer, is increasing. For example, the retailer in a remote part of Sri Lanka today needs to be able to do GPRS setting or teach a customer what 4G can do or how to watch a YouTube video, or access Facebook. So there is a flow through of technical expertise – ifI may call it – tothe periphery, from our service ecosystem.


Q: Do you think you could have got to where you are faster if the conditions were much better? Or do you think that Dialog has basicallyperhaps outdone or beaten its own horizons in terms of getting to where you are?

A: It is very difficult to hypothesis on retrospect. The 2008-2009 period on one sidestrengthened us to simplify our business; on the other side it was representative of mistakes we made. I personally feel accountable and I have always been accountable for some of the decisions, which were calculated decisions, but which were not, may be not, appropriate under the environment at the time. I think we have to be thankful for where we are today and there is a long way to go.

Could this have been done better? I think so. I am never under the illusion that I have done, or my team has done, everything perfectly. We have all made our mistakes, and the important thing is to learn from our mistakes and build on it. In a perfect world, yes like you said this could have been achieved earlier and better. Also the investor Telecom Malaysia is a foreign investor(later reincarnation as Axiata) and invested at a time when there was a war raging, when a lot of other foreign investors were not around or had left. There were years in which as I recall Axiata's investment was 40% of the total FDI of Sri Lanka, not one year, about two or three years, which was really encouraging for us;we knew that there was someone who believed in the country. I think Dialog reaped the benefits of that, sustained the committed investments during the tough times, and we reap the benefits.


Q: Were there any missed opportunities? Was early consolidation a missed opportunity if things were better? Did Dialog miss any opportunities in between the last 10 years?

A: I wouldn't say it in the consolidation space. However I would say Dialog should have consolidated earlier; we are still a high play market. I guess there is some stubbornness in buyers and sellers, which has not helped. Everyone is to blame I guess, that the deal doesn't get struck. But consolidation down to three players is something we would encourage and look to achieve.


Q: You still maintain that we are an affordable market, despite the recent taxation?

A: Yes, the tariffs before this recent increase were by far the cheapest in the world.


Q: Before and not anymore?

A: I don't know. I haven't done those numbers. The question is whether taxes went up from around 28% to 49% due to the compounding of VAT. How this will impact on consumption, how this will impact on inclusion story and growth story, not necessarily for service providers but overall digitisation and consumption of data, we don't know yet. It is just possiblethat rates were so low that elasticity will be low. And that there can two bites of the cherry that the consumer will continue to benefit and the Government will also benefit, in terms of revenue. But it is too early to tell, in the next three months we will be able to say.


Q: What do you see the way forward for the industry in the next five to 10 years?

A: If you simplify that challenge, one would be externally facing infrastructure, this – herewe are talking about the level of connectivity and basically the sophistication of digital services, which would increasingly enhance Sri Lanka's competitiveness against external world, and this could be financial services it could be – itcould be tourism, whatever it is. The level of information technology in any productis increasing, it may be right at the forefront, like an e-commerce site, it could be otherwise embedded in the competitiveness of the product. Even the tourism tourist eco-system which is information-driven can be more competitive.

In that respect the base technologies will need to grow. When I say base technologies, I am referring to infrastructure like the fibre networks, the availability of high speed broadband, international pipes – that's the base infrastructure. One level up then enterprisesolutions and the industry vertical solutions and here the software companies in Sri Lanka and software skill level is very high, and combined with the kind of ICT infrastructure we see being developed we could have a very strong formula but I think here the Government needs to make sure that there are no inhibitions to the development of base infrastructure and as well as the application layer to the extent that every possible impetus is given to ensure that upstream businesses, whether they be SMEs or multinationals, can incorporate the required level of information input and information components in the, offering thereby become more competitive and thereby driving Sri Lanka's story against the world or in partnership with the world. So I think it is for us to lose, when I say us, I mean the country. We have everything, we are a strong springboard. Look at any regional country ICT availability in Sri Lanka, we are ahead, but will we capitalise on that and to take it to the next level and translate it to national competitiveness? That is where the Government also needs to design policies and provide impetus to make things possible.

The second, the other half of the story, is internal focus. The value of information technology, and here we are talking about empowerment, we are talking of education, enhancing basic human rights, health, education, having a healthy nation, a happy nation, a knowledgeable nation and a very connected, globally networked nation. So fundamental infrastructure required is the same, but here we would look to a far higher degree of social innovation on top of the base technology and I think we are seeing a healthy appetite for it.

The startup ecosystem as well as in the applications ecosystem people are deploying their skills in combination with information technology to enhance the lives of others. In a nutshell, the Government has the opportunity to simply provide an enabling environment. I don't think the industry is looking for tax breaks or anything like that, just a reasonable return on investment and facilitation, the removal of bottlenecks and open competition. Given these conditions I am confident that the industry can keep pace if not definitely run ahead of our regional competition.

In the next level of innovation and service creation I think Sri Lankans have all the talent that is required. Again, with the correct facilitation and regulations we could see the upper layer of digital payments, ecommerce and digital transaction, and in this case something we are very encouraged about is the digital ID project which has been mooted, which to me is the cornerstone of a digital economy. If you codify a citizen properly it opens an entire new vista of social investments in the right way and also drives a highly digitised and efficient economy. So I think the building blocks are good. If you look at the digital infrastructure roadmap of the Government, all the building blocks are timely, they are correct and it's very impressive what has been put together. We need to make sure that this is implemented to maximise availability and inclusion. My belief is that the best way of doing that is to have as many players as possible, provide these services and create a competitive marketplace. Personally, I believe a lot in competition, that's how Dialog came up. We respect competition and we will be very uncomfortable in any environment which is not free market and openly competitive. Not only Dialog but even our competitors and their parent companies and our principal competitor SLT, they are all committed to that same story. Provided the environment is free and fair and exists as an open playing field I think our industry will play its role in the future.


Q: With both Dialog's story and Sri Lanka Telecom's story you said we were a flagship to the region. Do you feel this momentum will continue?

A: I think the gap is narrowing and this is also the result of the simplification of technology. What we will find in the future is that we can rely less and less on just buying the best equipment to be competitive, there has to be a lot more innovation and a lot more digitisation beyond the base infrastructure.

A good example may be Taxi Hail, which has been a global phenomenon. This innovation has translated the strength of a wireless network into a vertical transformation of the taxi industry, making it far more efficient for the players in that industry as well as consumers.

That is just one example and is probably an intuitive one which can be implemented very easily. But if you look at every sector like that, look at healthcare and wellbeing, payments, commerce and retail. For the country as a whole to run ahead each of these verticals needs that vertical innovation which can translate the strength of the 4G network or a fibre network and base infrastructure into actual extended GDP contribution which is riding on it. That is why I mentioned that going forward the information technology or digital component of most verticals is increasing and its less about brick and mortar and more about information.


Q: In your new role of looking after South Asia, what are your immediate expectations and what will the region get from you?

A: Axiata has a presence in mobile telecom in India, Bangladesh and Nepal and a fibre network in Pakistan. South Asia in terms of subscribers is a very large region. Emerging market economies and emerging market inclusion-driven business fundamentals are fairly common across the region, just like we have seen in Sri Lanka where there is an appetite for innovation and digitalisation. These are all areas in which you need to chart out new trajectories and consolidate the strengths that we have today and take it to the next level. In terms of my time and where I will be based, it's a mix of Colombo and Kuala Lumpur because I am involved in the work of the Group Headquarters as well. In terms of commitment it will be taxing in terms of travel and focus wise it will call for a change in my point of view but I'm certainly looking forward to it. There is no doubt that in all of these countries connectivity and digital services are going to be pivots in national development. The faster you can implement things and implement them in a way that is relevant to the people you might have the reward of seeing quantum change in many lives as well.


Q: Can Dialog's position in Sri Lanka come under threat? Do you fear such a possibility?

A: How I view leadership is being the best in what we do and delivering to the consumer, whether they are an enterprise or retailer, and to the community and to our partners, exceeding their expectation better than somebody else can do so.

So it is translated into an internal challenge rather than a race. It's more about preparing for the race because when you are the leader this means the race never ends and you are continuously trying to be better than you were yesterday. That is what my team, the senior management team throughout Dialog, has ingrained in our culture and work ethic; the ideal of doing everything to the best of our ability rather than taking shortcuts. It's not about the external competition, it's about delivery first and competition second. Once you are a leader you cannot look over your shoulder, you just have to run faster and it is better not look over your shoulder to see where your competitor is.

We have held the leadership mantle in the mobile sector for 16 years and I think in 2012 we became the largest telco overall and this sustainability has been due to the strengths of the people. It's not just one person, then it won't be sustainable but it's the work of hundreds of people in Dialog.

Sure we have shortcomings. There are many occasions on which we have disappointed consumers and each of these is treated with regret. Over the next five years, the winds of change are blowing faster and faster and in fact between 2000 and today there has been a lot of change and Dialog rode the change and Dialog's leadership grew because of the change because of the capability which is inherent in our team to adapt and ride the wave of change to reap its benefits. I think that during the next five years the change is going to be faster and Dialog needs to be even more nimble, young in its thinking and energetic, and I am confident that the team under Supun has got it and we always need to add to it. The externalities of having a fair playing field and good market practices and a liberal market will help and also you need to add a good dose of good fortune as well.


Q: Given your regional role, what is the plan for Dialog in the next five years?

A: Dialog is important for Axiata both as an investment and for drawing Sri Lankan talent. Sri Lanka has had a position as a key source of innovation and talent; there are 40 Sri Lankans today in fairly senior positions across the group. That is something we can be proud of at a regional level. Sri Lankan people are accepted as being some of the best and Sri Lanka and Dialog will continue to be innovation leaders for the region and Axiata will benefit.

I would also seek to drive the synergies and sharing of innovations across all markets and our people could also learn by interacting with different markets, where the parameters can be different, not 20 million people. Bangladesh is 160 million. Supun comes from that environment hence his view of life and business is somewhat different. There will be new things here but in terms of size and scale, complexity, likewise some of the other markets within the Axiata Group like Cambodia, Singapore, Malaysia and Indonesia - another populous market - so this a regional company which is well interlinked and there is a lot of mobility and I think you can drive the highest common multiple as opposed to the lowest common denominator. In my new role I will try to facilitate that as much as possible.
Q: In a market where one feels there is saturation in terms of penetration where do you think future growth will come from other than value added services?

A: I think there would be growth because the whole 'life share' of the technology that we are working with is increasing in leaps and bounds. I say 'life share' in terms of time share or whatever it is, the role these technologies play in our lives is transformational. That itself is a market. So if you look at it in these terms, basic penetration as in SIM cards per population and there would be the fundamental transition from voice to data. So while voice is fully penetrated data is not.

So that is the first level of opportunity. Then there is the age dimension where we are seeing younger and younger consumers entering the market and these devices making sense to kids in a very positive way. Interestingly, even among the older generation the elderly are entering the market so even from a human perspective it is growing.

Next come the number of things that you can do with application and the life share dimensions and the fourth dimension would be also around things or the Internet of Things. We will be connecting a lot of things in addition to people, and people to things and machines and automation. So growth is there but interestingly the number of competitors will increase exponentially because it won't be just four players. Like I mentioned earlier, this discussion about the three or four players is at the base infrastructure, as you go up, competing with the global Over-The-Top (OTTs) applications and services.


Q: How is smart phone penetration? Is it still at 40%?

A: Yes, it is at 40% and it's going at 1.5 points per month, so in two years we will be well into 80%.
Q: For someone outside the industry thinking of investing in Telcos is there still a Return On Investment (ROI)?

A: Yes, tough question, because that ROI question has changed during the last 10 years and one would imagine that this OTT avalanche over the last five years has shaken the fundamentals of that equation because the OTTS are taking away say voice and basic connectivity so telcos need to adjust. If they say just remain as dumb pipes then I think the returns go down especially in a fragmented market.

If telcos remain dumb pipes here I mean they are playing only in connectivity, then it much more imperative that consolidation takes place. If networks collapse then it becomes closer to a utility, where you have one or two and three at max and those are run efficiently and they could deliver the returns. That is what is called a dumb pipe. But increasingly Telcos are getting into or moving from a dumb pipe towards a smart pipe and that means enabling some of the higher end services participating in some of the services which work on top of their network. For e.g. Dialog getting into payments or Dialog getting into digital education. Some you would enter directly, others you would enter by opening up your network like IdeaMart so there these 3,000 developers or 6,000 apps are making money, but we will also make some money. So I think the jury is still out on what form telcos will take by 2020.

There are many signals around and it will revolve around what you would do with this device and what this thing will look like in five years. Is it going to replace your wallet, which carries your cards and everything related to transactions. If it does then what depth of socioeconomic pyramid is going to be taken in that form? The deeper the better then that is the digitisation of the economy. The Indian phenomenon of demonetisation today, I think the ultimate goal is the digitalisation of the economy all the way to the bottom of the pyramid. It is a phenomenal task and it's taking the opportunity by the horns and they are going to do it five years ahead of the US. Or is it your television? Is it your Nintendo game player? I think the way technology is running it would be all of the above.

So what form does a telco take? Is it a media business primarily and connectivity business secondarily? The AT&T-Time Warner deal kind of signalled that there is thinking around this combination of telco and content. There have been other cases of telcos and banks and tecos combining with the financial sector in one form or the other. I don't think there is pure play by telcos - dumb pipes - other than in very simplified markets where there are one or two and they play the utility game to perfection there is no a root to good return. But if you play in a fragmented market in a competitive space where it goes beyond utility to a smart pipe, then I think you should choose the verticals that you will decide to play with directly and enable the rest and have a very open mind as to everything and everybody.

For example, when we launched Dialog view, which is our video product which has a video on demand and has sports teledramas, we opened it to all networks so that it could be used in any mobile network. That has been our ethos. Even with EasyCash we have opened it and invited every other player to come on board because we believe in the new world.

In the digital world competition is not about our traditional competitor. If we unnecessarily compete, verticalise and compartmentalise consumers in an unnatural way then we will not succeed in this digitisation mission. If someone wants to watch VIEW, who are we to say you don't have a Dialog phone therefore you cannot enjoy that service.

When we launched Dialog TV, we had a large customer base which didn't have Dialog phones but they are our customers. I think the lines of competition will blur when we are moving very much towards service-driven digitalisation.


Q: On the base infrastructure side, are we far away from a shared services regime or a model similar to what the British are exploring where the regulator owns the base?

A: Regulation wise probably some work needs to be done but I know that the industry is ready. For example, there is a lot of tower sharing but what hasn't happened is that we haven't seen tower companies in Sri Lanka because regulations don't yet permit it.

That is the biggest issue. If you have regulations that permit tower companies then you will see one or two tower companies and they will compete with each other but they will provide an infrastructure layer for the networks.

The next level of sharing is the sharing of the network itself. It's called active sharing as opposed to passive sharing, and there even the base station is common and other than a few examples at the Colombo airport I think Dialog built it and it is shared by all operators.

Other than that we don't see much or any proper active sharing in Sri Lanka. The benefit of active sharing is that your CapEx is the shared efficiency or ROI would be higher. A very good point to be brought up, even at the base infrastructure level, cooperate consolidation is one method, the other is to consolidate infrastructure and have the same number of competitors, so that it could be one or two infrastructures which can deliver the economy and then you have a large number of players using it and providing services and driving competition.


Q: Going forward do you think that the CapEx will be tough for telcos to make?

A: Absolutely. It is a very capital intensive business and with technology generation changing every other day, 3G, 4G and 5G is coming up so it's quite a burden. If sharing is enabled to a much higher level than it is today then not only in Sri Lanka but many of our regional countries will need to step up in terms of conserving capital to bring in regulations to share a network, then you serve one major piece of the ROI equation.


Q: In your view what is your most important contribution to the telco industry?

A: I would not like to call it mine but I would like to call it Dialog's contribution. As I said Dialog is a confluence of investors, employees, consumers, partners and regulators. I think we have created a story which has multi-stakeholder benefits and whichever way you look at it the Dialog story has given benefits such as a return to investor, returns to our huge ecosystem of partners and created employment for application developers.

It may be difficult to find any dimension where Dialog has done something pollutive or done something negative to society, and hopefully any dimension which you look at has driven some positive change among our 20 million population. I think the energy with which my team, with the backing of our shareholders and partners, has been able to drive this story, crystallised or catalysed, a multiplication of this amongst our competitors and even some other adjacent industry. So I think creating the wave across not only the primary line of connectivity technology but also empowerment, making things affordable for example insurance, managed to energise people. I hope various verticals in this industry and the country have seen the Dialog example and may be are consciously or unconsciously looked at serving the poor efficiently.

This has I think driven a wave which we like to call Future Today, which is always advancing people's lives. And I would like to think the wave that Dialog created has catalysed a much bigger story than the Dialog story itself. And this is the role I hope the company, a confident company, will play in the future, always questioning why.

It is a long journey but I think that wave of making things affordable, not subsidising, but through innovation bringing affordability and inclusion to another level.
Dialling for development
Some of Dialog Axiata's contribution to the country since its inception:
(1) The Axiata Group (formerly known as Telekom Malaysia International) is the largest Foreign Direct Investor (FDI) operating under the aegis of the Board of Investment of Sri Lanka. Axiata's investment in Sri Lanka cumulates to $ 1.9 billion by 2015. The Axiata Group has been a committed and long term investor in Sri Lanka since 1994 (21 years) and was recognised by BOI as the first company to invest 1 billion US Dollars in Sri Lanka. The Axiata Group has recently confirmed its intent to commit an additional investment of $ 175 million in Sri Lanka.


(2) Dialog Axiata is a major contributor to Government revenue. The company has remitted a total of Rs. 14 billion to the GoSL in FY 2015 in the form of taxes and levies, and in addition has also collected Rs. 15 billion on behalf of the GoSL in the form of consumption taxes, accumulating to a total of Rs. 29 billion.


(3) The investments of the Axiata Group have been deployed towards the development of world class ICT infrastructure in Sri Lanka through Dialog Axiata PLC and its fully-owned subsidiaries Dialog Broadband Networks Ltd. and Dialog Television Ltd. The service portfolio of the Dialog Axiata Group spans mobile telecommunications, fixed telecommunications, high speed broadband and digital television services


(4) Dialog Axiata PLC accounts for an estimated 14% of total FDI in Sri Lanka (past 10 years), 3.3% of the market capitalisation of the Colombo Stock Exchange and approximately 0.7% of Sri Lanka's GDP.


(5) Dialog Axiata employs 3,100 people and contributed Rs. 14 billion in 2015 towards Sri Lanka's SME and Contracting sector through the operation of partnerships across the spheres of distribution, retailing and infrastructure development.


(6) Dialog Axiata has spearheaded the advancement of Sri Lanka's connectivity infrastructure, having placed Sri Lanka as the first country in South Asia to support 2G, 3G and 4G technologies in 1994, 2004 and 2012 respectively, which has resulted in the highest mobile penetration in South Asia, surpassing mobile penetration of over 100% and data penetration over 50%. The company has also spearheaded the development of a revolutionary portfolio of inclusive value-added services including but not limited to mobile payment, micro insurance, information, education, entertainment and knowledge services.


(7) Dialog Axiata claimed top honours at the GSMA with six awards including the awards for 'Best Mobile Money Service,' 'Best Technology Enabler' and 'Best Mobile Network Solution for Serving Customers' in 2015 and 2016. Furthermore, GSMA named Dr. Hans Wijayasuriya, Group CEO of Dialog Axiata Sri Lanka, as the recipient of the 'Outstanding Contribution to Asian Mobile Industry Award' for 2016.


(8) Dialog's community development and sustainability projects spanning the spheres of education, sports development, health and welfare of ranaviru (defence) personnel account for annual investments in excess of Rs. 1 billion. Significant among Dialog's flagship initiatives is the Nenasa Distance Education network gifted by Dialog Television, which connects over 2,000 rural schools to best in class curriculum educational content developed in collaboration with the Ministry of Education.