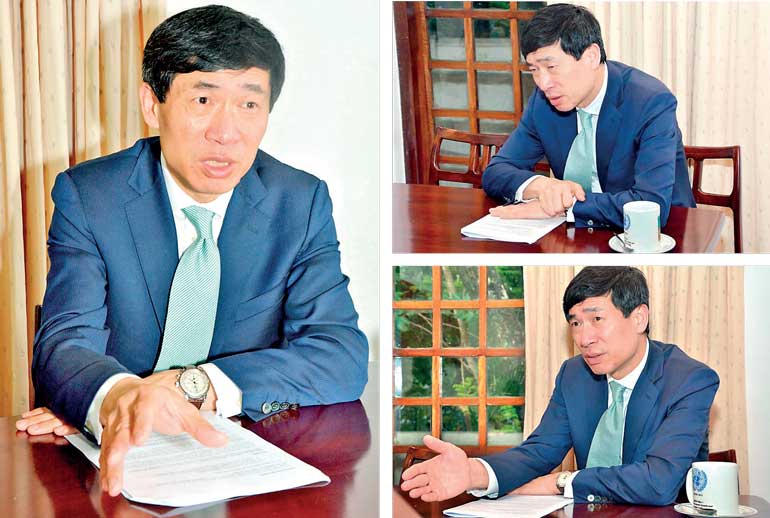 UN Assistant Secretary General UNDP Assistant Administrator and Regional Director for Asia and the Pacific Haoliang Xu
A rejuvenated Sri Lanka was rediscovered by UN Assistant Secretary General UNDP Assistant Administrator and Regional Director for Asia and the Pacific Haoliang Xu during a recent visit. Fresh from presidential elections, the country's challenges and opportunities were analysed by him with a fresh perspective. Excerpts of the interview are given below:
---
By Uditha Jayasinghe

Q: What is your impression of Sri Lanka and how did you find your trip to the north?

A: Reading reports in New York and visiting a country are very different. You get to see the ground reality and situations in context. I have found it very useful. We have been engaging with senior officials, with development partners and community members and all this has helped me understand the situation and assisted me to understand how to support the country office work.



Q: What are the differences you see when compared with your previous visit?

A: I guess the biggest difference is the atmosphere. The international narrative about Sri Lanka, the January election has definitely created a very positive narrative with very high hopes for effective collaboration. On the ground I would think our discussions with the government on developing issues go beyond, go further, than some of the issues we have discussed before.

Now we are also discussing macroeconomic management and looking at reforms that are needed, so one can see that the discussion is more wide-ranging. When you go to the north people are more positive but there are underlying challenges we are familiar with such as the issue of missing people and land. These issues still remain. The government is taking steps to address this but from the people there is still a level of impatience.


Q: Specifically what are the macroeconomic challenges and structural reforms and how do you think they will promote sustainable development in Sri Lanka?

A: I think the issue for the country is where will growth come from? Sri Lanka has done very well over the past 20-30 years in terms of human development. Despite the country being a low-middle income country your human development capital is high, the Human Capital Index improved by 32 percent from 1980-2013, Sri Lanka is ranked 73 among some 180 countries in the world, ahead of even China. So Sri Lanka has achieved a lot.

In terms of Millennium Development Goals (MDG) most targets will be achieved by the end of this year. There are still some challenging areas but you have done well. So the challenge is the world is changing and the economic structure is changing, for example your inequality is increasing and the issue of youth employment exists. The overall unemployment rate is about 4%, which is very good but youth is about 19%. If such discrepancies are not addressed then it will become a perceived social issue.


Q: The previous administration focused on infrastructure development, how can the new government leverage on this but still promote inclusive growth?

A: Based on experience from around the world, including China, because I am Chinese, infrastructure development is fundamental. The question is investment in the future because in the past much has gone into infrastructure, but there is always need for infrastructure not just in terms of roads and railways but water, sanitation and housing. But there is a question of balance because you have limited the financial envelope, so social expenditure has to balance with infrastructure costs in other areas. How do you prioritise?

Our view is that social expenditure has to continue, that is how Sri Lanka has passed many other countries in terms of human development. So we must safeguard social protection, especially for the vulnerable. There is also the need for things like pension reform, because it is eating a lot of Sri Lanka's Budget, so it's important to make sure that good initiatives from other countries can at least be discussed and piloted.

We need a lot of policy research and participatory discussions so policies actually have buy-in from society. Where will the investment come from? What kind of investment? What kind of FDI? In what segment? What skills to meet investor needs? So many issues that need to be put on the agenda.


Q: One critical point of this balance, as you say, is funding. How can Sri Lanka as a middle-income country handle the question of debt?

A: Debt I understand is about 25% of GDP. This is not low, considering the total economy. So it is an issue but of course there are countries that have much higher debt. It is not in the red zone yet, according to the IMF. So Sri Lanka can borrow more but there is a question of cost. Sri Lanka still has access to a lot of concessional loans from a number of countries. If loans are concessional it's good to borrow because you are doing it in the hope of growth and if you grow your economy then you have revenue to service debt.

I'm not an expert on Sri Lanka's debt but as a matter of general principle if the interest rate is low, definitely borrow. Again you balance how much you need to service loans. I think the WB, ADB, and others can provide favourable terms. FDI is very important so Sri Lanka has to evaluate its comparative advantages in trade and investment. If you talk to an economist, the key phrase is "comparative advantage." If you don't have comparative advantage you will not attract investment and you cannot trade.

Sri Lanka is known for a high quality of human resources. Then the question is, do you generalise this expertise or do you specialise in some technology spheres? Sri Lanka is very close to India, so will it be competition with India or are you going to fund niche areas? These are all important questions and the new Government will have to make decisions quickly.


Q: Sri Lanka's growth in 2015 is expected to slow down. Moving forward, how do you think Sri Lanka can leverage on this push for good governance?

A: The period of instability can be shortened, because Sri Lanka will go through this period of instability inevitably. Parliament will be dissolved (eventually) and you know elections are coming, so if we know what is ahead we can manage the instability ahead.

It is important to have an open and credible election so period of instability can be shortened and hopefully have a clear mandate for the next government and it can be formed quickly to manage the challenges of the economy. That is the best outcome for everyone.


Q: One of the projects observed during your visit was the community driven reforestation programme. Are projects in Sri Lanka donor driven or stakeholder driven?

A: This is a very impressive program. In the absence of such a program, the villagers had to go to the forest to cut trees in an unsustainable way to support their livelihoods and as an incentive not to do that the programme provides compensation. So here is a scheme where high value trees are planted that will take 25-30 years to harvest but that alone will not be enough incentive for the farmers, but they know that in the future this harvest will be valuable.

At the same time in the interim they can have intercrop around this tree so they can earn sustainable and high value income from planning vegetables and other food stuff. So they can use this alternative income to buy what they need rather than cutting trees in the forest. I think this model is working after many years.

This project started small; funded by a global environment facility, when the methodology was proved successful ADB provided a loan. Now Australia is supporting this through a number of programmes and the department of forestry has embraced it and they are also investing in this programme. Now you have a clearly proven methodology that is being scaled up, in my view we need more of this and it is very successful and I'm very encouraged to see encroachers have become protectors.

One woman admitted they now understand the need to protect forestry for future generations. She said she now knows every tree is important and therein I see hope for conservation.


Q: You mentioned this visit has helped you identify Sri Lanka's needs. So what are the top three ways your organisation can assist?

A: In reconciliation there are many things we can do. In reconciliation we have to continue providing economic benefits, we have to make sure that collectively people feel the benefit of peace. If we don't have that we won't have lasting peace. In the reconciliation process improving the capacity of the Northern Provincial Council is also important, so they can manage their constituent needs including development planning. We also need to look at structural reforms.

Once the new Government is formed, we will definitely engage with them to see how we can help in this sphere. We have experienced second generation reforms and we can bring international expertise and relevant country experiences to Sri Lanka for policy makers to decide what would work best for them.

The third thing I would say is innovation. We must bring innovation to development in Sri Lanka and using technology to galvanise creative energy of Sri Lankans, especially young population to participate in the process of development. So there are many things that we can do and this is my new understanding.


Q: You mentioned the need to facilitate the Northern Provincial Council but it was established years ago and reconciliation itself has been on the table since 2009. Why focus on it now?

A: There is a lot of goodwill now and we at the UN have committed funding. So now we have identified the funding for this (reconciliation) to happen. The Governor (of the Northern Province) is also very supportive of this work and so I think we have more favourable conditions. Our discussions have lasted for some time as you know we have created more confidence, created more understanding of how this might work, so it is a process but I think it is going in the right direction.