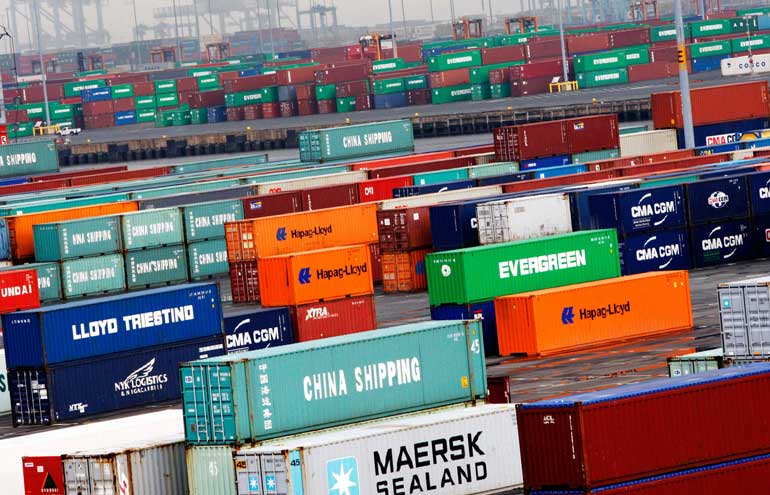 Shipping containers are seen at the Port Newark Container Terminal near New York City in this file photo from July 2, 2009. The U.S. trade deficit widened in May, fueled by a drop in exports that could heighten concerns over weak overseas demand and a strong U.S. dollar. REUTERS
Reuters: A global slowdown in economic growth, together with political and economic upheaval in places like Greece, the Middle East and Ukraine, could hurt US growth going forward, the International Monetary Fund said on Tuesday.

In its detailed yearly analysis of the US economy, the IMF also reiterated that the Federal Reserve should delay its rate hike until the first half of 2016, until there are signs of a pickup in wages and inflation.

IMF staff said weaker global growth, including in China, would sap US exports and investment in certain sectors, and also push down equity market valuations.

"Finally, risks from Russia/Ukraine, Greece or the Middle East represent an unpredictable wild card with negative, but difficult to quantify, effects for the US," IMF economists said in the report.

The Obama administration has downplayed the damage a Greek meltdown could have on the US economy, but has also maintained constant pressure on Greek and European officials to resolve the country's standoff with its international creditors.

The IMF last month cut its growth forecast for the world's biggest economy to 2.5% for this year, from 3% seen in April. The IMF releases a full update to its global economic forecasts this Thursday.

The Fund also urged the United States to fully implement the Dodd-Frank bank reform law passed in the wake of the US financial crisis, and create an independent national regulator for the insurance sector.

"Before the memory of the crisis begins to fade, it will be important to complete the reform agenda and resist attempts to overturn previously agreed measures," IMF staff said in an assessment of US financial stability.

However, IMF staff privately admit that their recommendations are unlikely to be popular in the US Congress or among state regulators, who currently regulate the insurance sector.