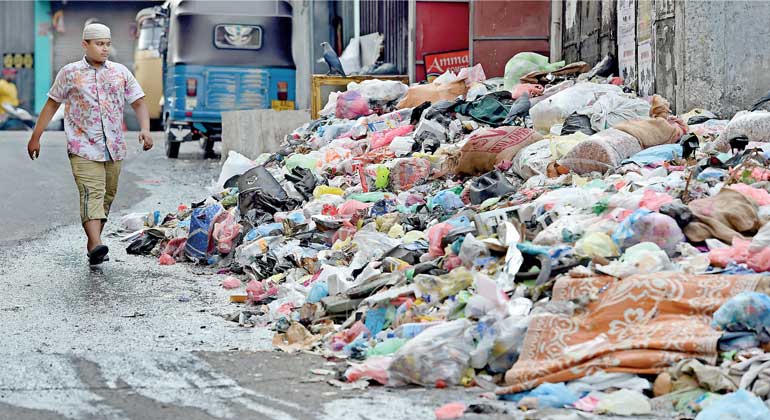 By Frances Bulathsinghala

It is the fourth month of the year that the Sri Lankan Government declared as dedicated to poverty eradication. We can safely assume then that the Government is also committed to bringing about equality in a country where non-equality abounds.

Just how poverty will be dealt with in 2017 we are yet to see but we have witnessed the dark face of inequality last week. The stark reality of just how satisfied Sri Lanka is with this unequal society was seen in the way garbage was allowed to build up adjacent to homes of fellow human beings, who in addition to being forced to live with Colombo's garbage was arrested when they protested.

We now have a flurry of attention on the long rotting issue of refuse in the country alongside a gazette notification that prohibits protest pertaining to garbage disposal. We are told that policies are to be announced and visiting Japanese experts have warned that the methane gas generated by the Meethotamulla dump could lead to an explosion. It is damning indeed when people who had for years been protesting on the blatant violation of their human rights, have to die to get the State to propose fundamental policies connected to the country's sanitation.

Meanwhile, as we await the new garbage disposal and recycling policy of the Government, Sri Lanka is struggling to implement its existing policies. The recent rule which stated that garbage segregation is to be the responsibility of each household has in many instances led to garbage lying uncollected for days in some elite locations of Colombo because the residents of those areas did not want to sort their rubbish.

This shows that what is needed in Sri Lanka is the building up of a civic conscience of responsibility – which the country's population currently direly lacks. Refuse gets thrown out of trains, buses and luxury cars without a second thought and one could imagine the fines (or imprisonment) these Sri Lankans would have to suffer if they carried on in this manner when visiting countries such as Japan and Sweden or countries where there is strong legislation and guidelines on one's duty towards disposing of solid waste.

Sadly, along with killing its people through garbage, Sri Lanka has been slowly killing the goose that lays the golden egg – tourism – with the scenic beauty of the island dotted by plastic and food waste. Clearly, the country needs to work with educators to start a waste minimisation, disposal and recycling ethic by incorporating a strong ethic towards the environment at school level, providing of course that the educators themselves practice what they preach and thereby lead through example.

Many reports and research have pointed out to the need for modernising the garbage disposal process in Sri Lanka, beginning first with providing garbage collectors the basic implements needed to give dignity to the vital service they are carrying out. A recent study by the Centre for Poverty Analysis that focused on garbage collectors had pointed out that garbage collection is often done with bare hands and pointed to the caste based discrimination that went with the job.

Many reports have highlighted that the garbage collection process is affected by an ageing workforce. What should also be noted is that this workforce is underpaid. A carefully thought out long term plan then is a must in changing the caste based and class based paradigm associated with sanitary work which can begin with Colombo's upper class population segregating their rubbish.
The need for an

integrated approach
A desperate need for the country is an integrated approach to look at how the Municipal Councils, the Urban Councils and the Pradeshiya Sabhas could work with the Central Environmental Authority, the people of the country and the private sector to boost the already existing initiatives such as the Pilisaru National Solid Waste Material Management Program launched in 2010.

A key challenge faced by the program was the poor cooperation of the people. Kicked off with a Rs. 5.6 billion pledge by the Lankan Government and with support of grants by the Korean and Japanese governments, the World Bank and the ADB, the program aimed to develop a national policy and national strategy on garbage management as well as launch an awareness campaign parallel to providing training and capacity building to stakeholders.

While the Central Environmental Authority (CEA) gives financial and technical support to more than 125 local authorities to implement recycling programs what should be reiterated is the high cost involved in recycling badly segregated trash. A problem faced by the Pradeshiya Sabhas was that a majority of the recycling plants had complained that the waste delivered by the councils was of poor quality and not separated correctly. This had often resulted in the collection being rejected and sent to dumpsites.

Meanwhile, it is expected that the new policy to be brought forth by the government will focus on the need for an adequate buffer zone around landfills. It is sad to note that Sri Lankan policy makers have not yet learned from other countries who have prioritised scientific ways of dealing with trash, supported by strong legislation.
Some global examples
Japan and Singapore are some examples of small island based countries handling the challenges of garbage disposal in a pragmatic and scientific manner, based largely on legislation that ensures public participation.

Japan has a fundamental law for establishing a sound material-cycle society. It also has precise regulation to ensure the cooperation of civilians, among which is eviction from the particular residency if garbage is not segregated. A system of returning garbage to the owner (along with a shaming sticker) is also practiced if trash is segregated wrongly. Notably, the impeccably sanitised garbage disposal centres of Japan are in the centre of the city.

On an international level, Japan has proposed the "3R Initiative" (reduce, reuse, and recycle) at a G8 summit in 2004 to globally promote the 3Rs with the objectives of reducing the amount of waste created.

Singapore, despite the challenge of handling a high turnout of waste in a limited space, is a model of integrated planning as it moves towards the goals of zero waste and zero landfill. Singapore presently follows mainly waste-to-energy refuse through its incineration plants. Sweden which practices recycling with strong investment from the Government, has run out of garbage and has to import rubbish to keep its recycling plants going. Since the mid-1980s, South Korea has seen its landfill rates drop from over 90 per cent to under 10 per cent, as the Waste Management Review pointed out in 2015, while its recycling rates have grown from under 10% to over 80%.
The South Asian saga
Comparatively much of South Asia is sinking in the tide of garbage where either policies do not exist or exist in paper and not in practice. Bhutan could be cited as one positive example from the region.

The largely non consumerist Bhutan seem to have a clear vision as it aims to be a zero waste country by 2030 by prioritising composting. This is on par with its policies relating to environmental protection, with 72% of the country being under forest cover and approximately 60% categorised as protected areas. Bhutan banned plastic in 1999, re-enforced the ban in 2005 and 2009 for better practical measures, and further discouraged plastic under its waste prevention and management regulation of 2012. Although the country faces a resource constraint in monitoring public compliance towards its policies, Bhutan is ahead of the rest of South Asia by having a political and national will to pre-empt disaster before it strikes.

A key question to be asked is why South Asian countries have not given serious thought to composting their garbage. At least 70% of the solid waste of the region are organic, as highlighted by a 2011 ADB report titled 'Towards Municipal Organic Waste in South Asia'.

An unfortunate commonality across South Asia is that although almost all countries have some 'policy' pertaining to garbage clearance and hygiene maintenance of the cities, and especially the menace of plastic, it is something that gets knotted up in confusion and tardiness at best and inaction at worst. Although India, Pakistan and Nepal have all in recent years imposed bans on disposal plastic items such as bags and cutlery, the implementation is largely in disarray.

In Maldives, a public campaign kicked off in 2016 to ban plastic bags by 2020. According to the Maldives Customs Service, in 2015, over 66 million bags worth over MVR 17 million were imported, with most of the bags ending up in the ocean.

In Sri Lanka, plastic has a free rein in the form of bags, lunch sheets and bottles, which are used daily in over-abundance. With re-cycling not been incorporated as part of a national policy, the private sector is not tapped to broad-base the current mainly small scale private recycling initiatives that take place.
The South Asian

challenge of planned medicinal disposal
If the garbage disposal in South Asia is bad then even more horrendous is its lack of planned medicinal waste disposal.

A 2006 research paper by C. Visvanathan and Radha Adhikari on Healthcare Waste Management in South Asia points out that healthcare waste is recklessly disposed into the municipal solid waste landfill or open dumpsites in most South Asian countries.

It further points out that mushrooming clinics and health centres, often unregistered, have created environmental havoc by disposing bio-medical waste irresponsibly, contributing to the spread of communicable diseases. Waste management, even in government hospitals, is less than satisfactory, it notes.

In Sri Lanka although regulations have been gazetted by the Central Environmental Authority (CEA), stating that improper disposal of clinical waste is an offense, it remains as a problematic area in practice with few local strategies adopted to manage clinical waste in a cost effective and speedy manner.

A 2010 report in the State run Sunday Observer newspaper in Sri Lanka focusing on the now infamous Meethotamulla garbage dump and the rag pickers of the area, point out how hospital waste and human intestines are found in the garbage.

"Stepping on to the garbage dump and walking through the stinking rubbish is like walking through hell. The rubbish with left-over eatables, plastic items, zinc sheets, paper, clothes, hospital wastes, e-waste, dead carcasses and human internal organs are strewn all over," the article noted.

It further described the realities of the dump in reference to hospital waste:

"A truck load of rubbish enters the site. Most of the scavengers stop digging and run behind the truck. Alavudeen too runs after it… According to Alavudeen, sometimes it is risky to walk on the dump as hospital waste – discarded syringes, injections, bottles and even human flesh are in the trash."

Meanwhile in Sri Lanka, a private company, Finlays Colombo Plc, which in 2009 embarked on a first-ever project to dispose medical waste, discontinued the service in 2013 citing reasons 'beyond their control'. Finlays was the only company licensed by the Central Environmental Authority of Sri Lanka to dispose medical waste.

"In our Sterifirst business, for reasons beyond our control, it became impossible to continue with disposal of the waste product in a responsible way and we were forced to close the business at the beginning of December," the company said in its 2013 Annual Report.

Finlays gave hospitals containers to segregate the waste and then collected these containers and transported it to the 'hydroclave' machine which disinfected the waste before it was taken to a sanitary land fill.

Clearly, if all the required support was provided to such an initiative it could have had a chain effect of other companies coming forward for similar business initiatives that is so needed.

In Nepal a burgeoning urban population and significant expansion of healthcare facilities is seeing a sharp rise of hazardous solid waste generation. The Nepal Health Research Council in Kathmandu, in a 2013 research paper pointed out that only limited information is available on health care waste management practices. Garbage segregation is not happening in a systematic manner, the Nepal Health Research Council pointed out.

In Pakistan, according to the 2005 State of Environment Report, 250,000 tons of medical waste is annually produced from diverse healthcare facilities and diverse reports up to date have reiterated the problem and called for solutions such as a systematic segregation and sanitised disposal.

In Bangladesh, medical waste management means sweeping floors and dumping all sorts of dirt and waste in the nearest dustbin, the Bangladesh news magazine Probe pointed out in a report.
Transforming tragedy to a changed future
Clearly, the role of the private sector in South Asia has not been maximised in dealing with the diverse challenges of handling, treating and disposing of solid waste. What Sri Lanka and the rest of South Asia need is for private companies to come forward to provide initiatives that will collectively enhance efforts to seek out solutions for the disposal of the many categories of solid waste in a systematic manner.

What the State and the populace need to do is cooperate with the needed mechanisms by inculcating an attitude to treat this issue as a national issue as well as one that has regional implications – a truly success story from Sri Lanka, that could be created from now on, could have a snowball effect on its neighbours in helping clear the blot of garbage from the region.

Sri Lanka owes it to those who died in the Meethotamulla tragedy to ensure a changed future, for the country and beyond.