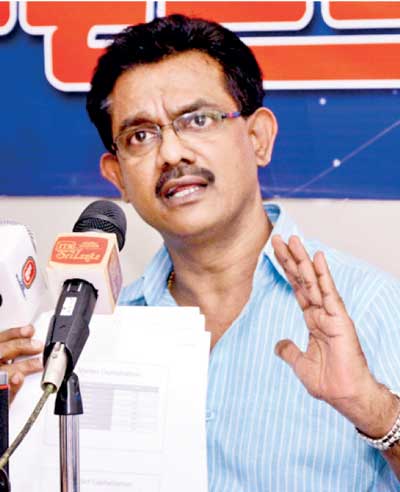 Securities and Exchange Commission fomer Chairman Udaya Sri Kariyawasam
Former Chairman of the Securities and Exchange Commission Udaya Sri Kariyawasam said yesterday that the Stock Market has dropped by 27.7% and market capitalisation has gone down by Rs. 138 billion since the current administration took office.

"Even at the height of the war, we were number one in emerging markets. In 2009, for the first time, market capitalisation passed Rs. 1 trillion. When the previous regime handed over the economy in January, it was at over Rs. 3 trillion," he said.

By July this year, the figure had dropped to Rs. 2967 billion, he said, adding that the All Share Price Index (ASPI), which was at 7299.5 in January was now at 6984.12.

What had seen a 23% growth in the year 2014, Kariyawasam went on to say, had in just six months changed to -4.3%.

"The GDP growth rate of a country and its stock market growth should be roughly the same, and the stock market is like a mirror on the economy. Any investors observe change in policy," he said.

Kariyawasam charged that the past six months had been the biggest slap in the face of corporate governance, alleging that ongoing investigations into financial irregularities were politically motivated and targeted individuals and were not based on policy.