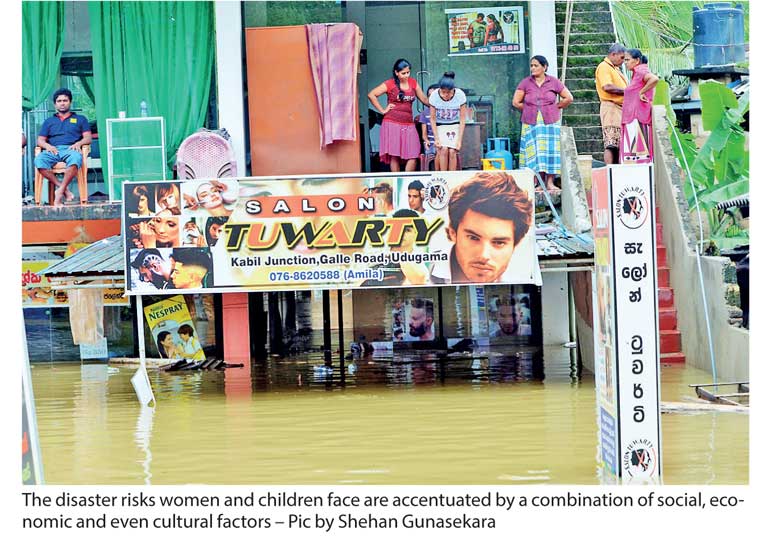 By Amantha Perera

Thomson Reuters Foundation: When floods swept through the small town of Valassmulla in Sri Lanka's Southern Province, 12-year-old Radhika Dayarathne lost more than her home.

The floodwaters that destroyed her family's house and most of their possessions also swept away her and her older brother's school books, school bags and uniforms, leaving them uncertain whether they can return to school.

"What am I to do? My parents can't afford new books, new clothes, new desks. We are ruined," the small girl said with tears in her eyes.

Her school has become a shelter for those left homeless – but Radhika's family stayed there only two days before moving to a hut near their old home, fearing the packed school wasn't safe for their daughter.

Women and children can be disproportionately affected by disasters, for reasons ranging from a desire to stay behind to help less-able family members to cultural restrictions on women's movements.

But taking a closer look at data collected in disasters – and getting the results out quickly – could help reduce the vulnerabilities of those at the highest risk, experts say.

"Data collected and analysed at the time of emergency is not disaggregated by age, creating a challenge in assessing and responding to the needs of affected population," said Paula Bulancea, UNICEF's representative in Sri Lanka.

For example, officials at the country's Disaster Management Centre (DMC) said that if they got a quick breakdown of the number of infants, small children and pregnant and nursing mothers caught up in a disaster, they could quickly channel particularly vital supplies, such as baby supplements and specialised medical experts, to those in need.

"Even if the number is one or two, we still could make sure that the supplies get to specific locations," said DMC Spokesman Pradeep Kodippili.

G.L.S. Senadeera, the Director General of the agency, agreed that better information could help guide better action.

"It could most certainly help in more efficient channelling of life-saving resources, which become stretched during large-scale disasters like the one we had recently," he said.

For instance, if the DMC had known earlier that several pregnant women were trapped in a hospital in the Kalwana area in Ratnapura District during the May floods, they could have sent rescue flights earlier to that location, Kodippili said.

At least one still birth was reported during evacuations during the flooding, he said.
Floods and landslides
Floods and landslides swept Sri Lanka in late May, killing at least 300 people and displacing or otherwise directly affecting 600,000. A rapid assessment of the disaster by the DMC found that 70% of those displaced or affected were women and children.

The UNICEF office in Colombo said that this pattern was consistent in many disasters in the country.

"For example, nearly half of the affected population in the landslide and flood disaster in May 2016 were women and girls," Bulancea said.

Apart from the risks during disasters, women and children can face greater problems in their aftermath of crises as well, the UNICEF Country Head said.

"Beyond the loss of their livelihoods and their social context, displacement, separation from home, loss of family members, lack of basic health and hygiene as well as personal safety can be stressful and traumatic for them. Children are more inclined to get sick and suffer if basic services are disrupted," she said.

Disasters – including extreme heat waves – can also leave many children out of school for significant periods of time, with their schools at times turned into relief shelters, according to a UNICEF vulnerability study released last year, looking at Sri Lanka's Eastern Province.

"Climate change has a direct impact on school education," the study noted.

At least 29 schools were completely destroyed in Sri Lanka's May floods and scores more damaged, according to the Education Ministry. Schools were also used as temporary shelters during the first two weeks after the disaster.

The disaster risks women and children face are accentuated by a combination of social, economic and even cultural factors, experts said.

"For example, in our culture, small children are in the care of women, and when disasters happen, women have to take care of their safety as well. The attitude is changing but still persists in rural areas," said Senadeera, Head of the DMC.

Helping those who respond to disasters better understand the risks women and children face could help reduce them, Senadeera and Bulancea agreed.

Risks could also be reduced by teaching disaster preparedness in school, with children carrying home lessons to their families, the UNICEF study said.
From policy to action
UNICEF's Bulancea said Sri Lanka should reassess the implementation of its disaster resilience policies.

"While we have systems, policies and plans in place on disaster risk reduction which are gender and age sensitive, these are not be being fully implemented," she said.

Radhika, the girl displaced in recent flooding, said her family had no warning of the disaster or idea how to cope effectively with it.

"We don't know what to do, where to go or who to contact when floods come. No one has told us anything," the girl said.

Senadeera said his agency was implementing changes, including issuing more detailed weather alerts and using social media and smartphone apps to disseminate warnings.

Smartphone apps might also be used to communicate with regional offices to make quick decisions on areas for relocation centres that will be safe for women and children, he said.

"We have learned from our past mistakes. It's a stiff learning curve, but policies and implementation are going to change," he promised.