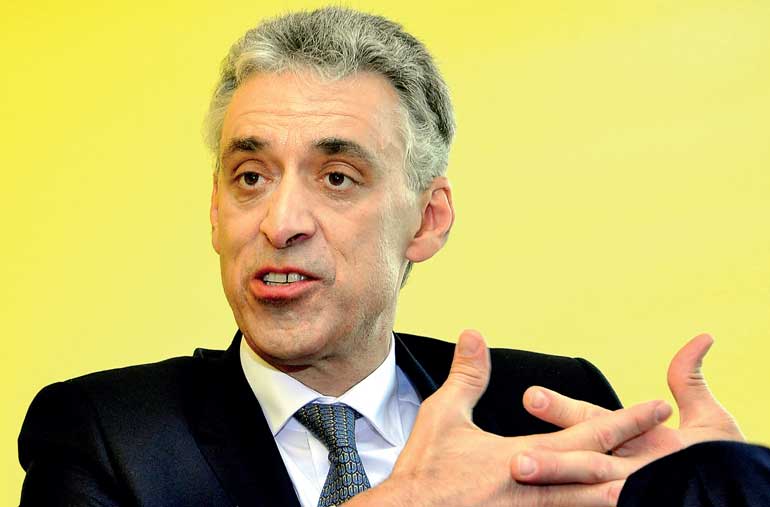 Sri Lanka recently saw the first-ever visit by a CEO of global logistics giant Deutsche Post DHL Group.

The visit by Deutsche Post DHL Group CEO Frank Appel according to him reinforced the commitment and importance DHL attaches to the growth of operations in Sri Lanka.

In an exclusive interview with the Daily FT during his two-day visit, Appel shared his optimism on Sri Lanka as well as satisfaction over the success of DHL Group – DHL Express and DHL Global Forwarding in empowering the country. DHL Express has 19 express centres feeding two facilities in Colombo and Katunayake with a staff of 230. DHL Global Forwarding, which has two gateways and 11 warehouse facilities, handles around 10,000 air freight shipments and 7,000 ocean freight shipments in Sri Lanka annually. It has 100 full-time staff and 300 support staff. Globally Deutsche Post DHL Group is present in over 220 countries and generates over Euro 57 billion in revenue.

Appel, who also serves in the Singapore Economic Development Board's International Advisory Council, expressed Deutsche Post DHL Group's commitment to expand in Sri Lanka in tandem with growth for which he believes better infrastructure, education and greater openness are crucial.

Following are excerpts of the interview with Appel, who was associated with DHL Global Forwarding Country Head Najeeb-Ur-Rahman and DHL Express Country Head Dimithri Perera:


By Nisthar Cassim

Q: What brings you to Sri Lanka? I believe it is the first time a DHL CEO is coming to Sri Lanka so it must be a fairly important visit?

A: I have a rule on that, I want to visit smaller countries also. Every year I choose new countries where I haven't been. We operate in 220 countries and territories and there is still a long way to go. But this year I felt it's time to go to Sri Lanka. There is no important announcement or any special subject, it's just to come to a country and say 'thank you' to all our people here who are doing a great job for our company and the customers in Sri Lanka.


Q: For this year, is Sri Lanka the first new territory you will be visiting?

A: It is my first time I came to Sri Lanka. This year, I travelled for the first time to the Baltics, where I have never been to before, for instance. I will probably be visiting a few more countries later this year but the destinations are not decided yet.


Q: What's your take on Sri Lanka as a market as well as DHL's progress so far?

A: We are very happy with our progress. Our business has grown very nicely over the last few years. Even the economy has done much better. Our operations – which are a combination of our parcel and document express, international express business, our out freight and ocean freight business, and we do warehousing here as well – all of them have grown very nicely and profitable at the same time.

We have several hundreds of employees here so it's a quite sizeable operation and we expect good progress in the next few years. In Sri Lanka there is a will to increase exports. Imports are quite important to you as well so we see lots of opportunities. We are well equipped with our operations to capture that potential.


Q: Your growth is despite Sri Lanka's exports having declined for the last two years. Imports have also been facing a few challenges. On which areas has the growth been largely focused?

A: Overall, I think we have gained market share because we perceive ourselves as a high quality solutions provider for all our customers and I think we have benefitted from our customer intimacy. The growth is also different. Some companies are still growing, not only multinationals but also Sri Lankans. I think we have benefitted as well from a broad portfolio of customer industries. Therefore overall, we can't complain about the growth we have seen.

Globally we expect GDP growth between 3% and 3.5% and at present it looks more promising than at the beginning of the year. China is doing better than expected. India is doing well. Europe is doing better than expected, US is also doing well. If you take the US, Europe, India and China, that has positive influence in all our parts of the world. So we are quite optimistic that it will grow closer to the 3.5% growth than 3%.
Q: In what areas would you like to see growth or greater involvement by DHL?

A: We have just opened, for instance, a facility where we do Life Sciences, temperature-controlled activities. For us I think it's a very attractive market, good for the positive development of Sri Lanka. You will see, in the next 10 years, a significant increase in the middle class and logically there will be a higher demand in live zones for work, which is of course a very attractive market for us.

Again, live zones mean high quality logistics; we can provide that, it's a very interesting sector. We are co-partners of all fashion and apparel businesses here in the country. We are also working for high-tech companies, both inbound and outbound. Our strength is that we are a very global logistics company with expertise in all industries. So if you don't have that kind of expertise here on the ground, we can bring the right expertise from the network, from somewhere.

If Sri Lanka opens its market even further, there will probably be more Foreign Direct Investments because you have high literacy, you have good English skills. I'm quite impressed by the infrastructure, you know the freeway from the airport is high quality. I'm coming from Germany and nowhere does an outbound or freeway look like this. This is a high-quality freeway. I think if the Government continues to invest in infrastructure, more foreign investment will come. Now you have peace for a while already, which is a good base as well. If you continue to open your markets, the border processes become more digital and easier. Then I think there is plenty of opportunity for industries as well. Sri Lanka is a good gateway to India or as a stopover port to Europe or Africa, which is developing very rapidly now as well.


Q: Given the size of DHL's operation in Sri Lanka, how would you rate performance vis-à-vis similar markets in the Asia Pacific region?

A: I think Sri Lanka is probably at the tipping point to have an opportunity to become something like Singapore has been for ASEAN for a while. I don't know local politics nor politicians very well but if you take the right reforms, I usually mention three things. Infrastructure is extremely important. Education; that more people get good education. And finally, the openness of a market. If you make these things right, you have a good chance to really copy what Singapore has done for a longer time. That's the opportunity Sri Lanka has. I am quite optimistic if you take the reforms, Sri Lanka can develop very well. Of course, we are more than happy to support with advice on logistics expertise which we bring to a country.


Q: In terms of growth as a market or an emerging economy for DHL, is Sri Lanka in the high growth segment group of countries?

A: Yes, absolutely. We want to grow in these parts of the world. We see our strength, we have strong presence in emerging countries; Sri Lanka is one of those. My coming here is also a reflection that we believe positive things are happening here going forward but the most important one is the appreciation of our customers because in logistics, every piece counts equally.

You can provide great service in the US, Europe, China and India, but if you don't connect with the dots, it falls apart, the whole service quality breaks down. So we need every part, therefore Sri Lanka is as important as large countries. But we see the emerging countries as a big growth opportunity because there is more middle class coming, there is heavy investment in infrastructure, there are new places for production. That is also true for Sri Lanka and that is where we have seen plenty of opportunities as well. Therefore, we see Sri Lanka also in the league of smaller but growing countries.


Q: You mentioned global GDP growth. We have had two years of challenging times for global trade. How have you managed to find growth despite the downturn?

A: I would say trade has not shrunk in the last two to three years, although it dropped after the financial crisis we had. But now the world has recovered. We had a very strong 2010 and since then we have seen modest growth. We have expected a trade drop only in line with GDP now for a while. What's the reason? The major lift to really move manufacture from Europe and the US to Asia in particular has taken place. The next change will now be digitalisation, which creates opportunities to optimise cost structures which will enable new services and that's a big opportunity the world has.

The first opportunity to really lift people out of poverty was globalisation. I think we should all be proud that the world has taken a billion people out of poverty in the last 20 years. Now I think it's time to enrich lives of people even more and I believe digitalisation will help us to do that. That's the next stage the world is headed to and I am very optimistic about that. The countries with have good education will benefit the most. I'm coming from Germany, known for a very high education level, so Germany will benefit. But the more governments really see education as a core driver, the more successful the country will be.


Q: Recently you opened a facility in Hong Kong where the focus is more on e-commerce. Is this a follow-up to your principle that digitalisation will drive the next level of growth?

A: Yes, there are two reasons why you get economy and wealth. One is population growth. The world doesn't need more people so we should not bet too much on more people. The second is productivity improvements. Productivity is driven by new technology very often and digitalisation will help. It will improve the productivity of warehouse clearance, of our dispatchers, of our couriers and that trades well because that drives economic growth.

If you have economic growth, you have more to give back to society and to your employees. In that, digitalisation will help us; for instance, we have pilots in all regions of the world where our warehouse clearance works with smart glasses, where they get the information on which product they should pick and pack. That has helped to improve productivity by 10% to 20% depending on the case where it happened. This is just one example of many where we have seen productivity opportunities.

In Germany, we now deliver parcels to the trunk of the car. Our courier can open the trunk, put the parcel in and lock it again. These are all productivity gains that makes it more convenient for the consumer and at the same time it takes out costs in our operations because our first attempts have all been successful. It's a significant cost to go to a consumer's house if the consumer is not at home, this costs extra money and you have not paid for it.


Q: You mentioned about Sri Lanka getting a few reforms right. Do you see signs of that effort being made? You mentioned three reforms. Which do you think we should tackle first?

A: That's very difficult to judge for someone who has not been here for even 24 hours and is not very familiar with your country. But what is always very important is good infrastructure and easy processes.

People see border processes sometimes as income streams for the government, which is wrong. It's complex, which leads to compliance issues, which are often unnecessary. At the end of it, it all generates costs. If you do these things from a business sense, where you have a good port, good development to renew the runway successfully at the airport, that's important. Because if you have stoppage of operations just because there are holes on the runway, you know these are just things. Or having better connectivity from the airport to the city, so important in the bid to race into more remote areas, who can you serve?

These are things which governments can decide relatively easily. They can learn on the border processes from our countries, on how they are doing it, free trade agreements. If Sri Lanka joins ASEAN, it would probably be great for Sri Lanka. If you can't get that, you should go for bilateral free trade agreements, which you have already as well, and why? Because it puts competitive pressure on a country. It makes foreign and direct investments easier, because you know the market is not just Sri Lanka but beyond.

These are all things governments can tackle in a relatively straightforward manner because you know education takes a decade until you see the positive impact, because you have to build a lot on it. But infrastructure and these reforms of border processes or opening your market, or free trade agreements – these are much more straightforward for you and something I would recommend to any emerging country. Focus on those because that is the best you can do for your country.


Q: You must be aware that Sri Lanka is trying to expand trade ties with India, and perhaps looking at an FTA with China. This is whilst there is rising trend towards protectionism all over the globe. How do you view this aspect of going for bilateral deals?

A: I think the best would be the UNWTO Trade Facilitation Agreement (TFA) which is now in place because enough countries have signed them. It's particularly encouraging for smaller countries like Sri Lanka because it opens the busy global markets for Sri Lankan companies. That's very encouraging. I think there is a lot of noise about protectionism. You know I always say, tell me one country which has been successful with protectionism; you will not find a single one. Protectionism is not good for the country which does that, nor for the others. The larger the country, the worse it is for the others. There is a lot of evidence in this regard.

In Latin America, recently some countries have done free trade agreements. Colombia did that, Peru did that and there has been very positive impact on their countries. If Sri Lanka doesn't have a choice to join ASEAN or other free trade agreements, I think it's good to have free trade agreements with India and China. As I said, for multinationals it really can become more attractive if you have free trade with India and China. If that's not possible and you have duties, if products are produced here and exported to China and India, it's much tougher. I think the second choice is bilateral if you can't join others. The TPP we had was a very good one. Sri Lanka has not been a part of it. But now it's stopped for a while and I hope that you know the US will change their mind in the next few years and go back and say the TPP is actually a good thing.


Q: On the TPP, I know the US was its key driver. What has Germany's role been in fostering more trade as a global citizen?

A: Germany is a very strong driver. We have a study which we call the DHL Collectiveness Index, where you can see how well countries are connected and Germany is among the top 10. We always have been a strong export country, with nations anywhere. We believe very much in free trade. You can see that if you look into the Human Development Index, which is a measure beyond GDP, of the development of a strength of a country.

You will find a very strong correlation between the most connected countries and the Human Development Index. Why is that? If you are open to foreigners, open to foreign investments, open to competition, it puts pressure on the competitiveness of a country. It's difficult in the short term but it's very beneficial in the long run. Because if you are more competitive, and you have to become more competitive, then you become successful on a global scale. That is what you can see with the countries which are on that list and it has been beneficial to the countries, because they are not poor on human development because they are high there as well. They recently published a report on inclusion as well and guess what? Again, the countries which are most connected are high on inclusion as well.

There is very strong evidence that the more connected you are, the more open you are, the better it is for your society. You see that as well in the emerging countries. I mean ASEAN has been a very successful to South East Asia, the free trade agreements the Latin American countries signed have been beneficial to the countries. You know, there are always losers in that and the responsibility of society is to take care of the people who might lose their jobs and help them to find new jobs.

But to protect them in the first place is not good advice because ours will become more competitive anyway. You can't run away because we all live in one global integrated economy now, in the meantime anyway, so it's better to take your own chances and protect yourself.


Q: We have seen lots of activity in the logistics market with some of your competitors getting new partners and some new players coming in. How do you see the competitive landscape for logistics companies like yours in Sri Lanka and in the rest of the world?

A: Overall, we have been on the merger and acquisition form for a decade somehow, but we stopped that more or less about 10 years ago. We are now the most global logistics company. We are everywhere in the world and we now focus on organic growth. We see what is happening more or less as proof of what we did already a decade ago and now we are copied to get global reach.

Usually these acquisitions are challenging. What happens is that if you acquire a company and you integrate that, your quality suffers. We suffered ourselves until 2008 or somehow because if you integrate, you are internally focused. So we see if our companies are bought by competitors as we always see that as an opportunity and we have the same experience here. We are the place to go if you want to have stable and superior quality because we have reflected that in the current structure alone.

Recently at a customer event, they were very complimentary about our quality of service and I said 'that's great, thank you' to the team which has done a great job here but also, we have not changed the organisational structure for almost a decade and that gives the stability, it gives the opportunity to focus on customers and internal challenges. As a result, I think this organisation is much more significant and more customer focused than it was 10 years ago. What we see is we see strong organic growth, gaining market share, benefitting from what I was doing through mergers and acquisitions, what we had done already a decade ago.

I have no doubt that we will benefit not only in Sri Lanka but also in other markets as well because customers are paying for premium service and for that premium service you want to have premium quality. If you are busier with integration, who gets which jobs and who is taking what, they are busy with themselves instead of focusing on doing what is right and necessary for the customer.


Q: Given the fact that life is going to be tougher for exporters or your customers, going forward how can logistics really help their journey? You spoke about quality and connectivity; do you think those two elements are enough?

A: Logistics is, at the end of the day, a necessary evil. What we can do is, we can always think 'how do we take steps out of a process?' because every touch of a product creates additional costs, additional complexities, additional opportunity for failure. The more we streamline the end-to-end process, better results can be achieved.

That's the reason I say to customers: you are busier sometimes in thinking 'how do I get a cheaper offer?' instead of thinking end-to-end. So, come to us and let's rethink the process because we offer everything from parcels to containers, from warehousing to last mile delivery. Think more on how you can design your network for logistics because that can save you much more money, because you might save a complete step in your supply chain instead of trying to get a euro cent or a dollar cent less on this route or that route or of pick and pack.

You need to think holistically about your supply chain. If you do that, come to us because we have the expertise in all steps and we can think with you together on what the best step is for what happens the next day, what is necessary in six days and what is necessary only in the next three weeks. Then we optimise, we cost structure for you together with you and that is usually a significant cost saving and an improvement on quality at the same time because you take complexity out as well.

For instance, we are a big promoter of the 'One Belt, One Road' for China, which they are now propagating that actually will help many other countries between Europe and China. We do a lot of road transportations because that gives a lot of Chinese customers a better lead time to Europe with lower costs than air freight but higher costs than ocean freight, so that's a good mix but you really have to offer that. Here in Sri Lanka, if you really develop your ports, Sri Lanka can be the gateway for many products to India because you are well located. If your bonded harbours work very seamlessly, why should you ship them to India first and have a bonded area? Keep everything here. Then you go from here to the whole Indian subcontinent somehow.

These are all opportunities where we say 'listen, we can create that together with you' if you consider the end-to-end process and not just one node or one piece of your supply chain.


Q: Sri Lanka is also trying to become a logistics hub. The Prime Minister is talking about Sri Lanka being a part of the global supply value chain. Can DHL play a more direct role in shaping policy or measures needed towards this or doesn't DHL get involved in a Government level arrangements?

A: We try to get involved with the ministries ourselves, talk to them directly. I am not somebody beyond saying infrastructure, education and border processes are an easy move for any government anywhere. On detail, we might go to them because we are not politicians. If they are keen to learn what we have seen in our markets, we are more than willing to give advice and my colleagues are definitely talking to politicians here to give them advice. But I don't do that in newspapers usually, because I think that's not right. If they have interest, they should ask us because we have the expertise to give that. But I would prefer not to do that in the newspapers.


Q: Has DHL done the same in some emerging countries where they are in an advisory role to policymakers?

A: I am an Advisor to the Singaporean Economic Development Board, this is public knowledge therefore I can share this openly with you. Singapore has an Economic Development Board where they invite people like Jack Ma on their Board and others like myself and from Philips and they ask businessmen what they would recommend that Singapore should do to stay at the edge of economic development. I think it's both a good and smart way to get input. If you are really keen to learn, ask them. You don't have to do what they tell you. When they ask, I tell them, they can still do something different but it's smart to learn in an organised way. We meet once a year and then they listen and have questions. Then they ask us questions on what they should do with digitalisation, or how they should develop their trade policies or how they should do this and that… and that's very smart.

I think Sri Lanka is an interesting country as well. Singapore has considerably less population than Sri Lanka! It would quite probably be interesting for Sri Lanka as well to think about that, if there is real interest to hear. We don't tell Singapore all these nice things. We sometimes tell them not in an open audience but in private circles because only the right politicians listen and then they take decisions because politicians are elected by the population and not by the businessmen.


Q: Any commitment that DHL will continue to invest going forward in Sri Lanka and expanding operations?

A: Yes. We are not a capital investing company as such. We create jobs. But if Sri Lanka really continues to develop well – and I have strong hopes that you have a good period ahead of you due to your geographical location, the progress Sri Lanka has already made and the globalisation has continued – if you really attract more Foreign Direct Investments, then we have a great chance to develop our business and that will then expand our operations in the warehouses and in more vehicles and the most important thing is we usually bring jobs to the country. These are all local jobs and we can't take them away because we are not moving manufacture from one place to another. We are calling our customers and we are ready to be helping them and serving them. Our whole senior management in Sri Lanka is from Sri Lanka because that's one of our global policies that we try to be a global company with global standards but local faces and that we will continue to do so. Yes, we will continue but the amounts of investment will be in single digit billions because it's different if you build a car manufacturing plant because you will bring in warehouses and services required for same.