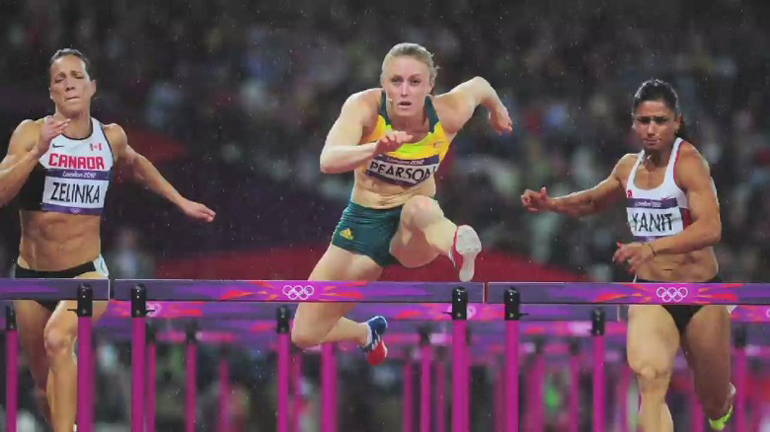 Australia's Sally Pearson
By Hishan Welmilla

Sport plays a collective social, political and cultural role around the world. In recent years, however, it has become associated with stories of corruption including gambling, consumption of illegal substances and institutional vote rigging.

Sport is a multi-billion dollar business engaging billions of people. It is also a global symbol of fairplay and a source of great joy for many people on this planet, whether participating, attending or watching events.

With so much public involvement, political influence and money at stake, corruption remains a constant and real risk. Mounting scandals around match-fixing, major events and elections, and systemic deficiencies in sports governance are now so undermining public trust that it is reaching a tipping point.

The problem of corruption in sports is very universal. People are connected with corruption in many ways. The list of countries, sports, and participants involved in athletic corruption is very long, but the list has a common thread which is desire for money and sometimes fame.

Sri Lanka is not exceptional. We have witnessed appointing special committee to investigate on corruption in many sports governing bodies in Sri Lanka – the latest being a three-member panel appointed to investigate allegations of corruption and mismanagement in Sri Lanka Cricket.

The committee, appointed by Minister of Tourism and Sports Navin Dissanayake, has already begun its operations. This committee is responsible to probe, investigate, inquire and report on any corruption, abuse of power and authority by any office bearers and members of the Committee of former Executive Committee of the SLC.

Apart from that, former Minister of Sports Mahindananda Aluthgamage also acted in the same way by appointing committees to investigate into operations of the Football Federation of Sri Lanka and several other sports. Interestingly actions were very limited base on the reports.

Again major corruption scandals were uncovered in the Football Federation of Sri Lanka (FFSL) by the three-member committee appointed by the Ministry of Sports. The sports-loving public is eagerly watching what actions will be taken against the culprit or if they will have a 'green path' to escape.

Cricket and football are not the only two games in the corruption line up in Sri Lanka. The other sports are also riddled with corruption. That leads the way to the Ministry of Sports in Sri Lanka to curtail the qualifications to be on the office of any sport's governing body. Even though this move was to eradicate the administration patterns which help to get involved in corruption, the world's governing bodies wanted all the sport's governing bodies to be independent.

This is an unsolved problem yet, both the Ministry of Sports and the officials have been having discussions over the last several years on how to be in line with international rules and regulations.

One could argue that all sports should be out of politics and Government involvement and interference, but who will be held responsible for the manipulation of funds in the sport? That would be a critical factor in the decision of allowing sports governing bodies to be independent.

In Sri Lanka there should be an authority to look in to this as whatever the world says, there should be no room for corruption at any cost.

Corruption creeps into sports when money gets involved in sports. Many international sports events in the world, including the Olympics, do not grant prize money along with the medal. That has created no corruption in on-field events. But now it is also facing danger as athletes claims that they should be paid prize money.

Olympic 100m gold medal winner Australia's Sally Pearson says IOC should think about paying athletes. "People come for the entertainment from the athletes – we are entertaining them, we are entertainers," the Australian, who set an Olympic record of 12.48 seconds in gold winning run in 2012, Olympics, has told CNN.

Billions might have tuned in to watch London's 2012 Olympic Games which saw over 10,000 athletes compete across 302 events in a battle for golden glory, but the International Olympic Committee's current policy is to (IOC) hand out gold, silver and bronze medals as well as a bouquet of flowers to athletes, but no financial remuneration.

"I think the times have changed from 1896 to 2016, I think it might be time to at least have a think about it, and discuss it because there's no such thing as the Olympics without athletics or athletes," Pearson has said, leaving the future of Olympics in danger path of corruption

Even though the athletes do not get anything other than the medals from the Olympic Games, they gain tens of thousands – or even hundreds of thousands – of dollars if they bring home a gold medal as many governments have launched special schemes within the country to compensate athletes.

The biggest corruption scandal which raised the eyebrows of many sports-loving people in recent times was the prosecutors disclosed cases of corruption by officials and associates connected with FIFA, Fédération Internationale de Football Association

Near the end of May, 14 people were indicted in connection with an investigation by the United States Federal Bureau of Investigation (FBI) and the Internal Revenue Service Criminal Investigation Division (IRS-CI) into wire fraud, racketeering, and money laundering. The United States Attorney simultaneously unsealed the indictments and the prior guilty pleas by four football executives and two corporations.

In total, seven current FIFA officials were arrested at the Hotel Baur au Lac in Zürich on 27 May. They were preparing to attend the 65th FIFA Congress, which was scheduled to include the election of the president of FIFA. They are expected to be extradited to the United States on suspicion of receiving $ 150 million in bribes. There was also a simultaneous raid on the CONCACAF headquarters in Miami, and later, two further men handed themselves in to police for arrest: former CONCACAF President Jack Warner and Marketing Executive Alejandro Burzaco. The arrests case triggered Australia, Colombia, Costa Rica, and Switzerland to open or intensify separate criminal investigations into top FIFA officials for corruption.

Meanwhile FIFA is to set up a taskforce of 11 people to look at reforming football's scandal-hit world governing body. FIFA's President Sepp Blatter's resignation on 2 June followed the arrest of seven FIFA officials as part of a United States investigation that saw 14 people in total indicted on corruption charges. A second criminal case was launched by Swiss prosecutors into the bids for the 2018 and 2022 World Cups, to be held in Russia and Qatar respectively.

They followed a number of scandals and corruption allegations that had tainted FIFA in recent years. In December, independent investigator Michael Garcia quit FIFA in protest at the way it handled his report into bidding for the 2018 and 2022 World Cups.

The latest news came from the India Primer League (IPL) the richest of the world's Twenty20 cricket leagues. A panel appointed by India's Supreme Court has suspended two top Indian Premier League teams for two years over a corruption scandal. Chennai Super Kings and Rajasthan Royals have been found guilty in an illegal betting and match-fixing probe.

The panel also suspended Royals co-owner Raj Kundra and Gurunath Meiyappan of Super Kings from all cricket-related activities for life. The Justice Lodha Committee was constituted by the Supreme Court in January this year to announce the quantum of punishment against Gurunath Meiyappan, the former team principal of CSK, Raj Kundra, co-owner of the Rajasthan Royals, and the two franchisees – India Cements Ltd., owner of CSK, and Jaipur IPL, owner of the Royals.

Then Indian Premier League's (IPL's) governing council decided on Sunday (19 July) to form a working group that will study the Lodha committee's order on a betting scandal in the cash-rich tournament. The decision was taken at a meeting in Mumbai where members discussed the implications of the verdict that suspended Chennai Super Kings and Rajasthan Royals from the domestic T20 league for two years.

According to Eugen Dimant and Christian Deutscher who has written a research report to Havrad University Journal in March 2015, it is hardly surprising that corruption is a persistent feature in sports, particularly professional sports.

Common examples include fixing matches, bribing officials, using performance-enhancing substances, or various strategies for gaming an outcome. Indeed, professional sports attract not only a lot of interest (estimates range from 800 million to 1.2 billion active sportspersons worldwide), but also huge amounts of money, and thus corruption in sports can create tremendous societal and economic burdens.

The economic impact of sports is enormous. An estimated EUR 2.5 billion were spent on advertising in connection with the 2006 FIFA World cup. The sports industry at large generates on average between 2.5 and 3.5 of the GDP of countries. An athlete's incentives to win are shaped not only by the (expected) inflow of prize money but also by the ascending prestige that is intertwined with one's pursuit of self-fulfillment. Such incentives can cause athletes to cross legal boundaries in order to create a cutting edge.

People, from teenagers to the elderly, men and women, know that corruption in sports exists. Everybody knows about corruption in today's sports but everybody is afraid to say something against it because it can pose them unnecessary problems

Corruption is in the blood of too many, it has become a part of their DNA. It is transmitted to next generations and even the fight against it has become nothing but a show. Now, the politicians who are known all over the world for their honesty and transparent behaviour, especially close to election time, want to get their hands on sport once again. It is not the first time and it won't be the last, but we cannot blame them, because those in charge of sport have forgotten what their basic duties are.

According to the President of the International Sports Press Association (AIPS) Gianni Merio, nobody talks about corruption anymore. It seems to be just an annoying memory, one to forget. In effect, it appears that many people don't want to change their habits and rhythms of life, nor change the air because effectively, the world of sport is conservative and slow to react when it's a case of marketing reforms.

Afraid of radical change, the world of sport often stops at the surface. Just look at how it's still difficult to make a breakthrough in the fight against doping, which is only the younger son of corruption. What can we ask for? To turn the page and move on, because if the world of sport explodes as a result of dishonesty, millions of decent people who work in it will lose their jobs and we'll be faced with a new, terrible and true social evil.
(The writer is Editor-in-Chief of www.srilankasports.com.)