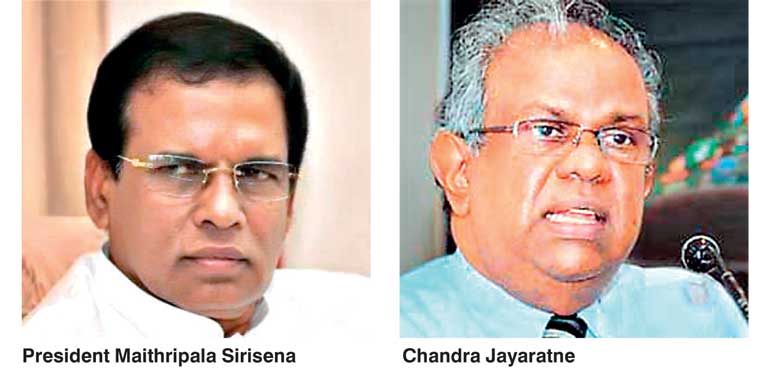 Good governance activist and a former Ceylon Chamber of Commerce Chairman Chandra Jayaratne writes to the President, calling for the National Procurement Commission to develop and adopt a preferential procurement policy framework to cover public procurements as a matter of priority
25 February 2016
President Maithripala Sirisena,

President of Sri Lanka,

Presidential Secretariat,

Janadhipathi Mawatha,

Colombo 1.
Dear Mr. President,
The National Procurement Commission must as a priority develop and adopt a preferential procurement policy framework to cover public procurements

You have clearly articulated on many occasions, that public procurements made by the government under your leadership, will live up to your commitments to "Yahapalanaya-Good Governance"; and thus will be fair, equitable, transparent, competitive and cost effective; and will simultaneously promote sustainable socio-economic development of Sri Lanka and its people.

In pursuit of the above objective, by the Nineteenth Amendment to the Constitution adopted by the coalition government led by you, a National Procurement Commission was set up as an Independent Commission, with the functions:

"156C.(1) It shall be the function of the Commission to formulate fair, equitable, transparent, competitive and cost effective procedures and guidelines, for the procurement of goods and services, works, consultancy services and information systems by government institutions and cause such guidelines to be published in the Gazette and within three months of such publication, to be placed before Parliament."

In the aforesaid context, and in view of your firmly committed to objective of assuring sustainable and equitable socio-economic development, covering all segments of society, irrespective of where they reside in the island, it is essential that you direct the National Procurement Commission, as a priority, inter alia, to develop an adopt a Preferential Procurement Policy Framework in regard to public procurements.

Such a policy framework must consider the desirability of providing for preferential / promotional based evaluation criteria embedded guidelines, which positively incentivize and enhance local value addition. The policy framework in place must support through selective preferential/promotional evaluation methods, positive support for;

1. Local enterprises, by setting minimum threshold for local production and content (where considered appropriate only)

2. Local value addition, by establishing linked premium point systems adopted in evaluations

3. Local economic and social empowerment by promotional guidelines/by establishing linked premium point systems adopted in evaluations

4. Local micro, small and medium enterprise promotion by establishing premium points linked evaluation criteria

5. Technology transfer promotion guidelines/by establishing premium points linked evaluations

6. Local professional and specialist skills empowerment promotion guidelines/by establishing premium points linked evaluations

7. Economic empowerment of backward regions promotion guidelines/by establishing premium points linked evaluations

8. Women empowerment promoting evaluation criteria

The National Procurement Commission must in addition review and adopt guidelines, that positively discriminate through evaluation criteria and set specific restrictions counter the negative effects public procurements will have in regard to

1. Consequential environmental and ecological damage

2. Any consequential negative impacts on national minimum and average wage and benefit structures embedded in the local economic activities of the specific sectors

The National Procurement Commission must further develop special evaluation criteria and strict compliance procedures which are transparent and contestable; and subject to appeal/arbitration where Public Procurement contracts and awards

1. emanating from unsolicited proposals

2. arise from bi-lateral country negotiations, not involving transparent open and competitive bidding processes

3. which are packaged and presented in the form of credit lines and or as fully funded by way of commercial or concessionary finance offers

It is recommended that the National Procurement Commission in developing and adopting the preferential policy framework for public procurements;

1. Engage in extensive discussions and negotiations with local and international business chambers, commercial counsellors of key trade and services partner nations, local employers federations, trade unions, academics and professionals and seek the advisory support of international trade and financial institutions

2. Benchmark with international experiences in India, South Africa and East Asian economies;

3. Ensure that the Preferential Procurement Framework is not exploited by commercial entities (i.e. ensure enterprises don't 'game' the system just to get the premium points in the evaluation nor use local skills/local content requirements as a hidden channel for rent-seeking and discretionary treatment). The rules adopted must be clear and there must be a mechanism for contestability/appeals and arbitration by any enterprise adversely impacted.

4. Develop specific detailed case studies covering public procurement awards for goods and services, based on the under noted recent contracts which have been tagged as controversial by local civil society activists, professionals and unions, etc.;

a.Award of contract for 65,000 pre-fabricated houses for displaced persons in the North and East

b. Award of tenders for new construction and re-laying of railway lines

c. New and extension highway contracts

d. Tender to procure coal for the Lakvijaya power plant in Norochcholai

e. Supply 22,500 dairy cattle to Sri Lanka worth almost $100 million via the Sri Lankan Department of Economic Development (SLDED).

f. Ambulance services from India

g. Award of the tender for issue of new electronic identity cards

5. All guidelines developed by the National Procurement Commission, including the Preferential Procurements Framework guideline, should be published as a 'white paper 'and be subject to public awareness building and debate, before placing it before the Parliament for adoption

Detailed at the end of this letter are some examples of links and an articles of value for review by the National Procurement Commission in progressing this recommendation.

I remain confident that you will find the above recommended way forward to be in line with the policy and commitments of the Government led by you.
Yours sincerely,

Chandra Jayaratne
CC. Prime minister

Minister of Development Strategies and International Trade

Minister of Finance

Auditor General

Chairpersons Public Accounts Committee and COPE

Chairperson and Members of the National Procurements Commission
Reference links and articles:
Government Procurement in India; Domestic Regulations and Trade Practices: https://www.gov.uk/government/uploads/system/uploads/attachment_data/file/186988/Govt Procurement in India Domestic Regulations-1.pdf
Government of South Africa; General Procurement Guidelines: https://www.google.com/search?q=Preferentail+procurement+Guidelines+for+State+procurements&ie=utf-8&oe=utf-8
Government of South Africa Preferential Procurement Policy Framework Act and Regulations: http://www.treasury.gov.za/divisions/ocpo/sc/PPPFA/1-34350%208-6%20NatTreas.pdf
Empowering Women through Public Procurements; International Trade Centre 2014: http://www.intracen.org/uploadedFiles/intracenorg/Content/Publications/Women%20procurement%20guide-final-web.pdf
Opening Up Opportunities for SMEs in the Government Supplies Market: http://www.dailymirror.lk/67161/opening-up-opportunities-for-smes-in-government-supplies-market
The German Minimum Wage Act in Detail-Objectives, Application, Implementation & Control: http://www.bmas.de/SharedDocs/Downloads/DE/PDF-Publikationen/brochure-the-minimum-wage-act-in-detail.pdf?__blob=publicationFile
The German Minimum Wage: Experiences and Perspectives After One Year: https://www.socialeurope.eu/2016/02/the-german-minimum-wage-experiences-and-perspectives-after-one-year/