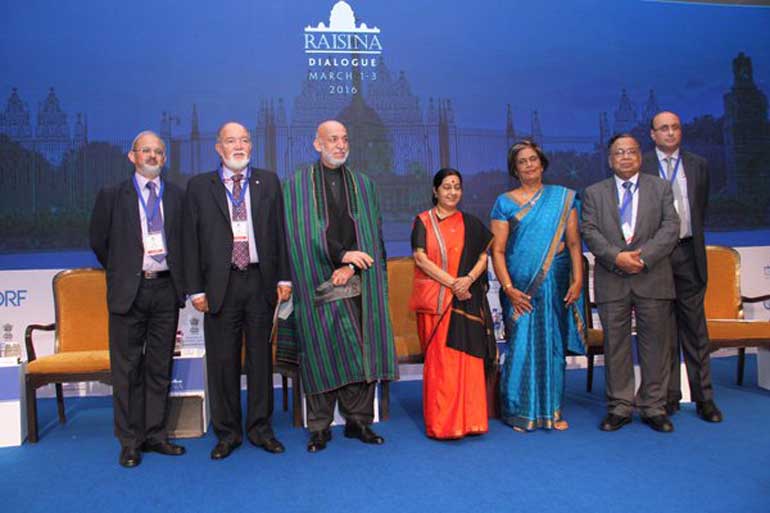 At the Raisina Dialogue 2016 in New Delhi, from left: Former President of Seychelles James Mancham, former President of Afghanistan Hamid Karzai, Foreign Minister of India Sushma Swaraj, former President of Sri Lanka Chandrika Bandaranaike Kumaratunga and Foreign Minister of Bangladesh Mohammed Ali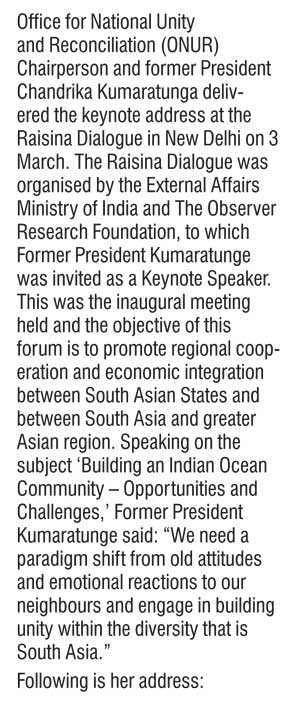 The subject of South Asian regional cooperation has been widely discussed for many decades. However, progress in regional cooperation and economic integration has been extremely slow. Political will seems to be lacking, public interest is weak and no country in South Asia has taken up the subject of regional integration as a government policy.

The reasons for this are well known.
First, the fact that six out of the eight South Asian states expended much effort and time in consolidating each nation's separate identity as opposed to the others – especially the larger states. This situation caused a great deal of inter-State tension and left little time to invest in building regional integration.
Second, the Inter-Pakistan conflict which has prevented regional cooperation since the partition nearly seven decades ago.
Thirdly, insufficient skills and experience of the states to engage in the difficult exercise of building regional cooperation.
However, the past two decades has seen the rise of the post-partition generations in South Asia giving rise to a new and more dynamic environment for understanding between nations. This generation has left behind the baggage of conflict and distrust borne by the older generations. They are seeking new paradigms and creative thinking.

I wish to repeat a fact which I am sure most of you are aware of. South Asia is the least integrated region in the world. In the globalised world, where not only economic borders but physical borders are fast disappearing, South Asian nations have managed to remain isolated from each other.
Intra-regional trade accounts for less than 5% of total regional trade.
Intra-regional FDI amounts to 4% of the total FDI inflows.
We know that low levels of trade, investment and other forms of economic cooperation cause higher input costs at production, smaller export markets, reduced revenues for governments and reduced consumer welfare. Yet South Asia has significant inter regional trade potential. Research demonstrates that there could be considerable increases in growth and welfare arising from closer regional cooperation.

The positives for regional cooperation is that the fastest growing economy in the world is India. It is predicted that the Indian economy will grow at 7.5 % and reach double digits in a few years. India will have much to gain through regional integration, as much as the other countries in the region.

What do we need to do to achieve closer cooperation? I believe that we do not need a grand vision but instead a pragmatic action plan. I must hasten to add here that only pragmatism may not suffice to overcome the existing challenges of building mutual trust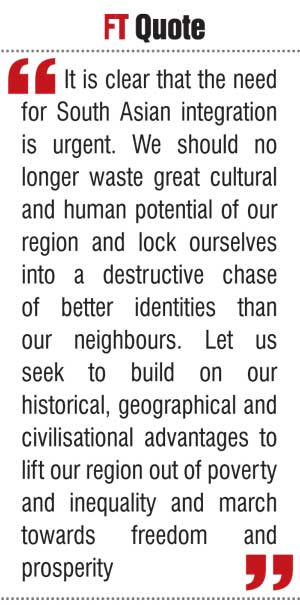 and progressing towards integration. A common objective will certainly help to cement the practical move in a durable fashion. European integration was born out of a common desire to prevent the massive destruction of the two World Wars from occurring once again.

South Asia could perhaps coalesce around the need to conquer the challenge of extremism, violence and terrorism. This vision could also en-globe the following practical aspects:
Foster economic growth: South Asia being home to the largest number of poor people in the world will benefit hugely from regional cooperation. The lack of regional cooperation has cost South Asia immensely.
Protection of the environment: South Asia faces enormous environmental risks, posing a major threat to our future prosperity. We desperately need to cooperate in order to manage our ecology.
Cultural cooperation: The paradox of South Asia is that the very cultures we share have succeeded in dividing us.
The major preoccupation of all South Asian nations since de-colonisation has been their quest for a national identity, as opposed to the regional identity which has existed for millennia. The desire to differentiate the identity of one's nation from the millennial common regional identity gave rise to many violent inter-state and inter-state conflicts in the region. We need a paradigm shift from old attitudes and emotional reactions to our neighbours and engage in building unity within the diversity that is South Asia.
Democratic governance: The tensions and conflicts within the region have led to violence and a breakdown of peace, which in turn has caused the weakening of democracy and democratic institutions. Hence, mutual understanding and cooperation would undoubtedly help promote the strengthening of democratic institutions and democratic governance.
Facing the challenge of violent politics: South Asia is today one of the two most violent regions in the world. The stabilisation of strong and stable states through the development of a democratic political culture will help to contain societal and political violence. For this, a strong commitment to cooperation is essential.
Regional security: Our region, as I stated earlier, has experienced the largest number of violent conflicts in the past half a century. On the other hand, the region is heavily militarised and comprises of two major nuclear powers. The risk of major conflict is immensely high. The huge suspicions and continuing mistrust between the two largest states in South Asia has caused devastating consequences for the entire region. Regional instability and political mistrust are seen as major obstacles to regional cooperation and integration.
In the emerging regional environment, national security concerns should compel us towards more cooperation rather than becoming an argument against cooperation.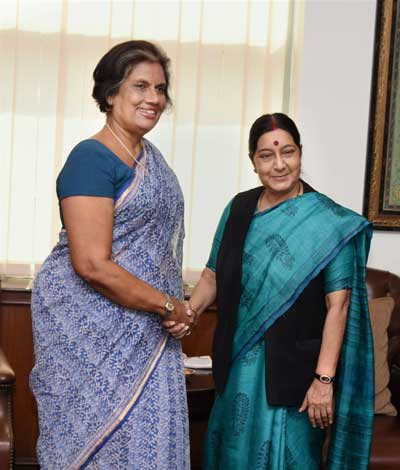 There is no doubt that cooperation in the economic and cultural spheres and people-to-people contact would promote an atmosphere of pacification and hence less security concerns.

We could look at creating pluri-lateral security frameworks.

It is clear that the need for South Asian integration is urgent. We should no longer waste great cultural and human potential of our region and lock ourselves into a destructive chase of better identities than our neighbours. Let us seek to build on our historical, geographical and civilisational advantages to lift our region out of poverty and inequality and march towards freedom and prosperity.

In order to achieve this we need to engage in a series of practical actions, such as an effective South Asian Free Trade Agreement (SAFTA). To make SAFTA effective we would have to:
Reduce the high cost of trading in the region.
Remove non transparent, non-tariff measures.
Amend regulations that create obstacles to intra-regional trade and services.
Create regional value chains based on the two major economies of the region, especially the Indian economy.
Move beyond the political differences between India and Pakistan when creating economic and environmental cooperation.
Improve connectivity between the states. There is great potential for developing the shipping and aviation sectors of the region and also between the region and the rest of the world.
Focus on large inter-state investment projects.
I wish to express some thoughts on Sri Lanka's possible role in these exercises:
She can act as a bridge between larger South Asian and Asian nations as well as the others.
Also build a soft power, i.e. people-to-people contact though tourism, etc.
Talking to the larger Asia – China is today, together with India, the largest two economies of the world and also the fastest developing economies and it is well on its way to developing economic networks along the silk route countries, as well as the maritime routes. South Asia is seen as an effective part of this network.
Could we not consider the Chinese economic power as an opportunity rather than a danger and arrive at partnerships that could be beneficial to the South Asian countries as well as our region?