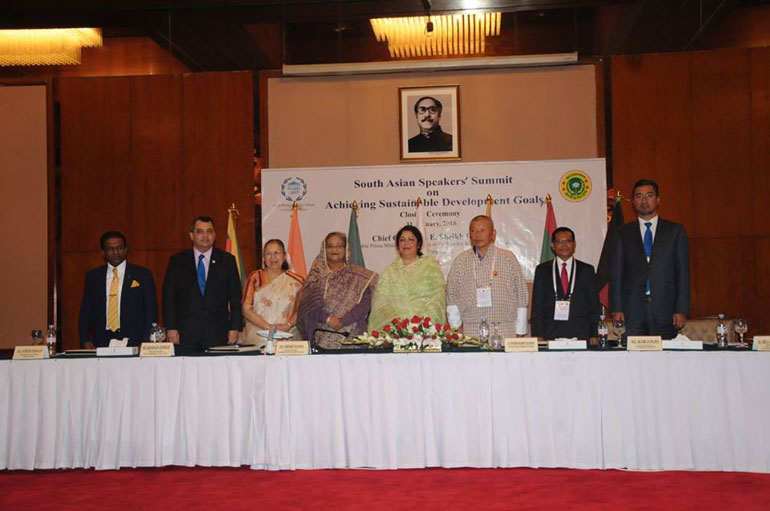 From left: Deputy Speaker Thilanga Sumathipala, Inter Parliamentary Union President Saber Chowdhury, Speaker of India Sumitra Mahajan, Prime Minister of Bangladesh Sheikh Hasina, Speaker of Bangladesh Shirin Chaudhury, Speaker of Bhutan Jigme Zangpo, Speaker of the Maldives Abdulla Maseeh Mohamed and Speaker of Afghanistan Abdul Raouf Ibrahim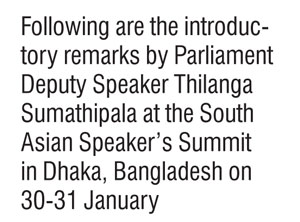 Excellencies, distinguished delegates, ladies and gentlemen, greetings from President Maithripala Sirisena, Speaker Karu Jayasuriya, and all the Members of Parliament of Sri Lanka.

Representing Sri Lanka, at the outset I wish to say, I am happy to be in Bangladesh – a country that I have visited before when I was the President of Sri Lanka Cricket. While I am once again the President of that prestigious sports body, I am, as the Deputy Speaker in Sri Lanka, alive to the many ills that have beset our countries in South Asia.

South Asia, as a region, has unique features and many differences – culturally, socially, economically and politically, in addition to linguistic and religious differences. While South Asia continues to push the world's economic centre of gravity to the East, with India on track to become the world's second largest economy by 2050, the region has yet to clear many hurdles to attain the lofty goal of sustainable development.

There has been tremendous progress since the Millennium Development Goals were launched at the beginning of this century. Sri Lanka has achieved most of the MDGs and is on track to meet the rest of the stipulated goals.

As part of the SDGs, focusing on ensuring healthy lives and promoting the well-being of all, at all ages, the actions taken in Sri Lanka with regard to combating the use of alcohol and tobacco as well as ensuring road safety, have received due recognition and importance, at the national level. In fact, in 2003, Sri Lanka ratified the WHO Framework Convention on Tobacco Control, a legally binding treaty that makes countries implement evidence-based tobacco control measures, and thereby became one of the first countries to do so.

Sri Lanka has made tremendous progress in achieving SDGs, and no lesser body than the Parliament had made a significant contribution towards combating non-communicable diseases (NCDs), in particular, in the areas of tobacco and alcohol control and road safety.

With a combined population of around 1.4 billion, South Asia is home to half of the world's poor. Between 1990 and 2010, the level of extreme poverty as well as the number of children dying before their fifth birthday have halved. Most children in developing countries attend school. Maternal death rates have reduced, and significant progress has been made on combating HIV, malaria, and tuberculosis.

Importantly, the goal set for access to improved water sources has been reached.

Yet, more than a billion people continue to live in extreme poverty, surviving on under $ 1.25 a day. Gender inequality, and sexual and gender-based violence remain pervasive. Radicalisation and violent extremism have also become issues of national, regional and global concern. In that backdrop, the SDGs are vital, and a natural follow through from the MDGs for sustainable development, globally.

The 17 Sustainable Development Goals and 169 targets proposed for post-2015, clearly represent a very complex agenda.

Sustainable development is defined as, "Development that meets the needs of the present without compromising the ability of future generations to meet their own needs" – in short, it means 'do not exhaust all the resources now; leave something for the future too.'

The use of tobacco prevents achieving these goals as it would impact on healthy lives and the well-being of all citizens, worldwide.

Nearly one billion people in the world smoke every day; about 80% of them live in low and middle-income countries. One in two smokers dies prematurely, and over six million people die from tobacco use every year, the majority being in their productive years (30-69 years of age).

The WHO Stepwise Approach for Surveillance (STEPS) survey revealed that 15% of Sri Lanka's population are smokers. Of concern is the fact that 15.7% of boys between the ages of 13 – 15 years are users of tobacco.

The prevalence of smokeless tobacco use is relatively high, especially among the rural and disadvantaged groups.

In Sri Lanka, the use of tobacco by girls has declined since 2003; however, the use of smokeless tobacco has shown a marginal increase. In contrast, the use of the substance by boys – both cigarettes and smokeless tobacco has increased. The STEPS survey for the second time is in the pipeline while the Global Health Personal Survey in 2006, and the Global School Personal Survey in 2003 and 2006 had been conducted. As such, the methods of monitoring are in place.

Smoking in banned in all public buildings and in public transport in Sri Lanka.

A national 'quitline' has been established. Services are available, free of charge for tobacco users in healthcare institutions, island wide.

The Health Ministry has taken necessary steps to implement pictorial warnings on cigarette packets. The Regulations under the National Authority on Tobacco and Alcohol Act related to pictorial warnings on cigarette packets were unanimously passed in Parliament on 19 February 2014. The Bill, which was presented in Parliament by then Minister of Health, and now the President of Sri Lanka, His Excellency Maithripala Sirisena, was brought to control the sale, distribution, consumption and adverse health impacts of tobacco on the general public. According to the Act, tobacco companies would be required to display pictorial warnings on at least 80% of their cigarette packets, which came into effect on 1 June 2015.

The tobacco control law in Sri Lanka prohibits all forms of tobacco advertising, promotion and sponsorship. Free distribution and promotional discounts are also banned.

The Parliament of Sri Lanka approved the National Authority on Tobacco and Alcohol Act in 2006. It also established the office of the National Authority on Tobacco and Alcohol (NATA) a multi-sectoral government agency responsible for addressing harm from tobacco and alcohol in Sri Lanka. Further, Tobacco Control Cells have been set up by the Ministry of Health in all 26 Health Districts across the island. Cigarettes are taxed 73.8% of the selling price.

The World Health Organization (WHO) recently honoured Sri Lanka's Health Minister with the 'World No Tobacco Day Award 2013' for his role in implementing Article 11 of the WHO FCTC on Tobacco Control on packaging and labelling of tobacco products. Wishing the deliberations every success!