By Citizen Silva

On 17 March at 6am in Thalawatugoda, a brand new BMW i8 running on garage license plates was involved in an accident with two other vehicles before plunging into a nearby canal.

No injuries were reported and the two other aggrieved parties had agreed to an out of court settlement for all damages caused to their vehicles.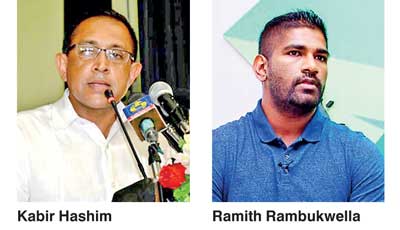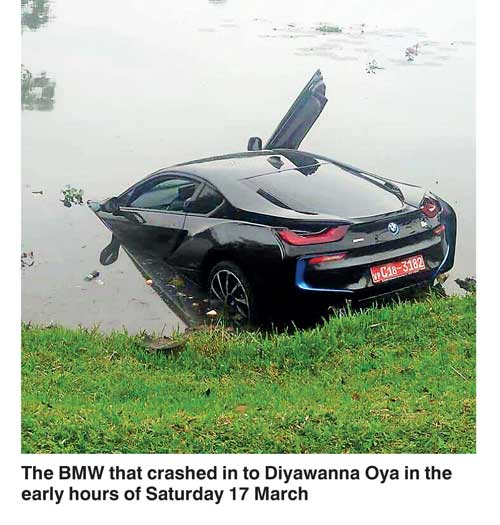 The driver of the BMW, a relation of senior UNP cabinet Minister Kabir Hashim, had surrendered to the police on following Sunday evening. Despite rumours circulating on social media that the driver of the vehicle was the son of a VVIP, Minister Hashim had posted on his official Facebook page confirming that the driver was a relation of his. He further stated that neither he nor his personal staff were involved in this incident, while expressing support to the relevant authorities in finalising this matter.

On Tuesday 20 March, Fahim Hussein – the driver of the vehicle – was remanded for seven days despite no damage to public property or charges being pressed by the other parties involved.

To date, there has been no use of political interference in this case, despite the driver of the vehicle being a close relation of the UNP General-Secretary.

What is being clearly demonstrated is Yahapalanaya being observed by members of the ruling party. This is a new phenomenon that was not present in Sri Lanka a mere four years ago.

Back in 2014, a Shelby GT500 – allegedly belonging to a son of a VVIP – was involved in an accident which resulted in the hospitalisation of a three-wheeler driver.

On that occasion, the driver and vehicle were both removed from the scene of the accident within the hour by STF personnel. To date, no action was taken against the driver of that vehicle, with police appearing to have made no attempt to identify the driver.

In fact, ever since the Yahapalanaya government took office in 2015, it seems as though members of the regime are held to a different standard than those who were members of the former regime.

In 2016, Ramith Rambukwella, son of former Minister Keheliya Rambukwella, was arrested for an accident while under the influence of alcohol. He was released on bail and his license returned shortly afterwards.

Two years later, the young Rambukwella was once again involved in another drink driving incident which saw him assault two university students. He was once again taken into police custody before being released immediately on bail.

The question now emerges as to whether this is a political witch-hunt against members of the ruling party or whether Yahapalanaya does not apply to members of the former government.