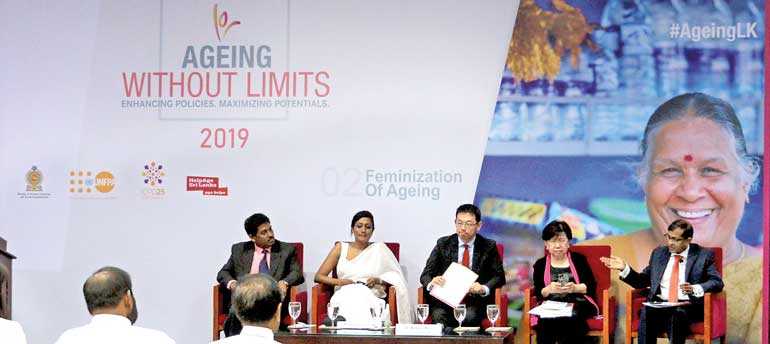 Panel members
---
UNFPA brings international policymakers to discuss feminisation of ageing in Sri Lanka, in line with World Population Day


The life expectancy of a Sri Lankan woman is 79 years, as opposed to 72 years for a Sri Lankan man. This means that at age 60, females in Sri Lanka can live 19 more years, compared to 12 more years for males. With the fastest growing ageing population being in South Asia, it is predicted that by 2030, one in five Sri Lankans will be over the age of 60. With the majority of Sri Lanka's ageing population being women, the feminisation of ageing brings about unique challenges and opportunities that the country must be prepared for.

This year's World Population Day calls for global attention to the unfinished business of the 1994 International Conference on Population and Development, where 179 governments recognised that people's rights, choices and well-being are the path to sustainable development.

In line with this, the United Nations Population Fund (UNFPA) in partnership with the Ministry of Primary Industries and Social Empowerment, together with HelpAge Sri Lanka, yesterday convened the second of a series of high-level policy dialogue on population ageing titled 'Ageing Without Limits'.

The dialogue aims to provide policy-level inputs to maximise the opportunity of population ageing with learning from other countries. The theme for this dialogue was 'Feminisation of Ageing', which focused on the gender dimensions of population ageing, sexual and reproductive health, and social protection issues.

In his opening remarks, Minister of Social Welfare and Primary Industries Daya Gamage stated, "Preparing for an ageing population is vital to the achievement of the Sustainable Development Goals. Sri Lanka should ensure healthy lives and promote wellbeing for all at all ages, including for older women".

Highlighting issues around gender inequality, UNFPA Sri Lanka Representative Ritsu Nacken emphasised that, "Gender relations affect the entire life cycle from birth to death, influencing access to resources and opportunities. For example, the impact of gender inequalities in education and employment opportunities increases through every stage of an individual's life, hitting hardest in old age. Women also spend more time in unpaid care work than men. As a result, older women are more likely than older men to be poor without savings or pension. Gender inequality, poverty and ageing thus manifest as the face of feminisation of ageing."

The panel comprised United Nations Economic and Social Commission for Asia and the Pacific (UNESCAP) Social Development Division's former Chief Thelma Kay, who is also the former Senior Advisor on Ageing at the Ministry of Social and Family Development, Singapore; Thailand's UNFPA Regional Office for Population Ageing and Sustainable Development Advisor Rintaro Mori and University of Peradeniya Honorary Consultant Psychiatrist and Senior Lecturer Dr. Pabasari Ginige.

The insights focused on how the feminisation of ageing must be addressed through a life cycle approach to ensure that women's rights and needs are looked into throughout their lives, and on the importance of achieving gender equality when addressing issues around women and ageing. The role of women and their contribution to a silver economy was discussed, where rights-based and evidence-based policies were highlighted as key to ensuring that women age with security, dignity and their full rights.

The panel was moderated by Lakshman Kadirgamar Institute Executive Director Dr. Ganeshan Wignaraja, and officials from the Government, international community, civil society, academia, private sector and the media engaged in the dialogue. UNFPA will continue this series of dialogues to help strengthen policies and support the development and implementation of a holistic system for the ageing population in Sri Lanka.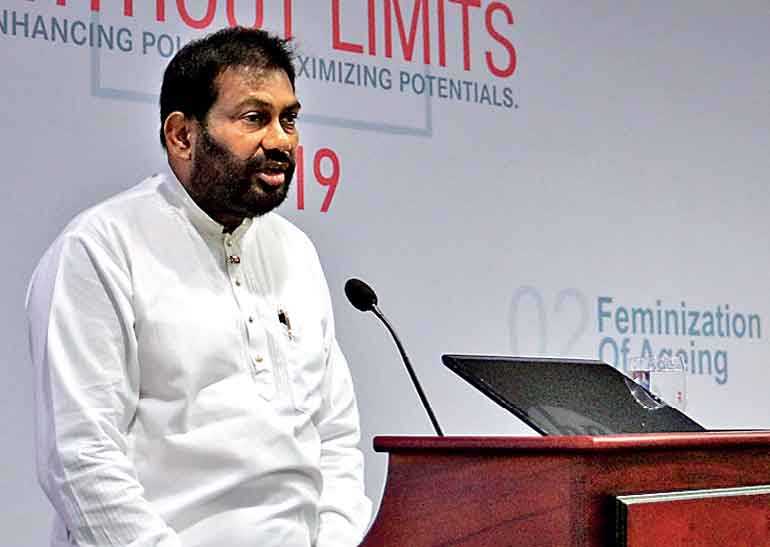 Social Welfare and Primary Industries Minister Daya Gamage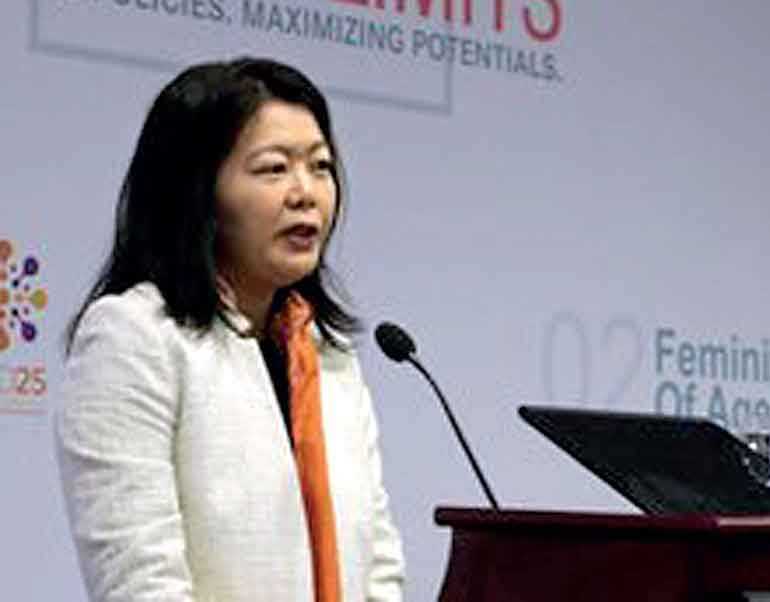 UNFPA Representative Ritsu Nacken
---